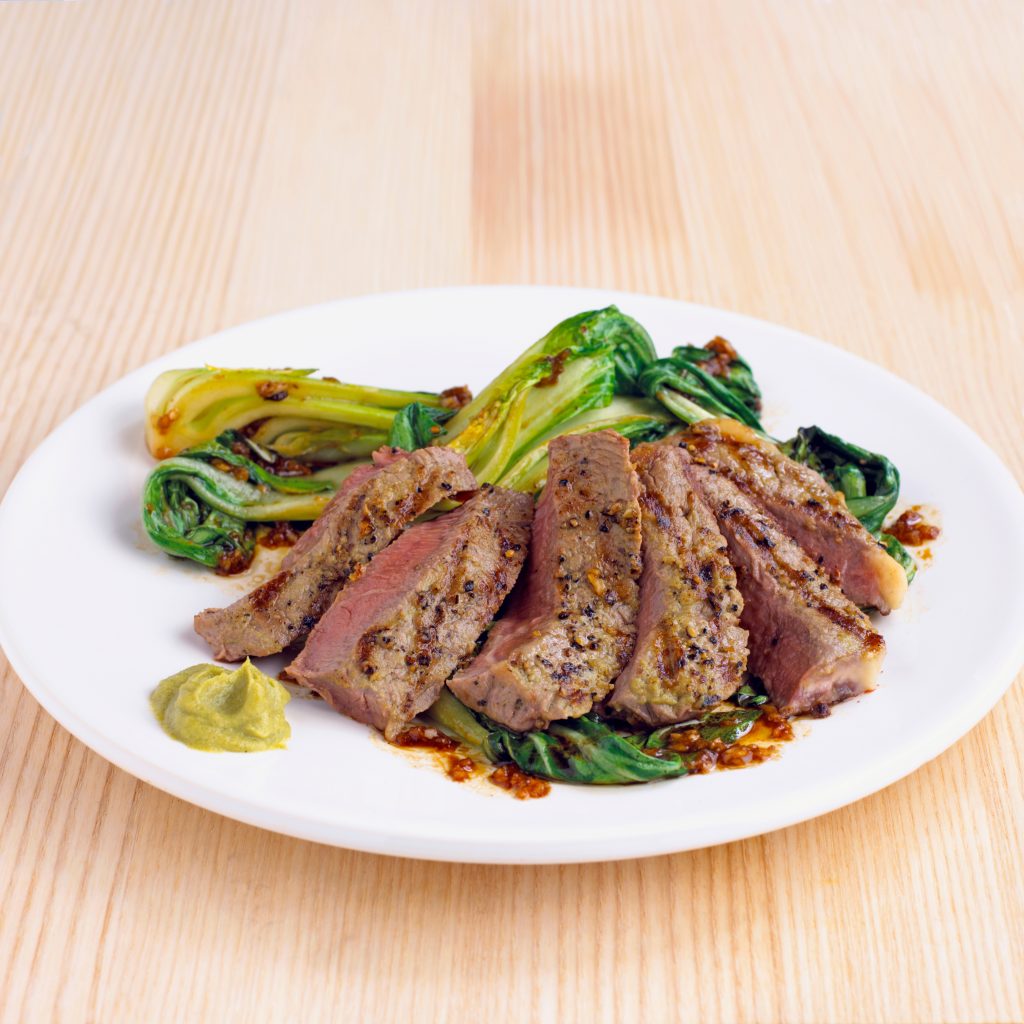 Wasabi has anti-bacterial, anti-microbial, and anti-parasitic qualities. Little wonder that the Japanese have cultivated it for thousands of years.
SERVES 4
PREP TIME 10 MINS
COOK TIME 10 MINS
Barbecue or Charcoal Grill

2 tbsp olive oil
2 tsp wasabi paste
7 oz sirloin steaks, about 200g each
7 oz (200g) pak choi, cut lengthways into 8 pieces
5 garlic cloves, grated or finely chopped
1 tbsp dark soy sauce
Salt and freshly ground black pepper
FOR A GLUTEN FREE OPTION use gluten-free tamari to replace soy sauce

1. Heat the barbecue or charcoal grill until hot. Mix together 1 tablespoon of the olive oil and the wasabi paste. Use to coat the sirloin steaks, ensuring a thin, even covering.
2. Sit the steaks on the barbecue and grill fiercely over a high heat for 3 minutes on each side. Remove to a plate, and leave to rest in a warm place for 5 minutes.
3. Meanwhile, toss the pak choi in the remaining olive oil with the garlic and soy sauce. Grill for 2–3 minutes, or until charred and just wilted. To serve, cut the steak into 1cm ( 1/2 in) slices, season, and serve with the pak choi.

| | |
| --- | --- |
| Fat: 37.8 g | Fiber: 3.8 g |
| Iron: 7.49 mg | Sugar: 4.02 g |
| Calcium: 322.65 mg | Sodium: 6049.47 mg |
| Potassium: 1486.97 mg | Calories: 628.47 kcal |
| Protein: 57.35 g | Vitamin A: 8871.46 IU |
| Vitamin C: 98.17 g | Carbohydrates: 12.84 g |
| Saturated Fat: 7.33 g | Cholesterol: 121.05 mg |