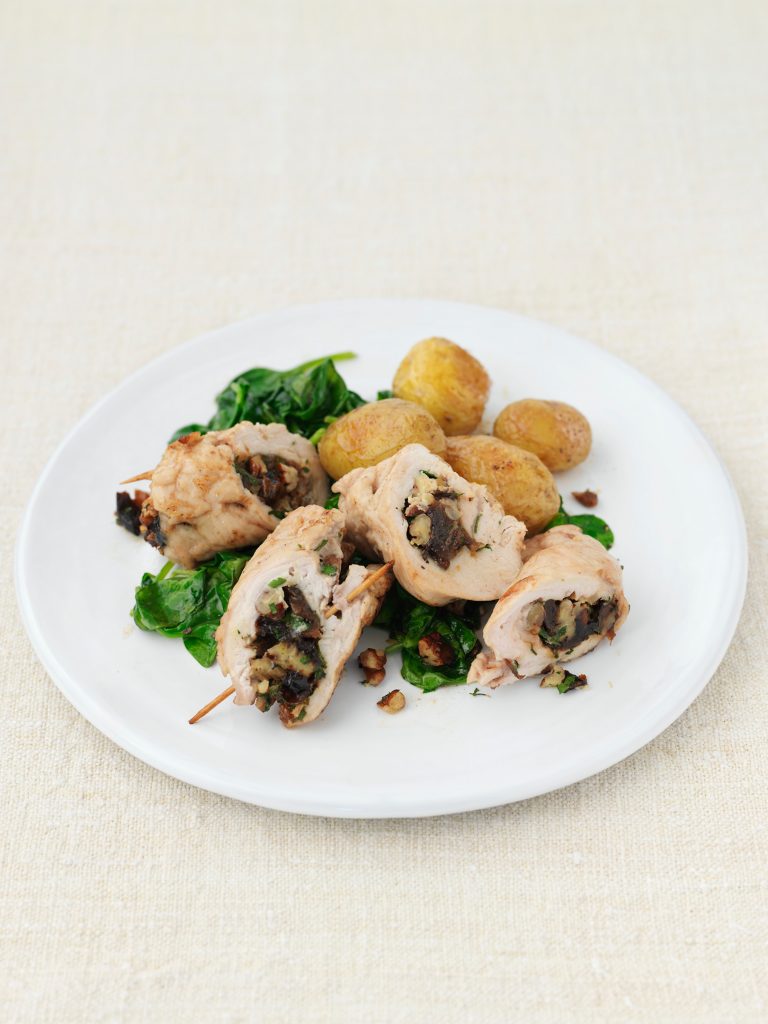 While you can buy ready-prepared turkey escalopes, they are very easy to make from the breasts. Serve these sweetened versions with sautéed potatoes and wilted spinach.
SERVES 4
PREP TIME 15 MINS
COOK TIME 20 MINS

Cling Film
Meat Hammer or Rolling Pin
Bowl
Wooden Spoon
Cocktail Stick
Roasting Tin

14 oz skinless turkey breasts, about 400g each
1 large handful pitted prunes, chopped
1 handful roasted pecan nuts, finely chopped
1 handful flat-leaf parsley, chopped
1 tbsp olive oil

1.  Preheat the oven to 200°C (400°F/Gas 6). Cut each turkey breast in half and sandwich the four pieces between sheets of cling film. Pound them with a meat hammer or the edge of a rolling pin until they are an even thickness of about 5mm ( 1/4 in). Remove the cling film and slice the breasts in half so that you now have eight escalopes.
2.  Mix the prunes and nuts with the parsley in a bowl, then spoon the mixture into the middle of each turkey escalope. Roll up from one narrow end and secure with a cocktail stick.
3.  Sit the turkey rolls in a roasting tin, drizzle with the oil, and roast in the oven for 15–20 minutes, until cooked through. Serve with sautéed potatoes and wilted spinach.

| | |
| --- | --- |
| Fat:  21.34 g | Fiber: 0.3 g |
| Iron: 2.51 mg | Sugar: 0.65 g |
| Calcium: 62.36 mg | Sodium: 820.14 mg |
| Potassium: 994.2 mg | Calories: 535.37 kcal |
| Protein: 85.72 g | Vitamin A: 424.71 IU |
| Vitamin C: 5.34 g | Carbohydrates: 0.73 g |
| Saturated Fat: 3.15 g | Cholesterol: 214.32 mg |