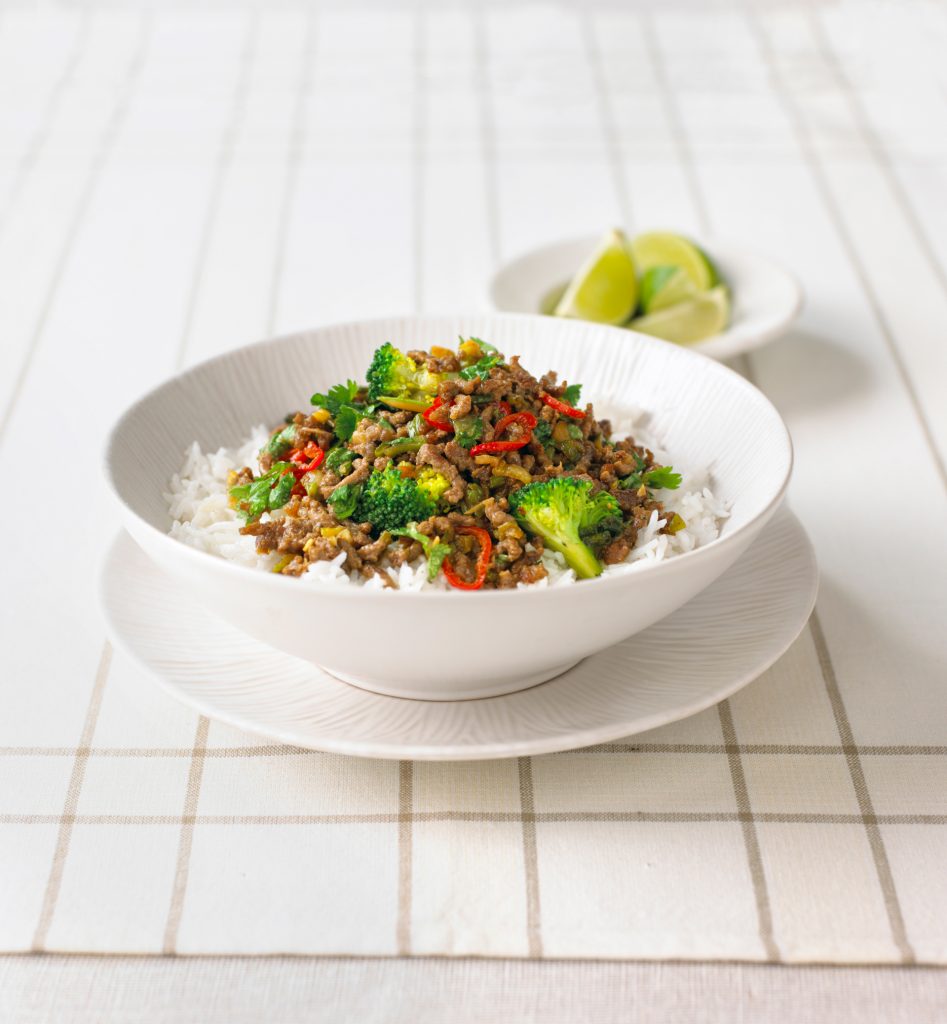 If you like Asian flavours but prefer to avoid heat, simply leave out the chilli. Serve with cauliflower rice for a low-carbohydrate option.
SERVES 4
PREP TIME 5 MINS
COOK TIME 10 MINS

Wok or Large, Deep Frying Pan
Large Pan
Salt
3.5 oz 100g broccoli florets, cut very small
2 tbsp sunflower oil
1 bunch spring onions, finely chopped
2 garlic cloves, crushed
3cm piece fresh root ginger, finely chopped
1 tbsp finely chopped coriander stalks, plus a handful of coriander leaves, roughly chopped
1 red chilli, deseeded and finely chopped
14 oz (400g) minced beef
1 tbsp fish sauce
2 tbsp soy sauce
1 tbsp lime juice
1 tsp caster sugar
Rice, to serve
FOR A GLUTEN FREE OPTION use gluten-free tamari to replace soy sauce

1.  Bring a large pan of salted water to the boil and blanch the broccoli for 1 minute, then drain and refresh it under cold water. Set aside.
2.  Heat the sunflower oil in a wok or a large, deep-sided frying pan. Add the spring onions, garlic, ginger, coriander stalks, and chilli (if using), and fry for a couple of minutes until coloured slightly.
3.  Add the minced beef and continue to fry over a high heat until the meat is well browned.
4.  Return the broccoli and add the fish sauce, soy sauce, lime juice, and sugar. Mix well, cooking for a minute or 2 until the broccoli is piping hot. Stir in the coriander leaves and serve with rice.

| | |
| --- | --- |
| Fat:  108.24 g | Fiber: 5.16 g |
| Iron: 12.16 mg | Sugar: 11.76 g |
| Calcium: 187.14 mg | Sodium: 8530.55 mg |
| Potassium: 1958.82 mg | Calories: 1436.18 kcal |
| Protein: 85.38 g | Vitamin A: 1323.03 IU |
| Vitamin C: 164.65 g | Carbohydrates: 25.92 g |
| Saturated Fat: 33.33 g | Cholesterol: 281.79 mg |