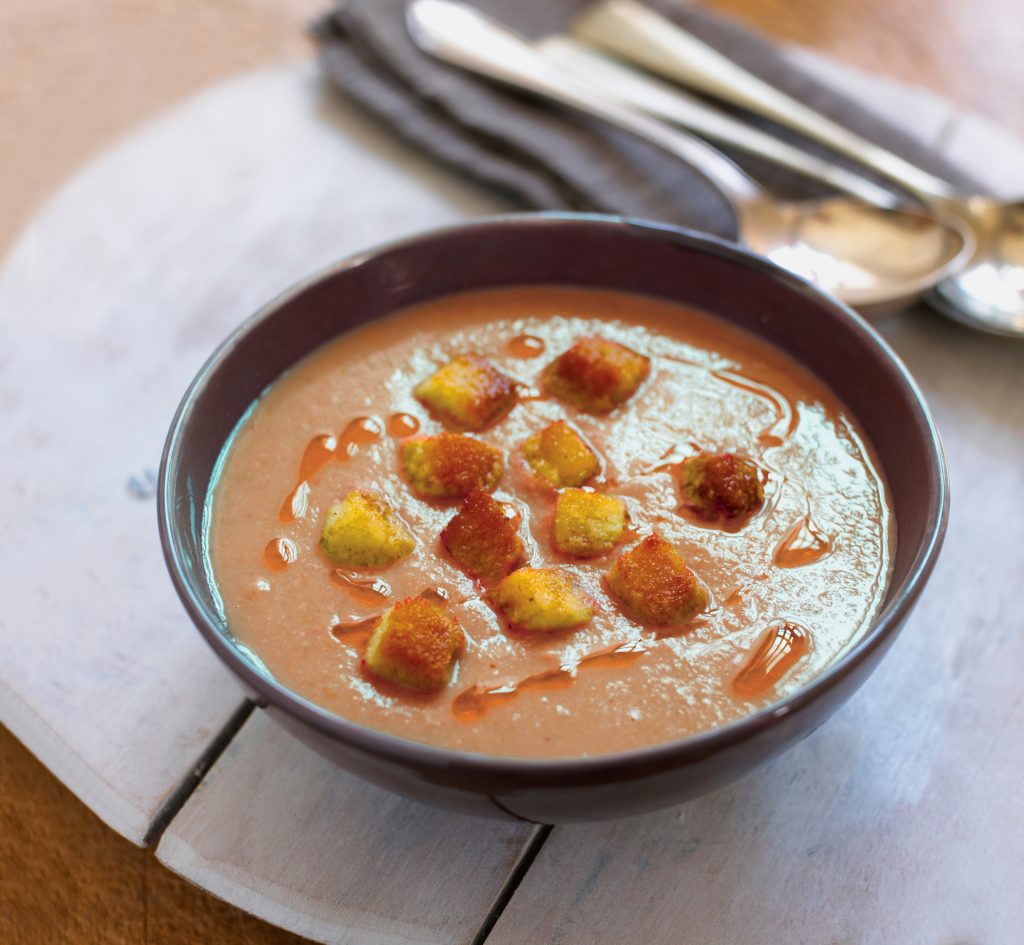 Rich and velvety, this is a substantial dish. The croutons add a satisfying crunch. Sweet potatoes are a good source not just of fibre but also of vitamins A and C.
SERVES 6
PREP TIME 10 MINS
COOK TIME 20 MINS

Large Heavy-Based Saucepan With A Lid
Large Frying Pan
Mixing Spoon
Electric Hand-Held Blender

5 tbsp olive oil
1 onion, chopped
1 leek, white part only, chopped
1 celery stick, chopped
500 g sweet potatoes, peeled and cut into 2.5cm (1in) cubes
1/2 tbsp chopped sage leaves
750 ml vegetable or chicken stock
Salt and freshly ground black pepper
1 oz (30g) unsalted butter
4 slices day-old wholemeal or Granary bread, crusts removed and cut into 1cm dice

1. Heat 3 tablespoons of oil in a large, heavy-based saucepan. Add the onion, leek, and celery and cook for 5 minutes, or until the vegetables are softened but not browned.
2. Add the sweet potatoes, sage, and stock to the pan. Season to taste and bring to the boil.
3. Reduce the heat to a gentle simmer and cover the saucepan with the lid. Cook for 10 minutes, or until the sweet potatoes are tender.
4. While the soup is simmering, in a large frying pan, heat the remaining oil and butter until hot. Add the bread pieces, then fry, stirring constantly for 10 minutes, or until golden.
5. Using a slotted spoon, remove the croutons from the frying pan and drain off the excess oil on a kitchen paper.
6. Using an electric hand-held blender, process the soup until smooth. Season again, if needed.
7. Ladle the soup into serving bowls, garnish with the croutons, and serve warm.

| | |
| --- | --- |
| Fat: 106.63 g | Fiber: 23.45 g |
| Iron: 11.43 mg | Sugar: 47.78 g |
| Calcium: 434.35 mg | Sodium: 3320.89 mg |
| Potassium: 3028.06 mg | Calories: 1927.76 kcal |
| Protein: 41.31 g | Vitamin A: 73172 IU |
| Vitamin C: 32.66 g | Carbohydrates: 182.52 g |
| Saturated Fat: 27.8 g | Cholesterol: 83.45 mg |