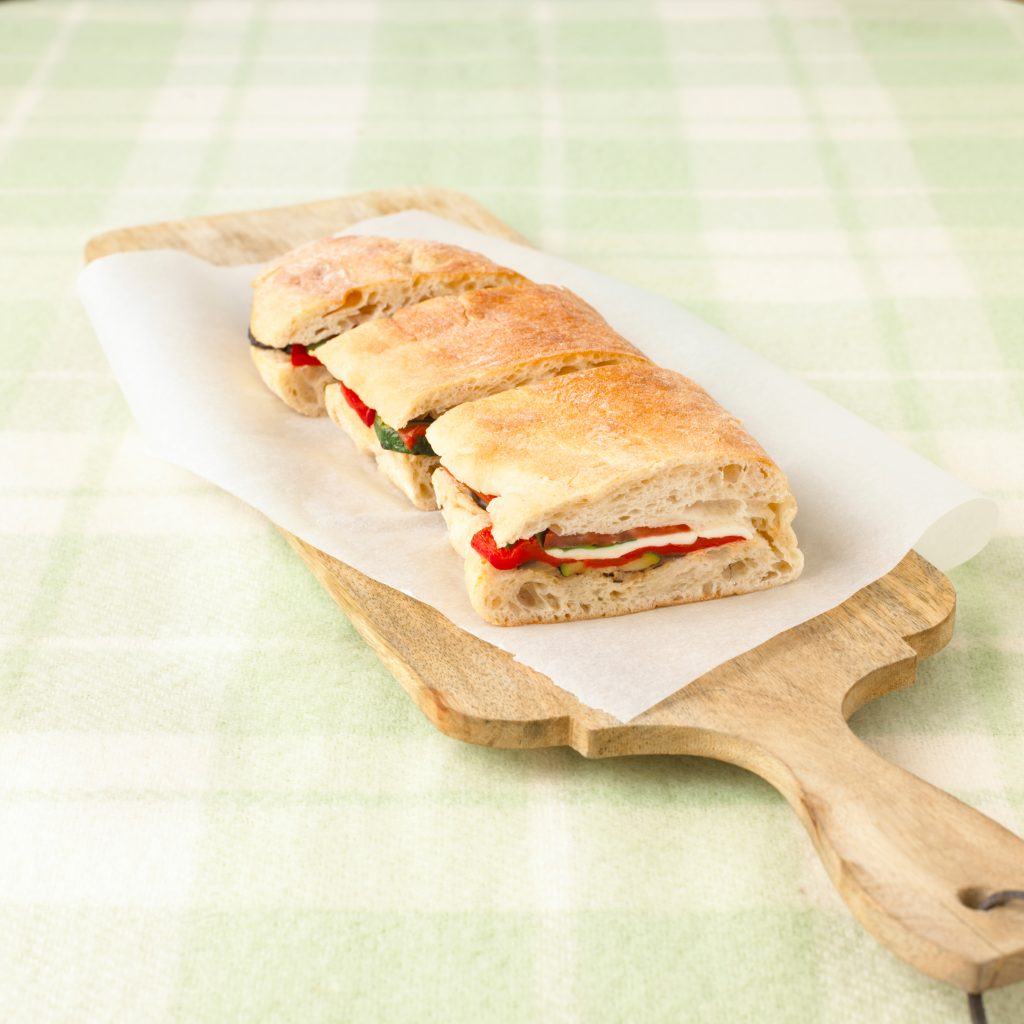 This is simple to transport, and will easily feed a family of four. Mozzarella contains phosphorus, which helps the body absorb calcium.
SERVES 4
PREP TIME 10 MINS
COOK TIME 15 MINS

Griddle Pan
Brush
Knife
Cling Film

1/2 aubergine, cut into 1cm slices
2 courgettes, cut into 1cm slices
4–6 tbsp olive oil
Salt and freshly ground black pepper
1 large beef tomato
1 ciabatta loaf
2 chargrilled red peppers from a jar, drained and sliced
4.5 oz ball of mozzarella, about 125g , thinly sliced
1 handful basil leaves

1.  Preheat a large griddle pan or a grill on its highest setting. Brush the slices of aubergine and courgette on both sides with olive oil and season them well. Either griddle or grill them for 2–4 minutes each side, until they are charred in places and cooked through. Put them on a large plate in a single layer to cool.
2.  Slice about 1cm ( 1/2 in) off each end of the tomato, reserving these pieces. Slice the remaining tomato as thinly as possible.
3.  Cut the ciabatta in half, leaving a hinge so you can open it out flat. Drizzle both sides with a little olive oil. Take the offcuts of tomato and rub both sides of the bread with the cut side, to soften and flavour the bread, then discard the offcuts.
4.  Cover one side of the loaf with the aubergine, courgette, and red peppers, then top with mozzarella. Sprinkle with the basil, season, then add the tomato.
5.  Close the loaf and press down on it hard. Wrap it very tightly in cling film, going round it a few times until it is completely covered and compressed. Leave in the fridge with a weight (such as a chopping board and some cans) on top for at least 4 hours, turning once. Unwrap and slice to serve, or transport in the wrapping and slice at a picnic.

| | |
| --- | --- |
| Fat:  90.41 g | Fiber: 23.9 g |
| Iron: 4.65 mg | Sugar: 33.85 g |
| Calcium: 789.95 mg | Sodium: 3841.32 mg |
| Potassium: 2873.41 mg | Calories: 2141.41 kcal |
| Protein: 78.61 g | Vitamin A: 5517.36 IU |
| Vitamin C: 313.5 g | Carbohydrates: 239.93 g |
| Saturated Fat: 26.96 g | Cholesterol: 100.78 mg |