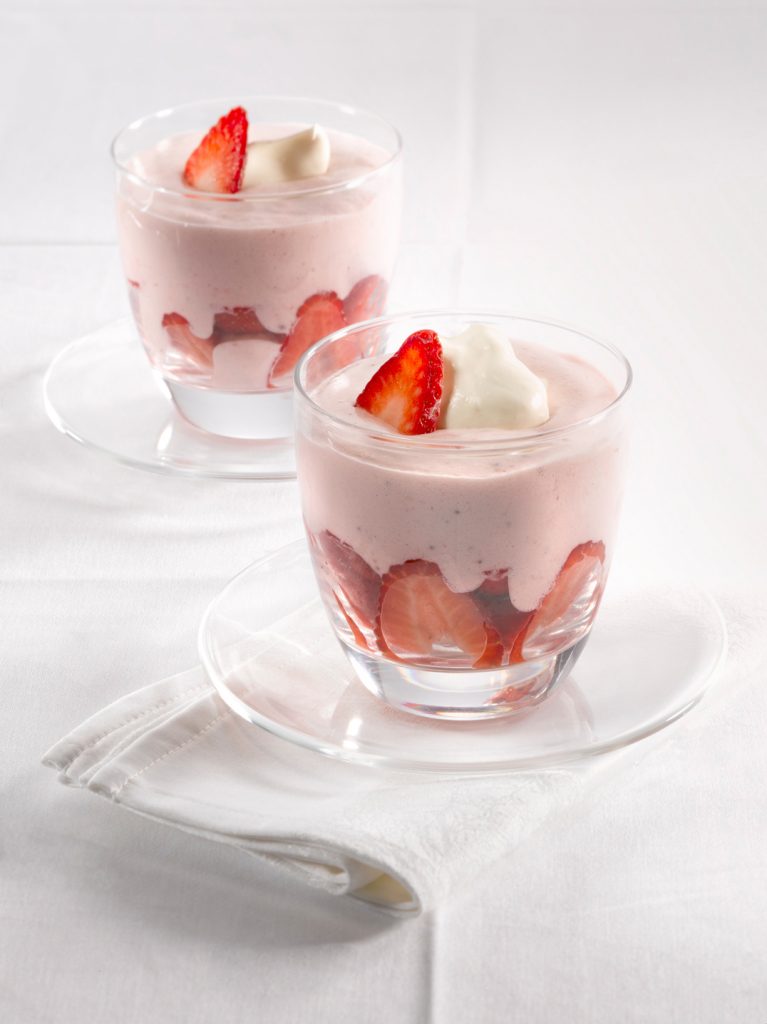 This speedy dessert is bound to be a hit with the kids. Strawberries are high in fibre, which helps to regulate blood sugar, and their bright red colour is caused by anthocyanidin, a powerful antioxidant.
SERVES 4
PREP TIME 20 MINS
COOK TIME 0 MINS
Food Processor
Electric Whisk
Four Dessert Glasses
Large Bowl

Recipe Ingredients:
1 lb (450g) ripe strawberries
170 g evaporated milk, well chilled
1 oz (30g) caster sugar
7 oz (200g) Greek yogurt, plus extra to serve

1. Slice a strawberry and set aside for decoration. Divide half the strawberries between four dessert glasses and place the remaining strawberries into a food processor and blend to a purée. Push through a sieve to remove the seeds. If you do not have a food processor, mash with a fork before pushing through a sieve.
2. Using an electric whisk, whisk the milk in a large bowl until doubled in volume, which will take 6–8 minutes. Whisk in the sugar and stir in the strawberry purée and Greek yogurt until well combined. Spoon the whisked mixture into the glasses and chill for 15–20 minutes.
3. Serve decorated with a little extra yogurt and the reserved strawberry slices.

| | |
| --- | --- |
| Fat: 14.98 g | Fiber: 9.07 g |
| Iron: 2.33 mg | Sugar: 73.97 g |
| Calcium: 734.84 mg | Sodium : 256.46 mg |
| Potassium: 1489.48 mg | Calories: 601.44 kcal |
| Protein: 34.84 g | Vitamin A: 468.67 IU |
| Vitamin C: 269.94 g | Carbohydrates: 78.31 g |