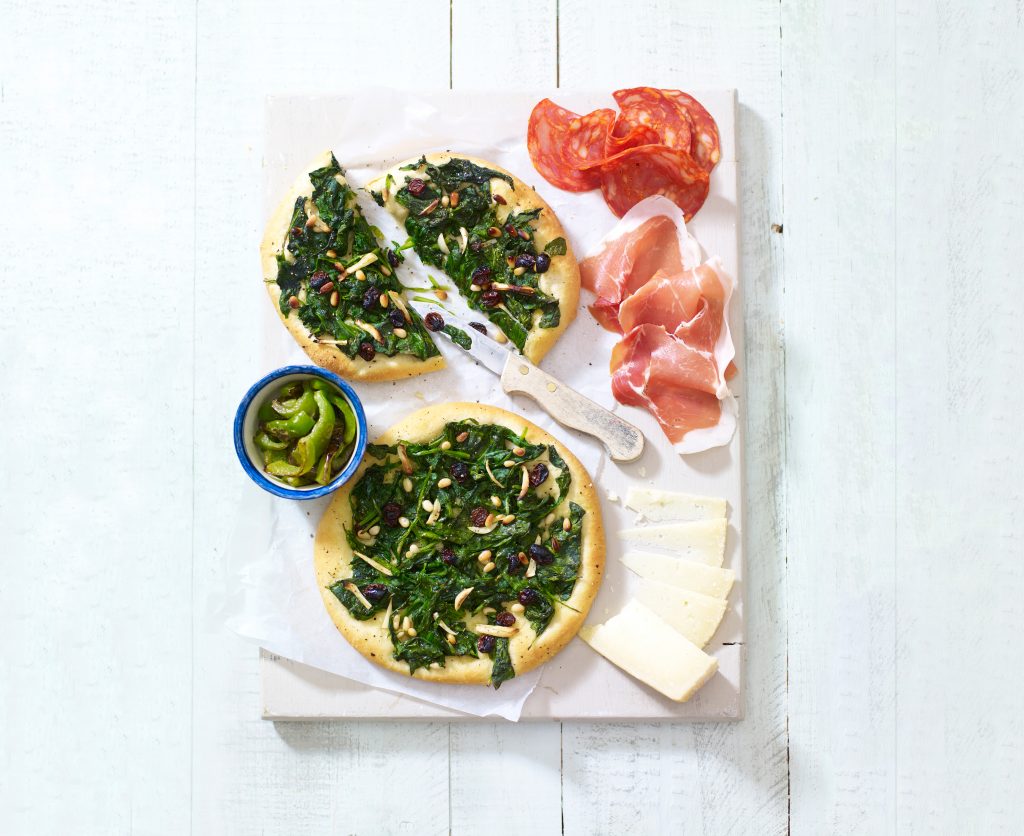 This Valencian version of the Neapolitan pizza is given a juicy topping of greens finished with a Middle Eastern sprinkling of pine nuts, raisins, and olive oil.
SERVES 2
PREP TIME 10 MINS
COOK TIME 20 MINS

Sieve
Bowl
Wooden Spoon
Lidded Pan
Baking Tray

3.5 oz (100g) strong bread flour
2 salt
25 g fresh yeast or 1 tsp dried yeast
1 tbsp olive oil, plus extra for greasing
500 g about spinach leaves, rinsed
1–2 garlic cloves, slivered
1 tbsp pine nuts, toasted
1 tbsp raisins or sultanas
2 olive oil, for drizzling

1.  Sift the flour with a little salt into a warm bowl. Dissolve the yeast in 4 tablespoons warm water, sprinkle with a little flour, and leave for about 15 minutes to froth.
2.  Make a well in the flour, then pour in the oil and the yeast mixture. Draw the flour into the liquid and knead the dough into a smooth ball. Place the dough in a bowl, cover with cling film or wipe with an oiled palm, and leave in a warm place for 1–2 hours, until doubled in size.
3.  Preheat the oven to 220ºC (425ºF/Gas 7). Wash the spinach, drain all but a little water and cook it sprinkled with a little salt in a lidded pan. As soon as the leaves start to wilt, remove from the heat, squeeze dry, and chop roughly. Set aside.
4.  Knead the dough well to distribute the air bubbles and cut in half, then pat or roll each piece into a roundabout 1cm ( 1/2 in) thick. Transfer to a lightly oiled baking tray, top with the spinach, sprinkle with garlic, pine nuts, and raisins, drizzle with a little olive oil, and leave for 10 minutes to prove.
5.  Bake for 15–20 minutes, until the crust is puffy and blistered at the edges.

| | |
| --- | --- |
| Fat:  54.44 g | Fiber: 21.56 g |
| Iron: 16.21 mg | Sugar: 2.8 g |
| Calcium: 529.27 mg | Sodium: 803.06 mg |
| Potassium: 3323.95 mg | Calories: 1041.9 kcal |
| Protein: 38.24 g | Vitamin A: 46890.15 IU |
| Vitamin C: 142.41 g | Carbohydrates: 92.94 g |
| Saturated Fat: 7.13 g | Cholesterol: 0 mg |