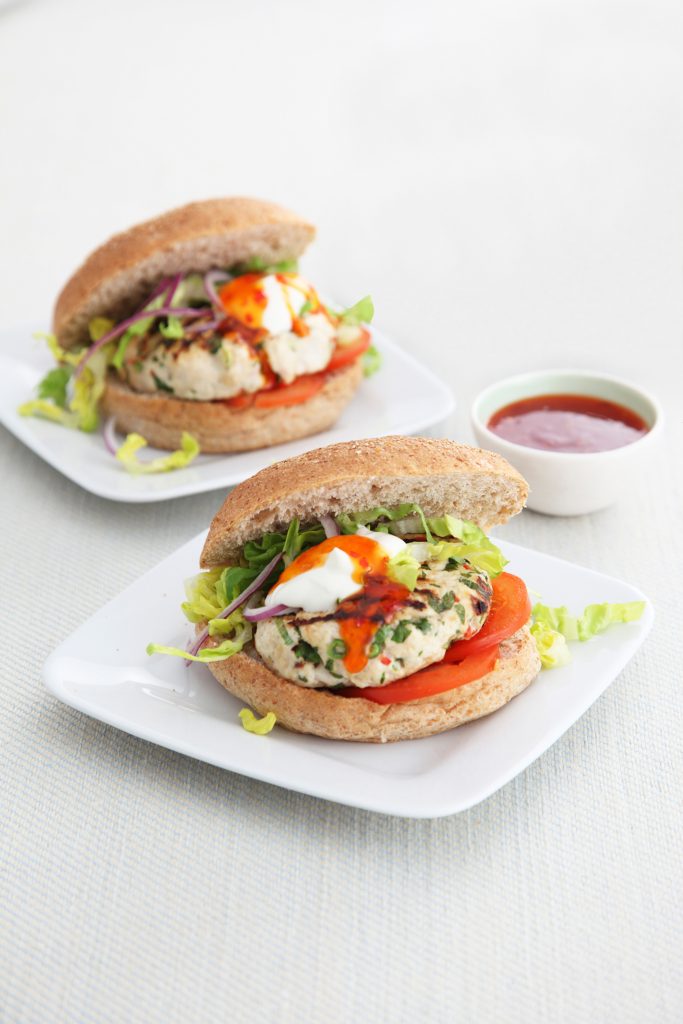 Turkey is an excellent source of selenium, iron, zinc, and B vitamins. It spoils quickly, so do store it in the fridge after shaping the burgers.
SERVES 4
PREP TIME 15 MINS
COOK TIME 10 MINS

Barbecue
Large Mixing Bowl
Cling Film

14 oz (400g) minced turkey
2.5 oz (75g) fresh white breadcrumbs
1 tbsp sweet chilli sauce
4 spring onions, white part only, finely sliced
4 tbsp finely chopped coriander leaves
2cm fresh root ginger, finely grated
1 red chilli, deseeded and finely chopped
Salt and freshly ground black pepper
4 burger buns
Lettuce
Tomato
Finely sliced red onions
Mayonnaise
Greek yogurt
Sweet chilli sauce

1.  Prepare a barbecue for cooking. In a large bowl, mix together all the ingredients until well combined.
2.  With damp hands (to help stop the mixture sticking to your fingers), divide the mixture into four balls and roll each one between your palms until smooth. Flatten each ball out to a large, fat disk, 3cm (1in) high, and pat the edges in to tidy them up. Place the burgers on a plate, cover with cling film, and chill for 30 minutes (this helps them keep their shape on cooking).
3.  Cook over a hot barbecue for 6 –7 minutes, turning as needed, until the meat is springy to the touch and the edges charred.
4.  Serve with a selection of buns and accompaniments, and let everyone build their own burgers.

| | |
| --- | --- |
| Fat:  44.01 g | Fiber: 26.1 g |
| Iron: 17.57 mg | Sugar: 91.04 g |
| Calcium: 1573.11 mg | Sodium: 3165.68 mg |
| Potassium: 5051.41 mg | Calories: 2103.07 kcal |
| Protein: 183.48 g | Vitamin A: 9005.97 IU |
| Vitamin C: 202.64 g | Carbohydrates: 222.1 g |
| Saturated Fat: 9.75 g | Cholesterol: 249.61 mg |