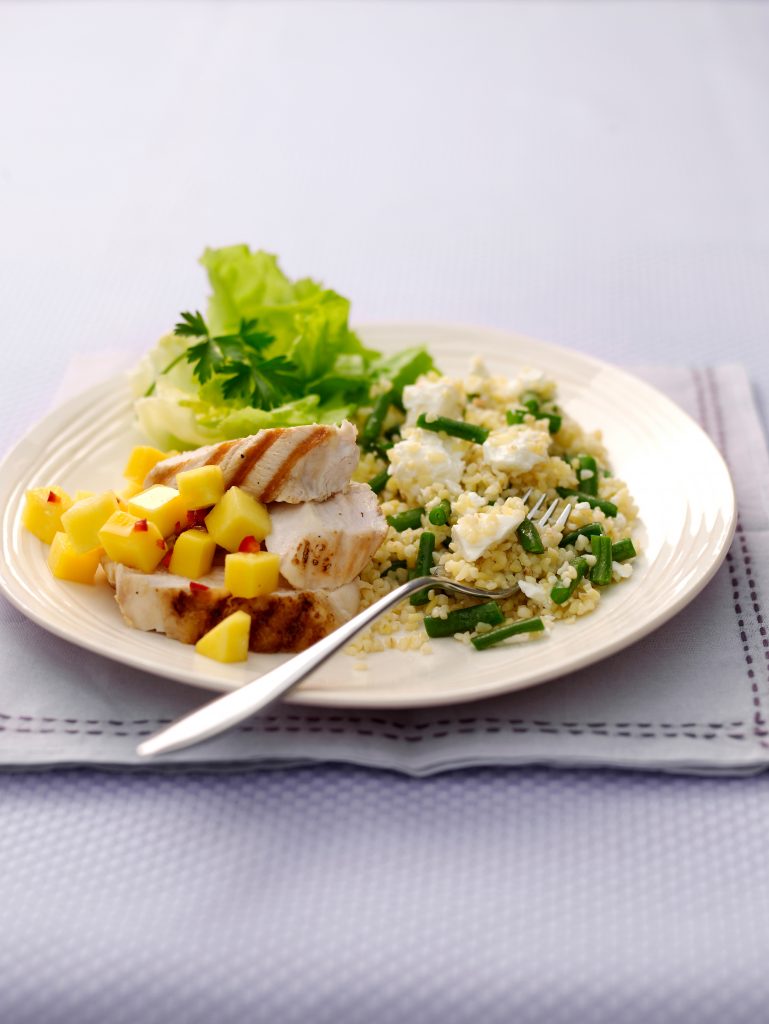 A tasty grain mixed with salty feta and fresh beans. The ingredients for the salsa are all rich sources of vitamin C so serve as quickly as possible.
SERVES 4
PREP TIME 15 MINS
COOK TIME 10 MINS

Small Bowl
Large Heatproof Bowl
Pan
Drainer

10 oz (300g) bulgur wheat
10 fl. oz. (300ml) hot vegetable stock
5.5 oz (150g) fine green beans, chopped into 1cm ( 1/2 in) pieces
Salt and freshly ground black pepper
4.5 oz (125g) reduced-fat feta cheese, crumbled
1/2 fresh pineapple, diced
1 mango, diced
Juice of 1/2 a lime
1 red chilli, deseeded and finely chopped

1.  First, make the salsa: mix all the ingredients together in a small bowl and leave to sit for a while to allow the flavours to develop.
2.  Tip the bulgur wheat into a large heatproof bowl and pour over the stock; it should just cover it – if not, add a little extra hot water. Allow to sit for 8–10 minutes then fluff up with a fork, separating the grains.
3.  Add the beans to a pan of salted boiling water and cook for 3–5 minutes until they just soften but still have a bite to them. Drain and stir into the bulgur wheat. Season well with salt and pepper, then stir in the feta. Add a spoonful of the fruity salsa on the side and serve. You can enjoy this on its own, with a few salad leaves, or for a more substantial meal you could add a piece of grilled chicken.

| | |
| --- | --- |
| Fat:  21.62 g | Fiber: 66.6 g |
| Iron: 10.73 mg | Sugar: 89.29 g |
| Calcium: 251.59 mg | Sodium: 3166.11 mg |
| Potassium: 2530.03 mg | Calories: 1685.76 kcal |
| Protein: 70.2 g | Vitamin A: 4684.3 IU |
| Vitamin C: 388.83 g | Carbohydrates: 270.39 g |
| Saturated Fat: 10.1 g | Cholesterol: 68.34 mg |