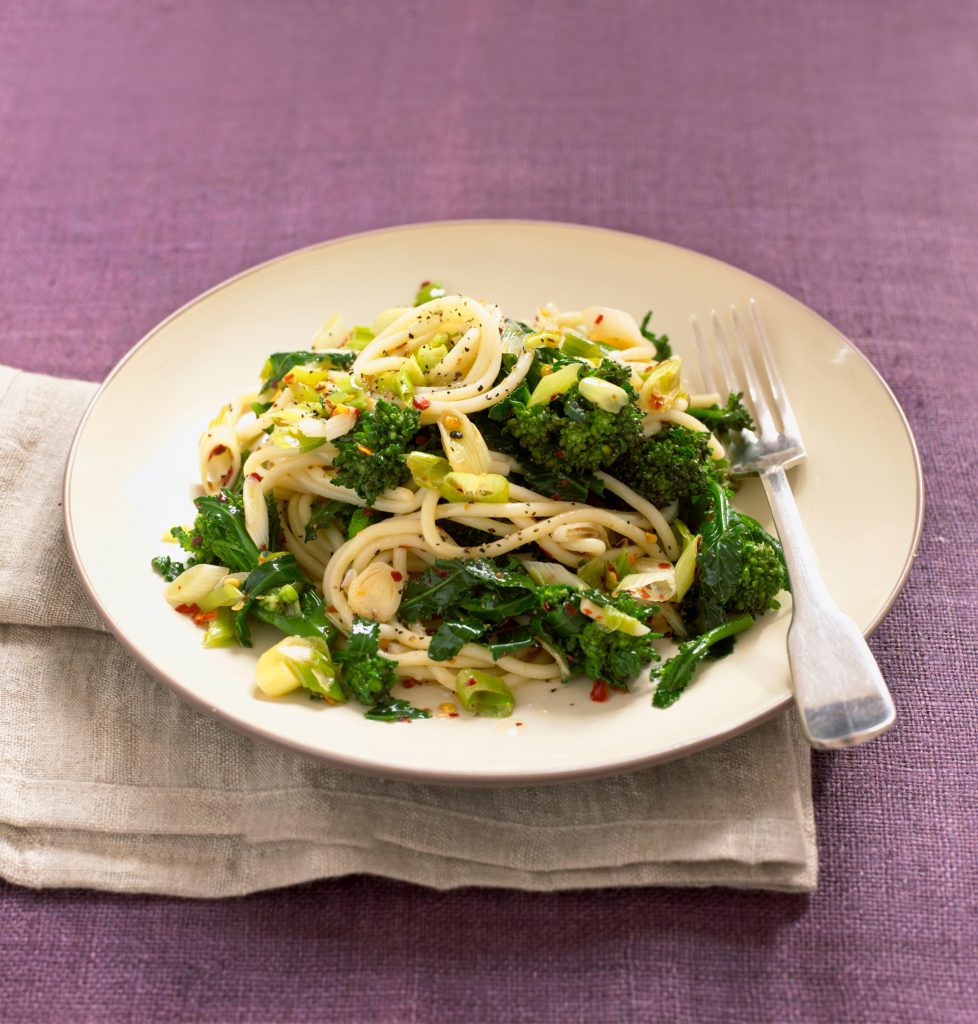 This is a simple way to enjoy fresh greens at their best. You can use other pasta instead if you prefer – try the sauce with bucatini or the large, flat pappardelle for a change.
SERVES 4
PREP TIME 10 MINS
COOK TIME 12 MINS

Pan
Large Frying Pan

12 oz (350g) dried spaghetti
Salt and freshly ground black pepper
7 oz (200g) sprouting broccoli or broccoli rabe
5 tbsp olive oil
1 bunch spring onions, trimmed and chopped
1 tsp dried chilli flakes
1 tbsp lime juice
Parmesan cheese, grated, to serve
FOR A GLUTEN FREE VERSION use gluten-free pasta

1.  Cook the spaghetti in boiling salted water according to the packet's instructions. Drain and return to the pan.
2.  Meanwhile, trim the broccoli, cut the heads into small florets, and chop the stalks.
3.  Heat the oil in a large frying pan or wok. Add the broccoli and spring onions and stir-fry for about 4 minutes until just tender.
4.  Tip the contents of the pan into the spaghetti. Add the chilli, lime juice, and seasoning to taste. Toss gently, pile onto plates, and serve with plenty of Parmesan cheese.

| | |
| --- | --- |
| Fat:  110.84 g | Fiber: 24.8 g |
| Iron: 13.68 mg | Sugar: 17.72 g |
| Calcium: 1780.76 mg | Sodium: 2835.24 mg |
| Potassium: 1881.16 mg | Calories: 3243.09 kcal |
| Protein: 123.53 g | Vitamin A: 6980.26 IU |
| Vitamin C: 49.11 g | Carbohydrates: 410.03 g |
| Saturated Fat: 31.08 g | Cholesterol: 81.6 mg |