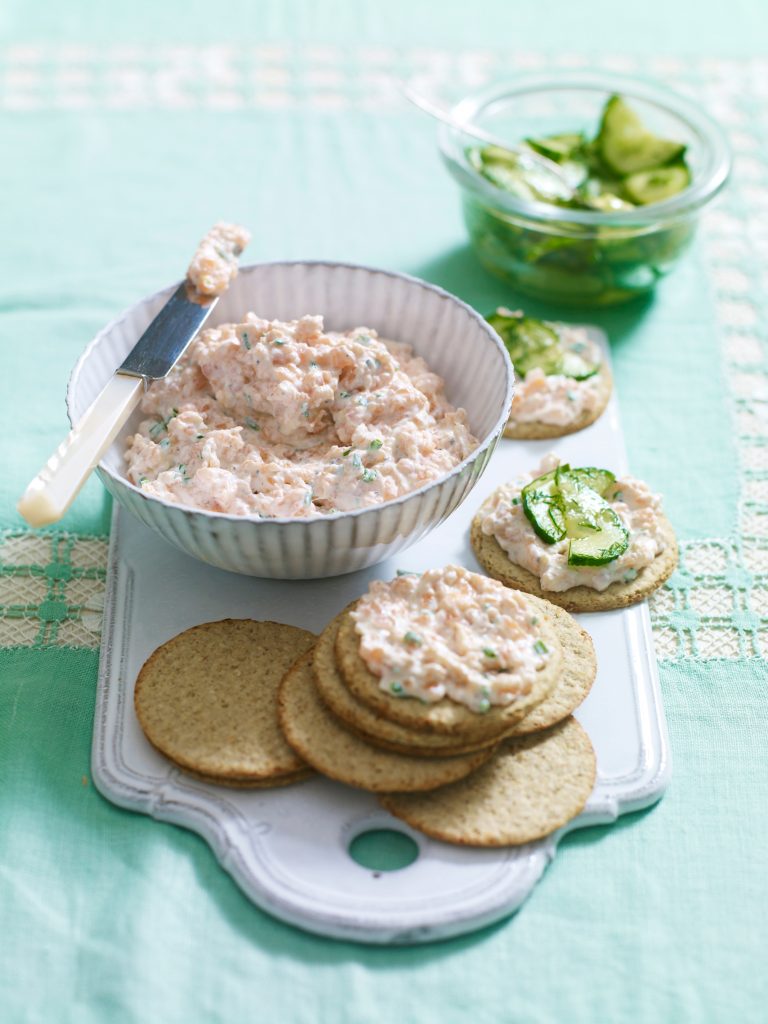 Smoked salmon can be expensive, but cheaper packets of salmon trimmings work well for this recipe. Low-fat cream cheese has about half the fat of regular cream cheese.
SERVES 4
PREP TIME 10 MINS
COOK TIME 0 MINS

Mixing Bowl
Wooden Spoon
Cling Film

7 oz (200g) low-fat cream cheese
7 oz (200g) smoked salmon trimmings, very finely chopped
Finely grated zest and juice of 1/2 lemon
2 tbsp chopped chives
Freshly ground black pepper
Oatcakes and cucumber sticks, to serve
FOR A GLUTEN FREE OPTION use gluten free crackers

1.  Place the cream cheese in a mixing bowl and break it up with a fork until smooth. Stir in the salmon, lemon zest and juice, chives, and plenty of pepper.
2.  Transfer to a serving dish, cover with cling film, and chill until ready to serve.
3.  Spread the pâté on oatcakes and serve with cucumber sticks.

| | |
| --- | --- |
| Fat:  91.71 g | Fiber: 2.08 g |
| Iron: 5.54 mg | Sugar: 14.71 g |
| Calcium: 329.36 mg | Sodium: 2758.77 mg |
| Potassium: 843.98 mg | Calories: 1254.95 kcal |
| Protein: 53.34 g | Vitamin A: 3108.36 IU |
| Vitamin C: 49.93 g | Carbohydrates: 55.43 g |
| Saturated Fat: 43.68 g | Cholesterol: 263.93 mg |