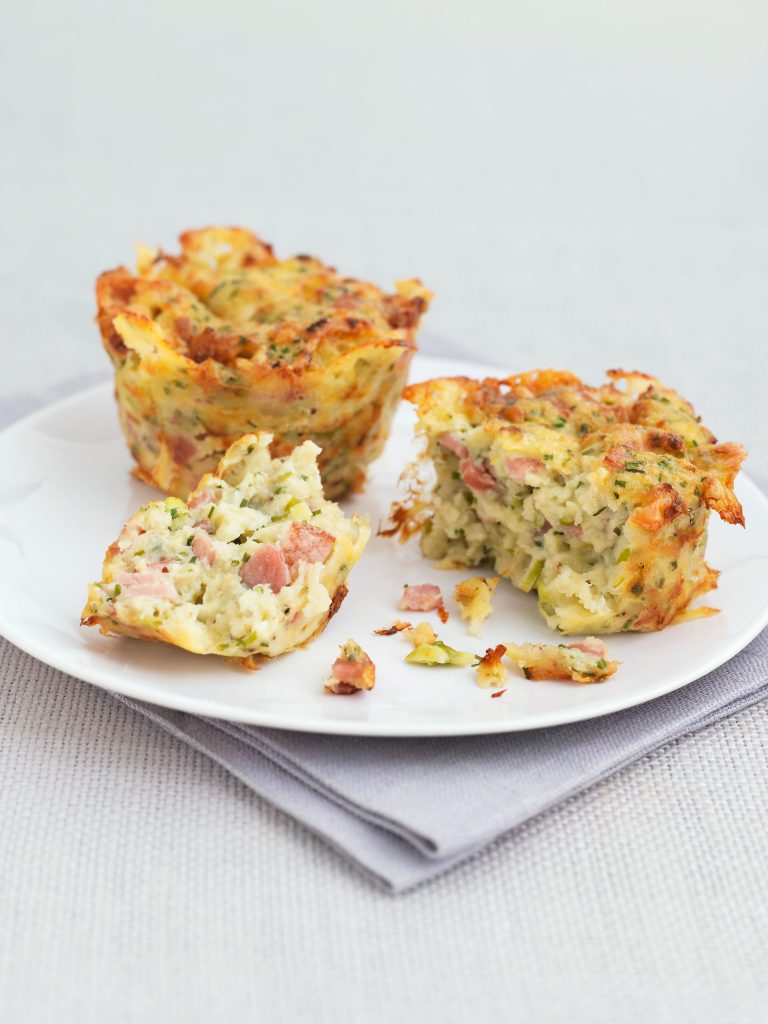 The perfect breakfast on the go or handy snack, bacon adds a delicious twist to these cheesy mini-cakes that will keep you full all morning.
SERVES 4
PREP TIME 10 MINS
COOK TIME 25 MINS

4 150ml (5fl oz) Metal Pudding Moulds Or Ramekins
Frying Pan
Large Bowl
Wooden Spoon
Skewer
Wire Rack

4 lean back bacon rashers
150 g Cheddar cheese, cut into small pieces
4.5 oz (125g) fresh wholemeal breadcrumbs
1 small bunch spring onions, finely chopped
3 eggs
3.5 fl. oz. (100ml) semi-skimmed milk
1 handful fresh chives, chopped
Salt and freshly ground black pepper
Butter, for greasing

1.  Preheat the oven to 190°C (375°F/Gas 5). Heat a frying pan over a medium–high heat and add the bacon rashers. Fry until cooked, but not too crispy, then cut into bite-sized pieces and set aside.
2.  In a large bowl, mix together the cheese, breadcrumbs, spring onions, eggs, and milk. Stir through the bacon and chives, and season well.
3.  Grease four 150ml (5fl oz) metal pudding moulds or ramekins with the butter and divide the batter equally between them. Bake in the oven for about 25 minutes, or until the muffins are well risen and golden and a skewer inserted into the middle comes out clean. Transfer to a wire rack and leave to cool slightly. Serve warm.

NUTRITIONAL INFORMATION (per recipe)
| | |
| --- | --- |
| Fat:  122.3 g | Fiber: 6.46 g |
| Iron: 10.3 mg | Sugar: 15.06 g |
| Calcium: 1543.71 mg | Sodium: 3605.89 mg |
| Potassium: 981.37 mg | Calories: 1868.16 kcal |
| Protein: 86.23 g | Vitamin A: 3267.12 IU |
| Vitamin C: 7.04 g | Carbohydrates: 96.28 g |
| Saturated Fat: 60.59 g | Cholesterol: 757.9 mg |