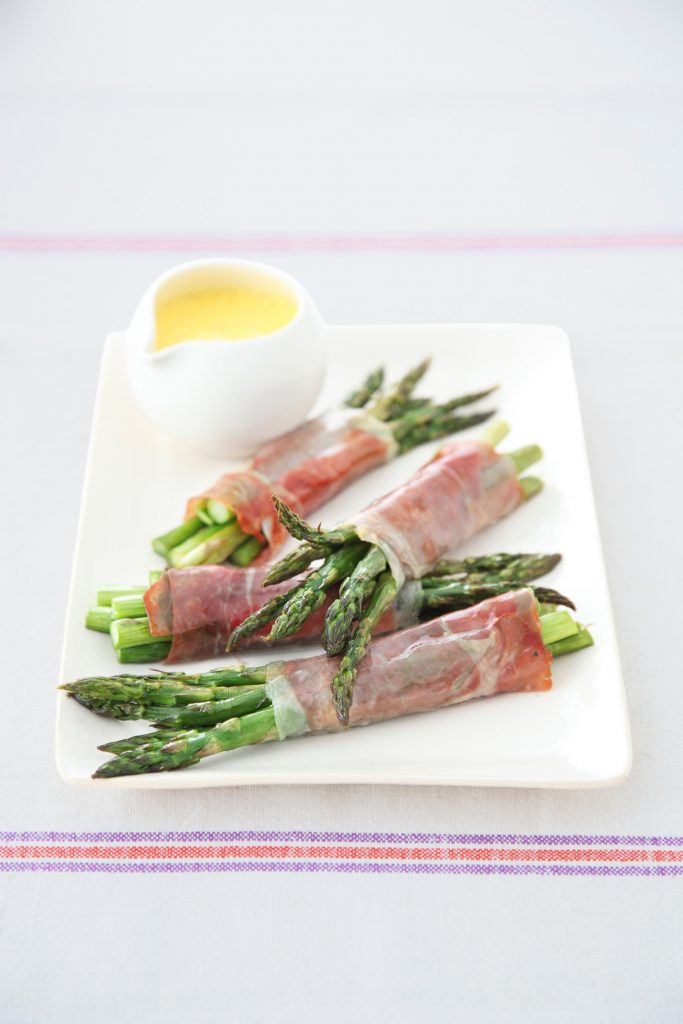 This easy but elegant dish makes a great starter, and each bundle is one perfect serving.
SERVES 4
PREP TIME 10 MINS
COOK TIME 15 MINS

Baking Tray

24 fine asparagus spears
2 tbsp olive oil
Salt and freshly ground black pepper
4 slices prosciutto slices

Recipe Method:
1.  Preheat the oven to 230°C (450°F/Gas 8). Trim the asparagus spears of their woody ends, put them on a plate, and rub with 1 tablespoon of olive oil. Season well.
2.  Lay a slice of the prosciutto on a board and put one-quarter of the asparagus spears in the middle. Carefully wrap the prosciutto around the asparagus to make a neat parcel, leaving the tips exposed. Lay it on a baking tray with the meat facing down. Repeat to make four parcels. Brush the prosciutto with the remaining olive oil.
3.  Bake at the top of the hot oven for 15 minutes, until the prosciutto is crispy and the asparagus cooked through. Serve as it is, or with a Hollandaise sauce, or a poached egg.

| | |
| --- | --- |
| Fat:  41.16 g | Fiber: 8.06 g |
| Iron: 8.52 mg | Sugar: 7.22 g |
| Calcium: 94.52 mg | Sodium: 995.24 mg |
| Potassium: 839.48 mg | Calories: 457.76 kcal |
| Protein: 12.49 g | Vitamin A: 2914.88 IU |
| Vitamin C: 21.5 g | Carbohydrates: 7.25 g |
| Saturated Fat: 8.27 g | Cholesterol: 21.12 mg |