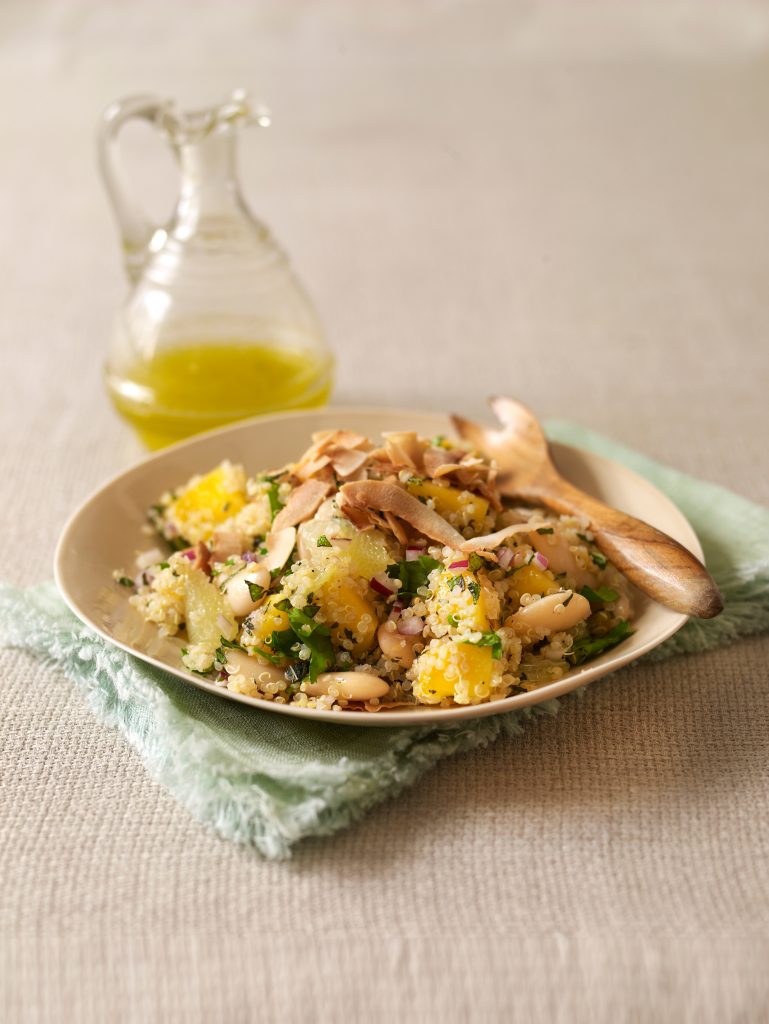 A healthy salad full of big, tropical flavours and bright colours. Try to get Alphonso mangoes, if possible, which are famed for their sweetness.
SERVES 4
PREP TIME 15 MINS
COOK TIME 10 MINS

Frying Pan
Wooden Spoon
Small Bowl
Whisk
Drainer

1.75 oz (50g) desiccated or flaked coconut
10 oz (300g) quinoa
400 g butter beans, drained and rinsed
1/2 red onion, finely chopped
1 large mango, peeled, stoned, and cut into bite-sized pieces
1 lime, peeled, segented, and segents halved
1 handful mint, finely chopped
1 handful flat-leaf parsley, finely chopped
3 tbsp olive oil
1 tbsp white wine vinegar
Pinch of sugar
Salt and freshly ground black pepper

1.  Toast the coconut by dry-frying it in a pan over a medium heat for 2–3 minutes until golden, stirring so that it doesn't burn. Remove from the heat and allow to cool.
2.  To make the dressing, place all the ingredients in a small bowl or jug and whisk. Taste and adjust the seasoning as needed.
3.  Cook the quinoa according to pack instructions. Drain well and tip into a large serving bowl. While the quinoa is still warm, stir through the butter beans, onion, mango, lime, mint, and parsley, and season.
4.  Pour over the dressing and stir well. Sprinkle the toasted coconut on top and serve immediately.

| | |
| --- | --- |
| Fat:  92.95 g | Fiber: 53.71 g |
| Iron: 23.47 mg | Sugar: 36.42 g |
| Calcium: 304.71 mg | Sodium: 2162.82 mg |
| Potassium: 3293.2 mg | Calories: 2235.22 kcal |
| Protein: 66.22 g | Vitamin A: 2820.91 IU |
| Vitamin C: 106.32 g | Carbohydrates: 244.67 g |
| Saturated Fat: 36.59 g | Cholesterol: 0 mg |