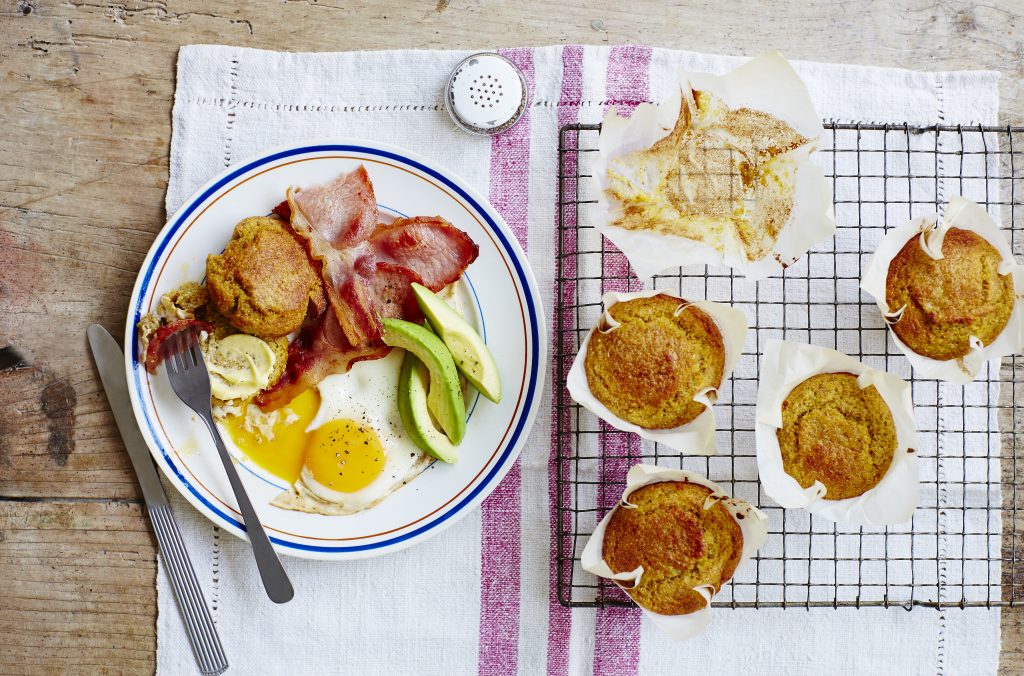 Rich in wholegrains, these savoury muffins make a perfect start to your day. Serve with eggs, bacon, and avocado for a hearty breakfast.
SERVES 8
PREP TIME 10 MINS
COOK TIME 20 MINS

8-hole muffin tin
Paper cases
Large Mixing Bowl
Wooden Spoon
Frying Pan

1 tbsp light olive oil
4 large eggs
8 bacon rashers
1 large knob butter, to serve
2 avocados, pitted and cut into thin slices, to serve
4.5 oz (125g) polenta
2 oz (60g) wholemeal flour
5.5 oz (150g) prepared quinoa
1 tbsp baking powder
1/2 tsp baking soda
3/4 tsp sea salt
9 fl. oz. (250ml) milk
3 1/2 tbsp light olive oil
1 tbsp honey
3 large eggs

1.  Preheat the oven to 200°C (400°F/Gas 6). Grease and line an 8-hole muffin tin with paper cases. For the batter, place the polenta, flour, quinoa, baking powder, baking soda, and salt in a large bowl and mix to combine.
2.  In a separate bowl, whisk together the milk, oil, honey, and the eggs until well combined. Then gently fold the liquid mixture into the dry ingredients and mix until just combined.
3.  Divide the batter equally between the eight muffin cases and transfer the tin to the oven. Bake for about 20 minutes or until a toothpick inserted into the centre comes out clean.
4.  Meanwhile, heat the oil in a frying pan over a medium heat and fry the eggs. Then add the bacon rashers and fry until crisp. Split the muffins, top with some butter, and serve with the fried eggs, bacon, and avocado.

| | |
| --- | --- |
| Fat:  263.16 g | Fiber: 46.01 g |
| Iron: 21.36 mg | Sugar: 35.7 g |
| Calcium: 1362.01 mg | Sodium: 5612.34 mg |
| Potassium: 4410.26 mg | Calories: 4057.52 kcal |
| Protein: 123.57 g | Vitamin A: 3797.9 IU |
| Vitamin C: 40.31 g | Carbohydrates: 268.85 g |
| Saturated Fat: 68.88 g | Cholesterol: 1489.92 mg |