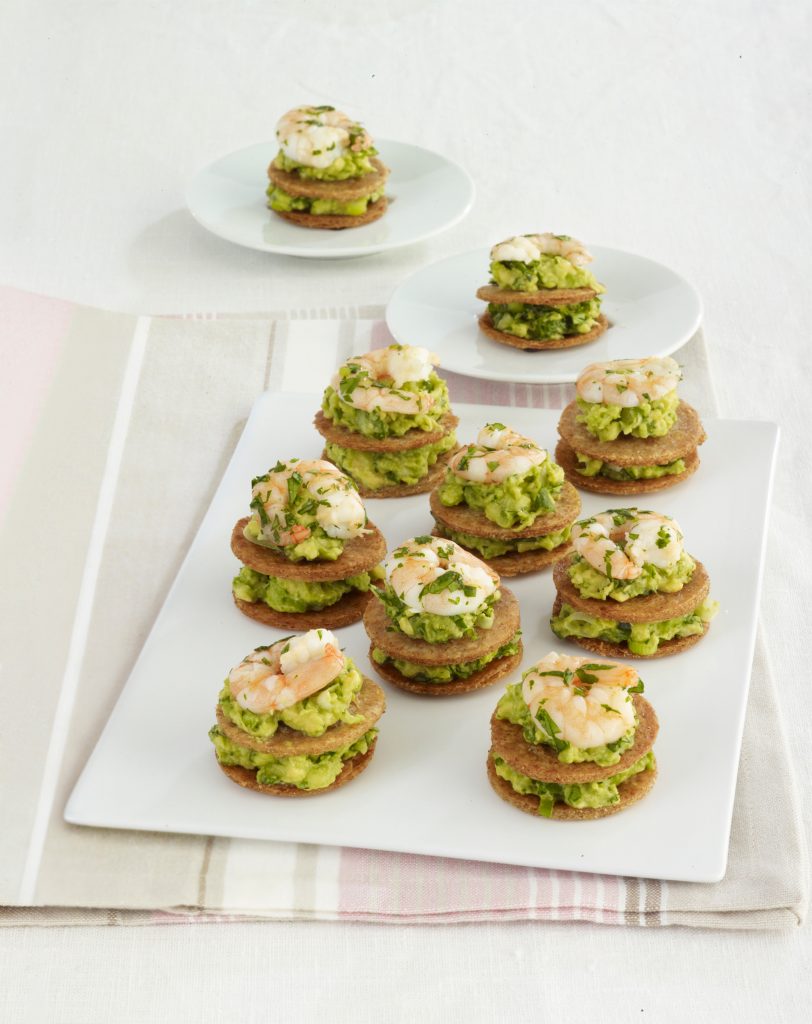 These tasty Mexican-style canapés are simple to make. Assemble the stacks just before serving to keep them fresh.
SERVES 50
PREP TIME 15 MINS
COOK TIME 10 MINS

3cm ( 1 1/4 in) Pastry Cutter
Piping Bag With Small Plain Nozzle
Saucepan
Bowl
Slotted Spoon
Kitchen Paper

5 wheat or corn tortillas
1 liter sunflower oil
2 ripe avocados, stoned and skinned
Juice of 1 lime
Tabasco sauce
4 tbsp coriander, finely chopped, plus extra as a garnish
4 spring onions, trimmed and finely chopped
Sea salt and freshly ground black pepper
50 large cooked, peeled cold water prawns
FOR A GLUTEN FREE VERSION use gluten-free tortillas

1.  Cut at least 100 discs out of the tortillas with a 3 cm (1 1/4 in) pastry cutter. Heat the oil in a medium-sized saucepan. Drop the tortillas into the oil, a handful at a time, and deep-fry until golden. Do not overcrowd the pan, or the tortillas will not crisp up properly. Remove them with a slotted spoon, drain on kitchen paper, put aside, and allow to cool.
2.  In a bowl, mash the avocados with half the lime juice, a dash of Tabasco, 3 tablespoons of the chopped coriander, the chopped onions, and sea salt and pepper to taste.
3.  When there are about 30 minutes left before serving, marinate the prawns with the remaining lime juice and the remaining 1 tablespoon chopped coriander in a small bowl.
4.  To serve, pipe a little guacamole onto a tortilla using a piping bag with small plain nozzle, top it with another tortilla, pipe more guacamole on top, and finish with a prawn and a little of the remaining coriander as a garnish.
| | |
| --- | --- |
| Fat:  1163.28 g | Fiber: 71.05 g |
| Iron: 54.48 mg | Sugar: 71.34 g |
| Calcium: 1819.77 mg | Sodium: 20257.31 mg |
| Potassium: 4671.62 mg | Calories: 14305.38 kcal |
| Protein: 136.52 g | Vitamin A: 1199.15 IU |
| Vitamin C: 62.39 g | Carbohydrates: 795.62 g |
| Saturated Fat: 132.2 g | Cholesterol: 0 mg |