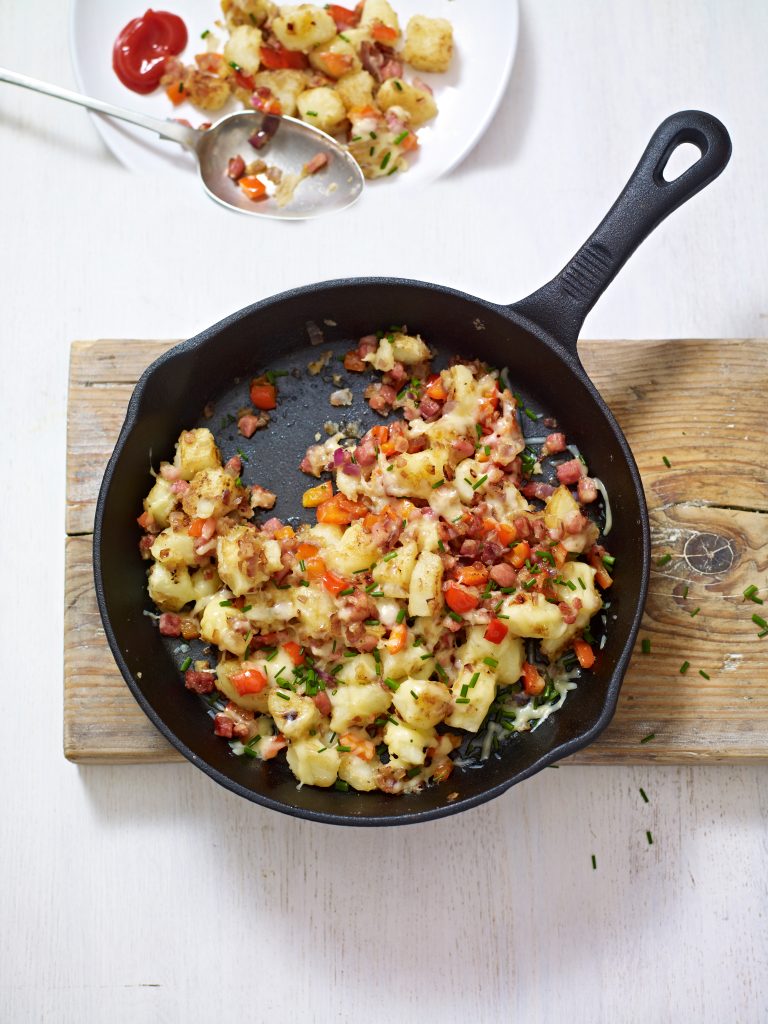 A hash is perfect if you fancy something more substantial in the morning. Try serving each portion topped with a fried egg – keep the yolks runny, if you like, as they will form a "sauce" for the hash.
SERVES 2
PREP TIME 10 MINS
COOK TIME 20 MINS

Pan
Drainer
Large Non-Stick Frying Pan
Wooden Spoon
Salt and freshly ground black pepper
500 g floury potatoes, such as King Edward or Maris Piper, peeled and cut into bite-sized chunks
2 tsp olive oil
1 red onion, finely chopped
1/2 red pepper, diced
1.75 oz (50g) pancetta lardons
1 tbsp finely chopped chives
1.75 oz (50g) grated mature Cheddar cheese, to serve

1. Bring a pan of salted water to the boil, add the potatoes, and cook for 10 minutes. Drain.
2.  Meanwhile, heat the oil in a large, non-stick frying pan over a medium heat and cook the onion and red pepper for 5 minutes. Add the pancetta, season well, and cook for a further 5 minutes, stirring occasionally.
3.  Add the boiled potatoes to the frying pan and cook over a high heat for about 10 minutes, stirring frequently.
4.  Divide the hash between warmed plates, and sprinkle with the chives. Serve with a grating of Cheddar cheese or, if you prefer, baked beans and tomato ketchup.

| | |
| --- | --- |
| Fat:  45.89 g | Fiber: 14.2 g |
| Iron: 5.03 mg | Sugar: 11.38 g |
| Calcium: 452.74 mg | Sodium : 1061.15 mg |
| Potassium : 2547.05 mg | Calories: 934.73 kcal |
| Protein: 30.61 g | Vitamin A: 2521.21 IU |
| Vitamin C: 184.36 g | Carbohydrates: 88.43 g |
| Saturated Fat: 18.5 g | Cholesterol: 84.83 mg |