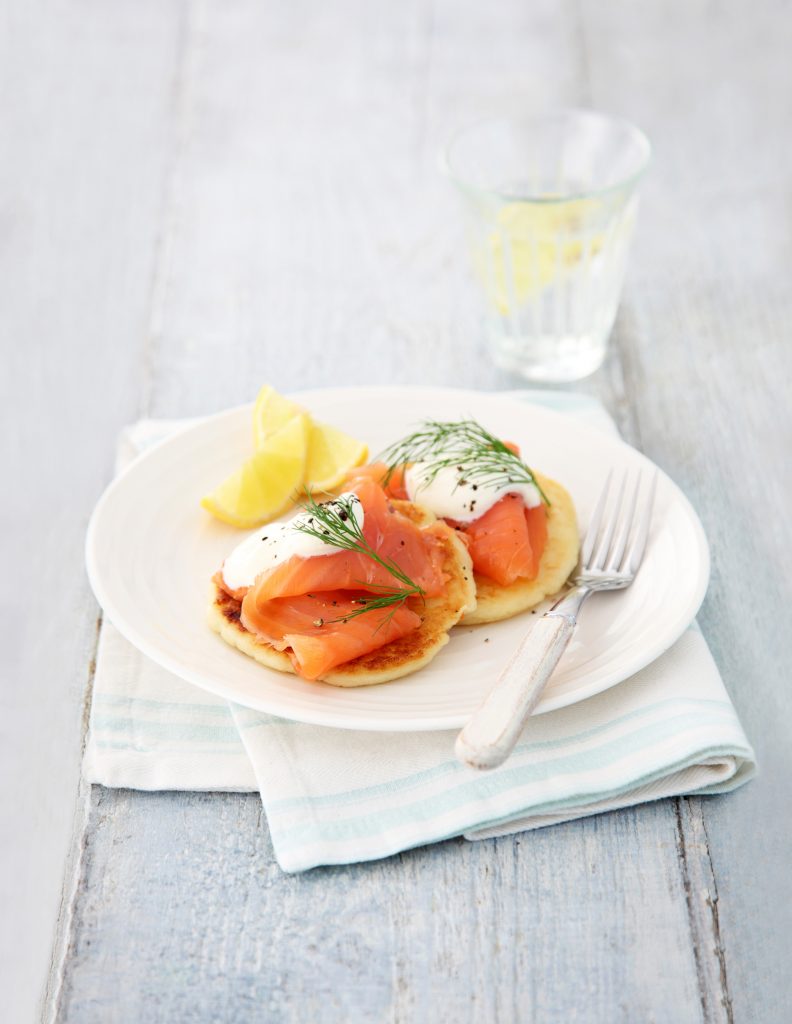 Cook extra mashed potato in the week and you'll have the basis of this fabulous brunch dish. Dill helps in digestion and also has antibacterial properties.
SERVES 4
PREP TIME 10 MINS
COOK TIME 10 MINS

Mixing Bowl
Wooden Spoon
Large Non-Stick Frying Pan

1 lb (450g) cooked, cold mashed potato
1 egg, beaten
25 g plain flour, plus extra for dusting
Salt and freshly ground black pepper
2 tbsp olive oil
3.5 oz (100g) smoked salmon, thinly sliced
4 tbsp soured cream
2 tbsp chopped dill
Lemon wedges, to serve

1.  Place the potato, egg, and flour in a mixing bowl. Season well and stir to combine. Divide into eight equal portions and, with flour- dusted hands, shape into rounds about 7cm (2 3/4 in) in diameter.
2.  Heat the oil in a large, non-stick frying pan over a medium heat. Carefully add the pancakes to the pan. Cook for 10–15 minutes, occasionally turning the pancakes carefully with a fish slice, until they are browned and hot right through.
3.  Transfer the pancakes to warmed plates. Top each with smoked salmon, soured cream, and dill. Season well with black pepper and serve with lemon wedges.

| | |
| --- | --- |
| Fat:  46.62 g | Fiber: 10.79 g |
| Iron: 6.63 mg | Sugar: 5.25 g |
| Calcium: 149.99 mg | Sodium: 1682.8 mg |
| Potassium: 2250.27 mg | Calories: 960.94 kcal |
| Protein: 36.47 g | Vitamin A: 694.65 IU |
| Vitamin C: 92.59 g | Carbohydrates: 89.66 g |
| Saturated Fat: 11.85 g | Cholesterol: 211.46 mg |