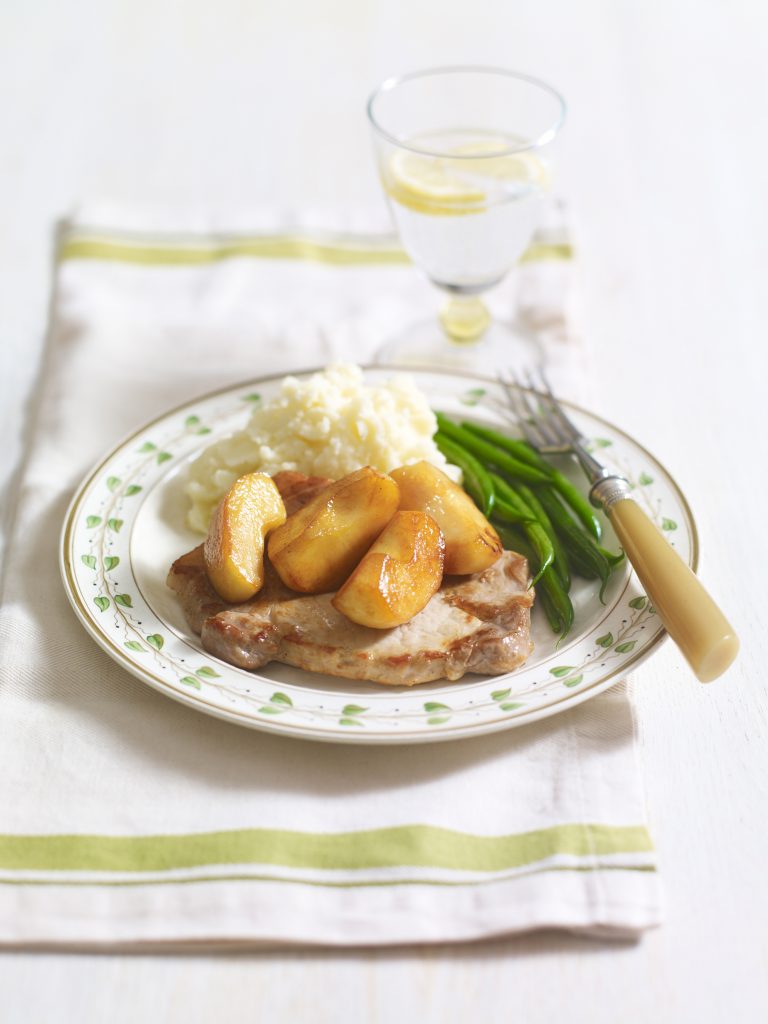 A super-quick, tasty meal; the fried apples make a near-instant accompaniment to the pork. Apples and pork are a traditional pairing, still popular even though pork is now available all year round, not just during the autumn.
SERVES 4
PREP TIME 5 MINS
COOK TIME 15 MINS

Large Frying Pan
Foil
2 Spatulas

3.5 oz x 100g boneless pork steaks
Salt and freshly ground black pepper
2 tbsp olive oil
1 tbsp butter
4 small apples, peeled, cored, and quartered
1 tbsp lemon juice
1/2 tsp caster sugar

1. Season the pork well with salt and pepper. Heat 1 tablespoon of the oil in a large frying pan and fry the pork for 3–5 minutes on each side, depending on thickness, until cooked through. Set it aside, loosely covered in foil to keep it warm.
2. Add the remaining 1 tablespoon of oil and the butter to the pan and allow them to bubble up. Add the apple pieces, pour the lemon juice over, sprinkle with the sugar, and season with salt and pepper.
3. Cook the apples over a medium heat for 5–7 minutes, turning occasionally, until they soften and start to caramelize. Turn them gently using two spatulas, so the pieces don't break up. Serve each pork steak topped with one-quarter of the apples.

| | |
| --- | --- |
| Fat: 46.24 g | Fiber: 14.35 g |
| Iron: 2.09 mg | Sugar: 64.41 g |
| Calcium: 54.74 mg | Sodium: 947.73 mg |
| Potassium: 993.43 mg | Calories: 801.65 kcal |
| Protein: 20.3 g | Vitamin A: 677.6 IU |
| Vitamin C: 33.23 g | Carbohydrates: 71.1 g |
| Saturated Fat: 13.32 g | Cholesterol: 90.06 mg |