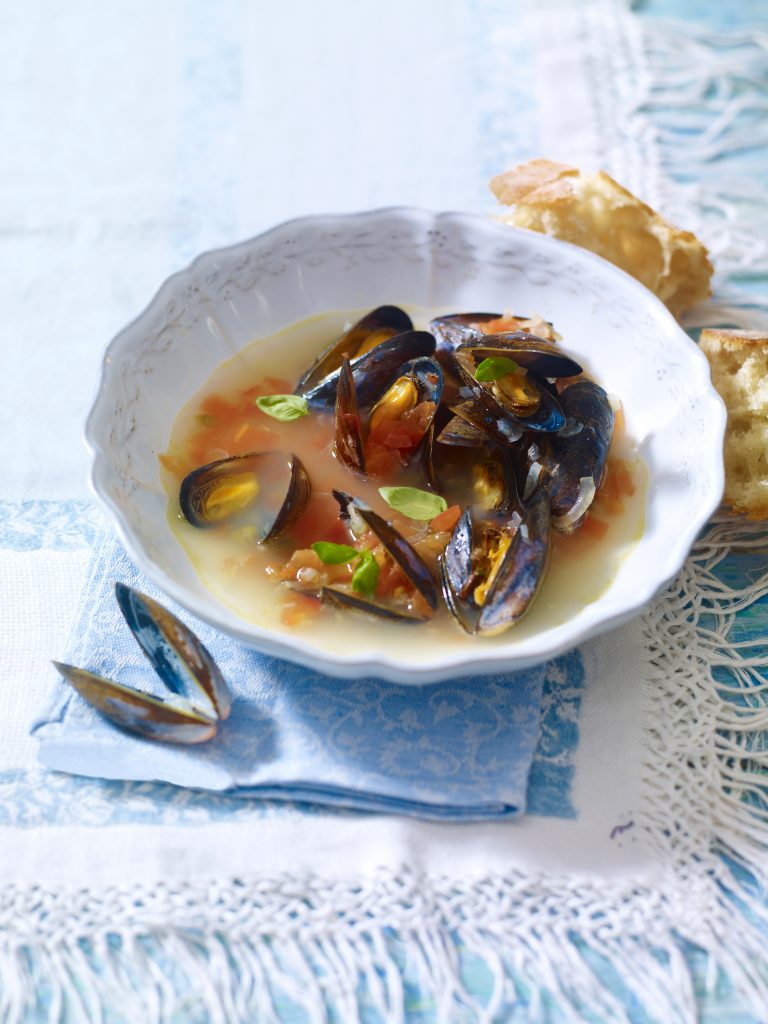 Mussels, cultivated since ancient times in the Bay of Taranto in the south of Italy, are an excellent source of fatty acids, vitamins, and minerals. They are the most nutrient-dense seafood.
SERVES 4
PREP TIME 10 MINS
COOK TIME 0 MINS

Large Soup Pan And Lid
Fine Sieve
Wooden Spoon

3 lb (1.35kg) large mussels in shells
5 fl. oz. (150ml) dry white wine
2–3 tbsp olive oil
1 onion, finely chopped
1 garlic clove, finely chopped
1 liter hot fish stock
500 g ripe tomatoes, skinned and diced
1–2 bay leaves
1 tbsp crumbled fresh or dried oregano
1 tsp capers, drained
Salt
1 bunch basil, shredded, to serve
FOR A GLUTEN FREE VERSION use gluten-free stock

1.  Scrub the mussels and trim off the beards. They will close themselves tightly – but if they do not, they are dead and should not be used.
2.  In a large soup pan, bring the wine to the boil and pack in the mussels. Cover and steam for 2–3 minutes, giving the pan a shake to move the shellfish around, until all the shells are open. Reject any that remains shut and reserve the ones in their shells. Strain the broth through a fine sieve to remove the grit and set aside.
3.  In the same pan, heat the oil and fry the onion and garlic until soft but not browned. Add the stock and the reserved broth, tomatoes, bay leaves, and oregano, and bring to the boil. Simmer for 5 minutes, then tip in the mussels and capers. Reheat and season with salt.
4.  Sprinkle with the basil and serve in deep soup bowls.

| | |
| --- | --- |
| Fat:  55.97 g | Fiber: 53.82 g |
| Iron: 24.3 mg | Sugar: 64.46 g |
| Calcium: 774.72 mg | Sodium: 7891.64 mg |
| Potassium: 5486.9 mg | Calories: 5780.05 kcal |
| Protein: 204.11 g | Vitamin A: 6725.67 IU |
| Vitamin C: 79.28 g | Carbohydrates: 1016.86 g |
| Saturated Fat: 9.24 g | Cholesterol: 0 mg |