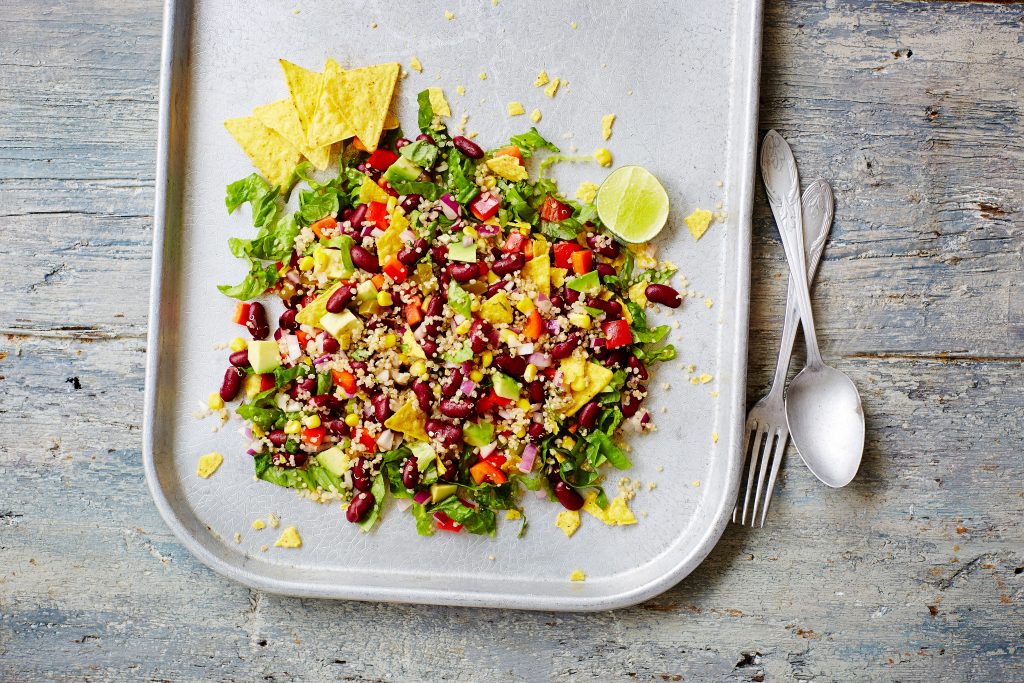 Crunchy tortilla chips and spicy chillies create a salad that packs a real punch in flavour and texture, and which everyone can enjoy.
SERVES 2
PREP TIME 10 MINS
COOK TIME 20 MINS

Drainer
Lidded Saucepan
Large Bowl

Recipe Ingredients:
1.75 oz (50g) uncooked quinoa
400 g red kidney beans, drained
50 g sweetcorn
1/2 red onion, finely chopped
1 red pepper, deseeded and finely chopped
4–6 slices pickled jalapeño chillies, finely chopped
1 avocado, pitted and cut into cubes
1 head romaine lettuce
1.75 oz (50g) plain corn tortilla chips, crumbled, plus extra to serve
1 lemon or lime, halved, to serve
FOR A GLUTEN FREE VERSION use gluten-free tortillas

1.  Rinse the quinoa under running water, drain, and place in a lidded saucepan. Cover with 250ml (9fl oz) of water and bring to the boil.
2.  Reduce the heat to a simmer, cover, and cook for 15–20 minutes or until almost all the liquid has been absorbed and the quinoa is fluffy. Remove from the heat, drain any remaining water, and set aside to cool.
3.  Place the quinoa, kidney beans, sweetcorn, onions, peppers, and jalapeños in a large bowl. Mix until well combined. Then add the avocado and mix lightly to combine.
4.  Roughly shred the lettuce and add to the bowl. Sprinkle the tortillas over the mixture and toss lightly. Transfer the salad to a serving platter or plate. Serve immediately with tortilla chips and lemons or limes to squeeze over.

| | |
| --- | --- |
| Fat:  52.92 g | Fiber: 63.02 g |
| Iron: 19.14 mg | Sugar: 31.82 g |
| Calcium: 571.06 mg | Sodium: 1721.08 mg |
| Potassium: 4641.17 mg | Calories: 1497.6 kcal |
| Protein: 53.03 g | Vitamin A: 58746.83 IU |
| Vitamin C: 270.11 g | Carbohydrates: 162.36 g |
| Saturated Fat: 7.71 g | Cholesterol: 0 mg |