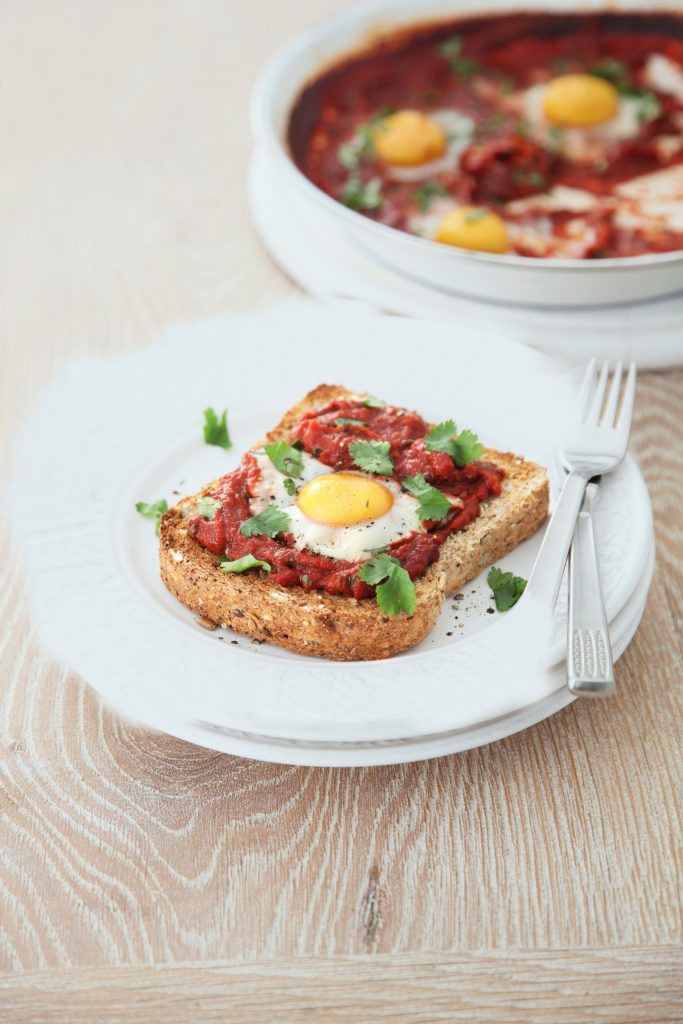 A cheap, filling breakfast. Add chilli for more heat. If you don't have any passata, simply blend a can of tomatoes in a food processor, then strain.
SERVES 4
PREP TIME 5 MINS
COOK TIME 25 MINS

25cm (10in) Heavy-Based , Oven Proof Frying Pan
Wooden Spoon

1 tbsp olive oil
2 garlic cloves, crushed
14 fl. oz. (400ml) tomato passata
1 tsp smoked paprika
Salt and freshly ground black pepper
1 tbsp chopped coriander leaves
4 eggs
4 slices thick slices of wholemeal or Granary bread

1.  Heat the oil in a 25cm (10in) heavy-based, ovenproof frying pan over a medium heat and fry the garlic for 1 minute until it begins to colour. Add the passata and smoked paprika and season well. Bring to the boil, reduce to a gentle simmer, and cook for 20 minutes until thickened and reduced.
2.  Five minutes before it is ready, preheat the grill on its highest setting. Stir most of the coriander into the tomato mixture.
3.  When the sauce is ready, take it off the heat. Make four holes in the sauce with the back of a spoon. Crack an egg into each hole and put the pan under the hot grill for 2–3 minutes, until the eggs have just set. Meanwhile, grill or toast the slices of bread.
4.  Scoop a little of the tomato sauce over the top of each piece of toast, then top it with an egg and sprinkle over the reserved coriander to serve.

| | |
| --- | --- |
| Fat:  35.46 g | Fiber: 9.91 g |
| Iron: 8.36 mg | Sugar: 18.62 g |
| Calcium: 306.62 mg | Sodium: 1628.74 mg |
| Potassium: 1464.69 mg | Calories: 762.92 kcal |
| Protein: 37.8 g | Vitamin A: 4582.95 IU |
| Vitamin C: 65.21 g | Carbohydrates: 65.15 g |
| Saturated Fat: 8.46 g | Cholesterol: 654.72 mg |