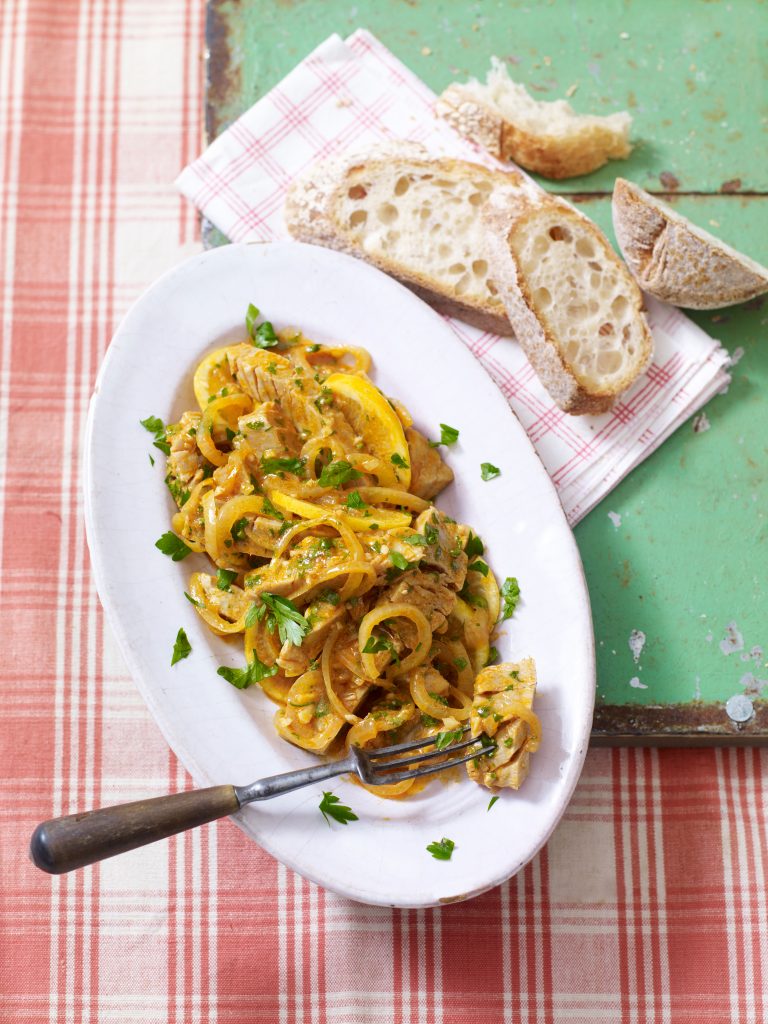 Briefly frying or poaching fish, then marinating it to finish the cooking and add flavour, is a favourite Mediterranean cooking method.
SERVES 4
PREP TIME 10 MINS
COOK TIME 10 MINS
Frying pan
Non-metallic dish
Spoon
Cling Film

3 fl. oz. (90ml) olive oil
450 g fresh boneless tuna or other fish fillet cut into 1cm ( 1/2 in) thick slices
1 large mild onion, cut into thin rings, rings halved
Salt and freshly ground black pepper
2 garlic cloves, crushed
1 tsp smoked pimentón
1 scant tsp ground cumin or coriander
1 tbsp snipped flat-leaf parsley
3 sprigs thyme
1 lemon, thinly sliced
3 tbsp white wine vinegar

1.  Heat 1 tablespoon of the oil in a frying pan. Add the tuna slices and sear over a medium heat for 2 minutes on each side, until coloured and a little stiff. Place the slices in a non-metallic dish.
2.  Add 2 tablespoons of the oil to the pan, stir in the halved onion rings, season, and cook for 3–5 minutes over a medium heat. Add the garlic, paprika, and cumin. Fry for a further 2 minutes, stirring occasionally. Spoon the contents of the pan over the fish and spread with the back of a spoon to coat evenly. Season again lightly and stir.
3.  Scatter over the parsley and thyme. Cover the tuna with the slices of lemon. Mix the remaining oil with the vinegar and pour over the fish. Cover with cling film and refrigerate overnight or for 24 hours. Serve as a starter, chilled, or at room temperature.

| | |
| --- | --- |
| Fat:  111.85 g | Fiber: 7.06 g |
| Iron: 8.14 mg | Sugar: 9.31 g |
| Calcium: 146.79 mg | Sodium: 1002.07 mg |
| Potassium: 1640.78 mg | Calories: 1554.74 kcal |
| Protein: 108.96 g | Vitamin A: 10919.14 IU |
| Vitamin C: 80.37 g | Carbohydrates: 21.55 g |
| Saturated Fat: 18.11 g | Cholesterol : 171 mg |