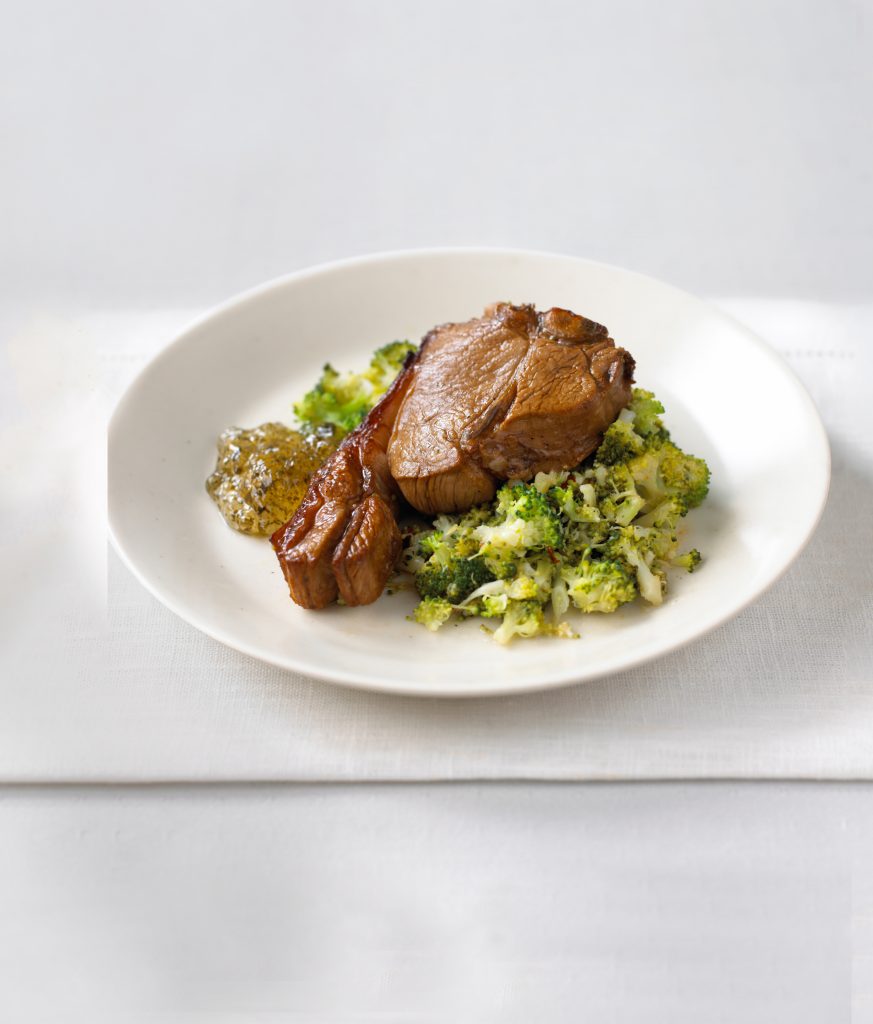 This meal is simplicity itself. The marinade is quick to prepare, and you can leave it to flavour the lamb for as much–or as little–time as you have.
SERVES 4
PREP TIME 10 MINS
COOK TIME 30 MINS

Roasting Tin
Pan With Lid
Fork or Masher
Drainer

4 lean lamb loin chops, fat removed
Salt and freshly ground black pepper
1 handful fresh rosemary stalks
10 oz head broccoli, about 300g , florets and stalks chopped fairly small
Juice of 1 lemon
Pinch of chilli flakes
Mint jelly, to serve
2 tbsp sherry vinegar, cider vinegar, or white wine vinegar
Pinch of sugar
1 tablespoon dark soy sauce
FOR A GLUTEN FREE OPTION use gluten-free tamari to replace soy sauce

1.  Preheat the oven to 200°C (400°F/Gas 6). First, prepare the marinade. Mix together the vinegar, sugar, and soy sauce, then pour over the lamb. Leave to marinate for 5 minutes, or longer if time permits.
2.  Sit the lamb chops in a roasting tin, season well with salt and black pepper, and throw in the rosemary stalks. Roast in the oven for 20–30 minutes until cooked to your liking.
3.  While the lamb is cooking, put the broccoli in a pan of boiling salted water, and cook for about 10 minutes until just soft. Drain, keeping the broccoli in the pan, then mash very gently with a fork. Squeeze over the lemon juice, and add the chilli, a pinch of salt, and some black pepper. Put a lid on the pan, and give it a shake. Serve immediately with the roasted lamb chops and a dollop of mint jelly on the side.

| | |
| --- | --- |
| Fat:  28.22 g | Fiber: 8.64 g |
| Iron: 13.31 mg | Sugar: 40.88 g |
| Calcium: 222.69 mg | Sodium : 6250.3 mg |
| Potassium: 2388.36 mg | Calories: 1065.95 kcal |
| Protein: 112.01 g | Vitamin A: 1828.9 IU |
| Vitamin C: 265.25 g | Carbohydrates: 76.98 g |
| Saturated Fat: 9.83 g | Cholesterol: 298.32 mg |