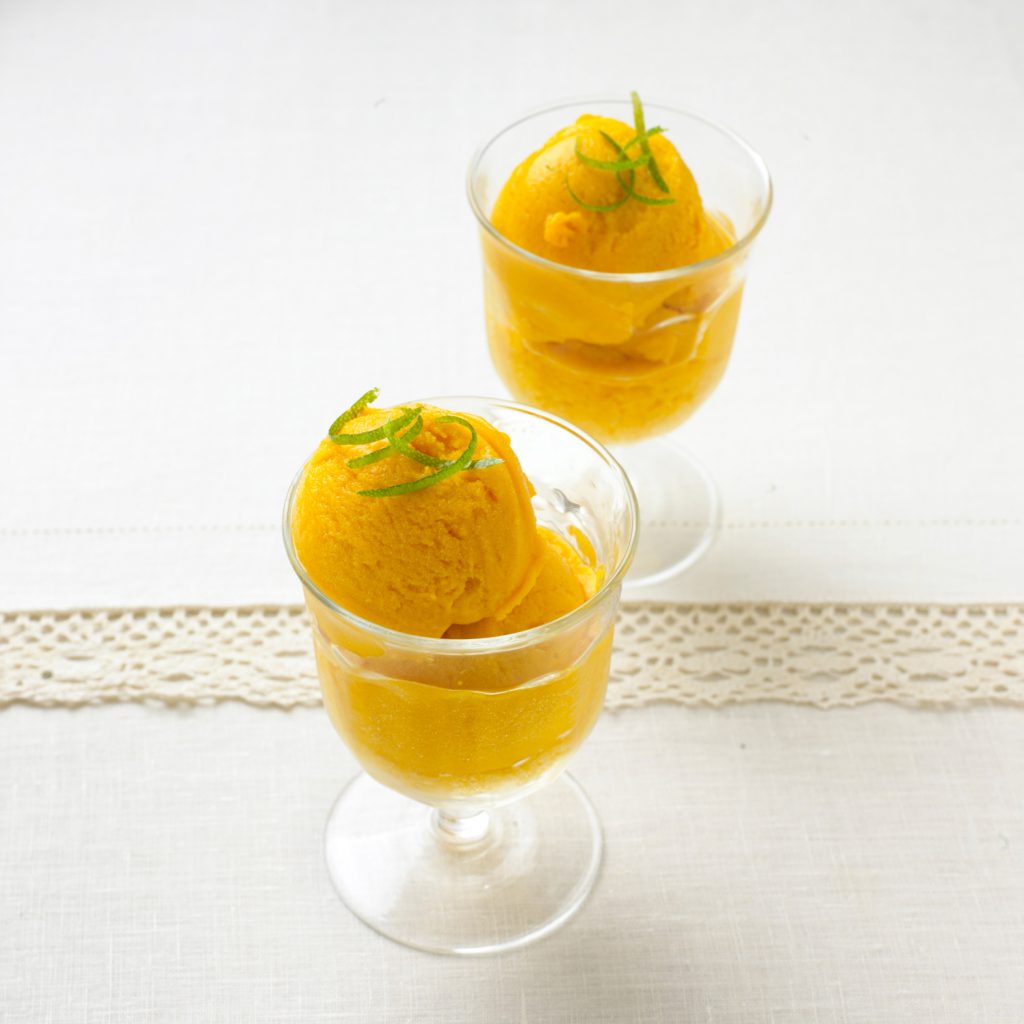 Freezing any food will diminish its flavour, so be sure the fruit is at its peak of ripeness. The citrus juices in this recipe heighten the taste and balance the mango's sweetness.
SERVES 6
PREP TIME 25 MINS
COOK TIME 2 MINS

Small Saucepan
Wooden Spoon
Peeler
Knife
Food Processor
Bowl

100 g caster sugar, plus more if needed
2.75 lb mangoes, total weight, (1.25–1.35kg)
1 lemon, juice only
1 orange, juice only
lime zest, to serve

1. Combine the sugar and 120ml (4fl oz) water in a small saucepan. Heat until the sugar has dissolved, then boil the syrup for 2–3 minutes, until it is clear. Set aside to cool.
2. Peel the mangoes. Cut each mango lengthwise into two pieces, slightly off-centre just to miss the stone. Cut the flesh away from the other side of the stone. Cut away the remaining flesh. Cut all the mango into cubes. Purée it in batches, in a food processor, until smooth.
3. With the blade turning, pour in the cooled syrup and citrus juices. Taste, adding more sugar if it is tart, remembering the flavors will be dulled by freezing.
4. Pour the sorbet mixture into an ice-cream maker and freeze until firm, following the manufacturer's directions. Meanwhile, chill a bowl in the freezer.
5. Transfer the sorbet to the chilled bowl. Cover it and freeze for at least 4 hours to allow the flavour to mellow. If necessary, transfer the sorbet to the refrigerator to soften slightly. Scoop the sorbet into chilled glasses and serve immediately, sprinkled with lime zest.

| | |
| --- | --- |
| Fat: 4.94 g | Fiber: 20.34 g |
| Iron: 2.23 mg | Sugar: 276.09 g |
| Calcium: 148.59 mg | Sodium: 14.49 mg |
| Potassium: 2254.62 mg | Calories: 1170.83 kcal |
| Protein: 10.8 g | Vitamin A: 13621.44 IU |
| Vitamin C: 497.41 g | Carbohydrates: 275.44 g |
| Saturated Fat: 1.17 g | Cholesterol: 0 mg |