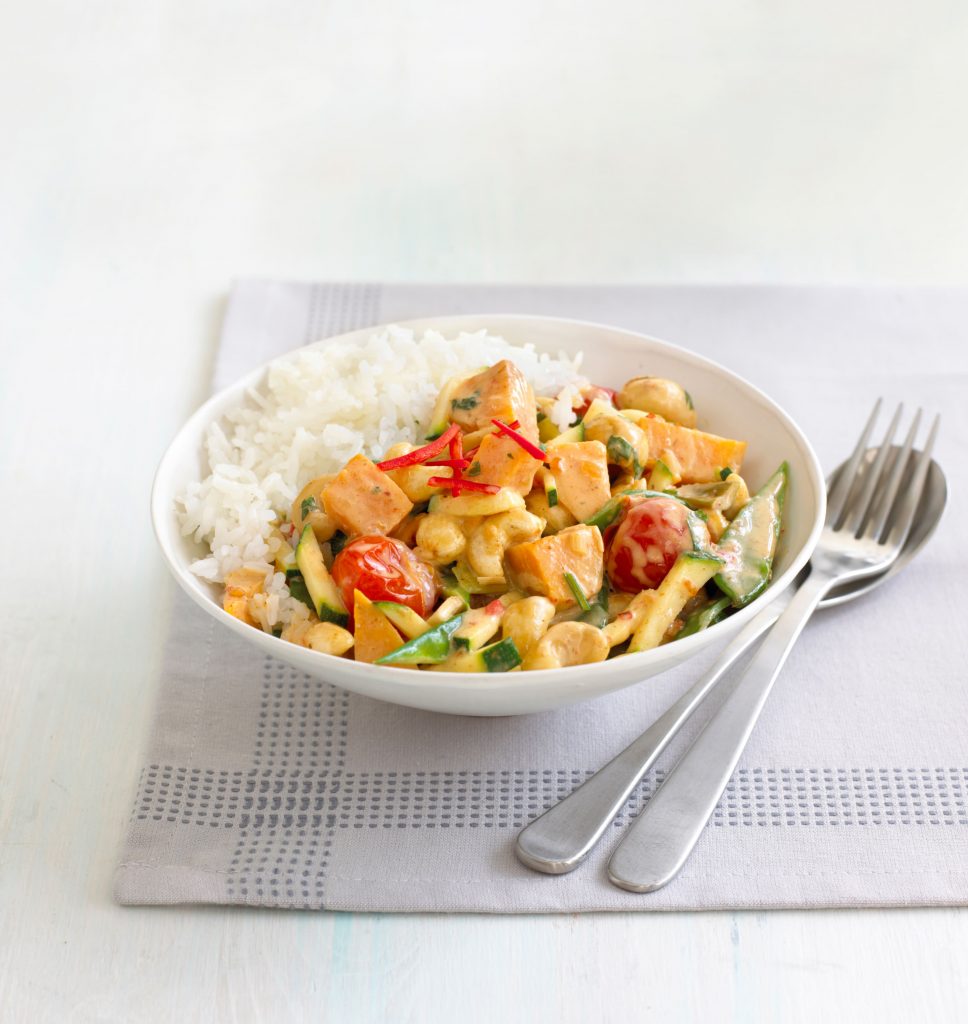 Cooking the green vegetables quickly retains their colour and texture.
Butternut squash or pumpkin can be substituted for sweet potato, and tofu for cashew nuts.
SERVES 4
PREP TIME 10 MINS
COOK TIME 20 MINS

Equipment:
Wok

Recipe Ingredients:
2 tbsp sunflower oil
1 bunch spring onions, cut into short lengths
1 sweet potato, about 600 g , peeled and cut into walnut-sized pieces
1 garlic clove, crushed
1 tsp grated fresh root ginger or galangal
1 tsp finely chopped lemongrass
3 tbsp Thai red curry paste
400 ml reduced-fat coconut milk
6 oz (175 g) mangetout, topped and tailed
2 courgettes, cut into batonettes
12 cherry tomatoes
4 oz (115 g) raw cashew nuts
1 tbsp chopped coriander
1 tablespoon lime juice
Jasmine rice, to serve
1 fat red chilli, deseeded and cut into thin strips, to garnish

Recipe Methods:
1 Heat the oil in a large saucepan or wok. Add the spring onions and stir-fry gently for 2 minutes until softened but not coloured. Add the sweet potato and cook, stirring for 1 minute.
2 Stir in the garlic, ginger, lemongrass, curry paste and coconut milk. Bring to a boil, reduce the heat, cover and simmer gently for 10 minutes, until the sweet potato is tender.
3 Meanwhile, cook the mangetout and courgette batonettes in boiling water for 2-3 minutes until just tender. Drain.
4 Stir the mangetout and courgettes into the curry with the tomatoes, nuts and coriander. Spike with a squeeze of lime juice and simmer for 2 minutes until the tomatoes are softened slightly but still hold their shape. Spoon the curry over jasmine rice served in bowls and garnish with strips of red chilli.

NUTRITIONAL INFORMATION (per recipe)
| | |
| --- | --- |
| Fat : 111.09 g | Fibre : 25.82 g |
| Iron : 18.95 mg | Sugar : 44.5 g |
| Calcium : 414.93 mg | Sodium : 551.04 mg |
| Potassium : 3788.01 mg | Calories: 2337.02 kcal |
| Protein : 51.05 g | Vitamin A : 43483.13 IU |
| Vitamin C : 303.36 g | Carbohydrates : 260.13 g |
| Saturated Fat : 40.46 g | Cholesterol : 0 mg |