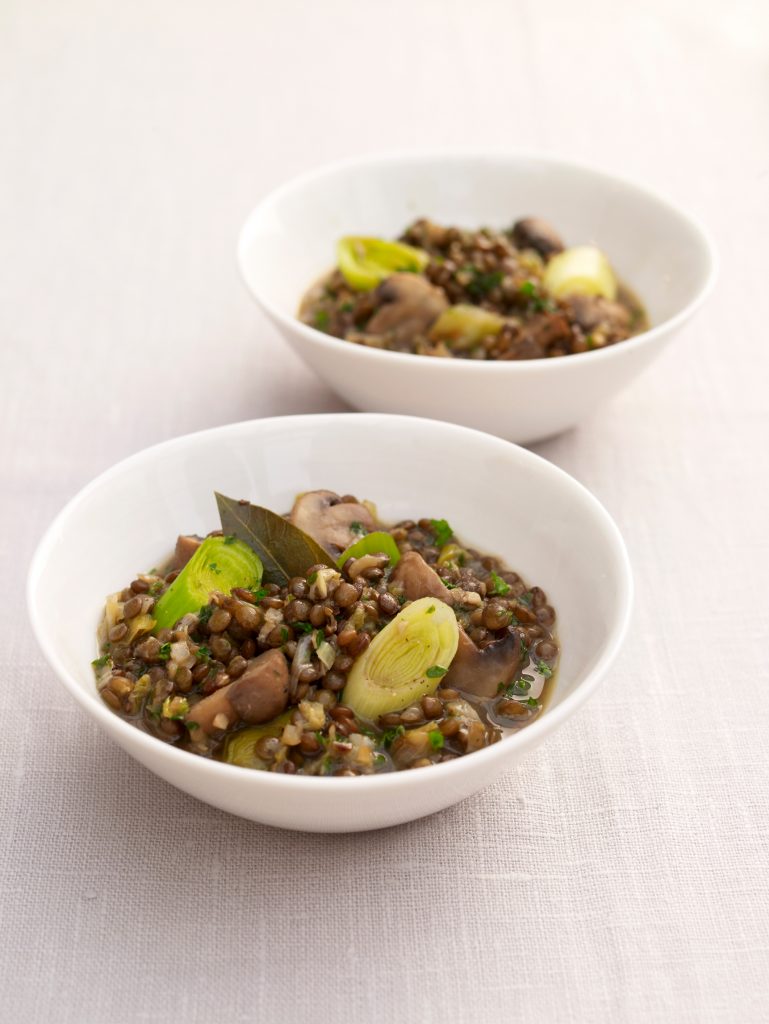 Lentils and mushrooms are both rich ingredients that give this quick vegetarian dish depth and flavour. Use dried puy lentils instead of canned, if you have time.
SERVES 4
PREP TIME 5 MINS
COOK TIME 25 MINS

Frying Pan
Wooden Spoon

1 tbsp olive oil
1 onion, finely chopped
1 bay leaf
Salt and freshly ground black pepper
2 garlic cloves, grated or finely chopped
3 leeks, trimmed and sliced
2 tsp Marmite or Vegemite, or 1 tablespoon light soy sauce
8 oz (225g) chestnut mushrooms, halved, or quartered if large
400 g green lentils or puy lentils, drained and rinsed
10 fl. oz. (300ml) hot vegetable stock
1 handful curly-leaf parsley, leaves picked and finely chopped

1.  Heat the oil in a frying pan over a low heat. Add the onion, bay leaf, and a little salt, and cook for 5 minutes until the onion is soft and translucent. Add the garlic and leek and stir through the Marmite, Vegemite, or soy sauce. Cook for a further 5 minutes until the leeks begin to soften.
2.  Add the mushrooms and cook until they release their juices – you may need to add a little more oil if necessary. Season well with salt and pepper, then stir through the lentils and hot stock. Bring to the boil, reduce the heat, and simmer gently for 15 minutes.
3.  Remove from the heat and stir in the parsley. Taste and season again if needed. Serve with some roasted tomatoes and fresh crusty bread.

| | |
| --- | --- |
| Fat:  19.38 g | Fiber: 133.23 g |
| Iron: 37.52 mg | Sugar: 30.09 g |
| Calcium: 493.88 mg | Sodium: 2728.25 mg |
| Potassium: 1729.74 mg | Calories: 1904.81 kcal |
| Protein: 120.66 g | Vitamin A: 5426.62 IU |
| Vitamin C: 67.42 g | Carbohydrates: 172.94 g |
| Saturated Fat: 2.14 g | Cholesterol: 0 mg |