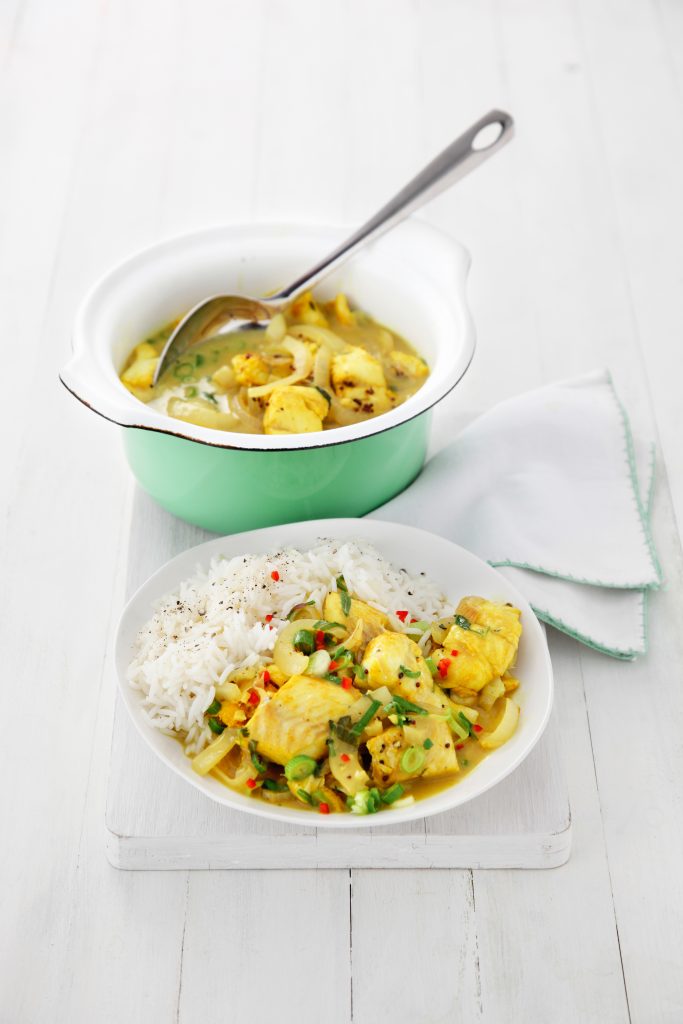 The flavour and aroma of this curry is beautifully subtle and fragrant, so try it with any firm white fish. Tamarind paste offers a slight sourness.
SERVES 4
PREP TIME 10 MINS
COOK TIME 15 MINS
Bowl
Large Non-stick Frying Pan
Wooden Spoon
800 g skinless haddock fillets, cut into bite-sized pieces
2 tsp ground turmeric
Salt and freshly ground black pepper
1 tbsp vegetable oil
1 large onion, finely sliced
1 tsp black mustard seeds
5 curry leaves
4cm fresh root ginger, finely chopped
2 tbsp tamarind paste
7 fl. oz. (200ml) coconut milk
5 fl. oz. (150ml) fish stock
2 spring onions, finely sliced
1 red chilli, deseeded and finely chopped
Coriander leaves, chopped, to serve basmati rice, to serve
FOR A GLUTEN FREE VERSION use gluten-free stock

1.  Place the haddock in a bowl, sprinkle with the turmeric, season, and stir to coat. Set aside.
2.  Heat the oil in a large, non-stick frying pan over a medium heat, and add the onion, black mustard seeds, and curry leaves. Fry gently for 10 minutes, stirring occasionally, until the onion is lightly brown.
3.  Add the ginger and cook for 1 or 2 minutes, then add the tamarind paste, coconut milk, and stock, and stir well. Heat the sauce to a gentle simmer.
4.  Add the fish and simmer gently for 3–4 minutes or until it is just cooked. Stir in the spring onions and chilli (if using).
5.  Serve the curry with basmati rice, sprinkled with chopped coriander leaves.

| | |
| --- | --- |
| Fat:  63.97 g | Fiber: 6.96 g |
| Iron: 12.62 mg | Sugar: 36.19 g |
| Calcium: 287.38 mg | Sodium: 6761.97 mg |
| Potassium: 3657.85 mg | Calories: 1386.65 kcal |
| Protein: 142.74 g | Vitamin A: 3334.01 IU |
| Vitamin C: 185.09 g | Carbohydrates: 57.15 g |
| Saturated Fat: 51.45 g | Cholesterol: 432 mg |