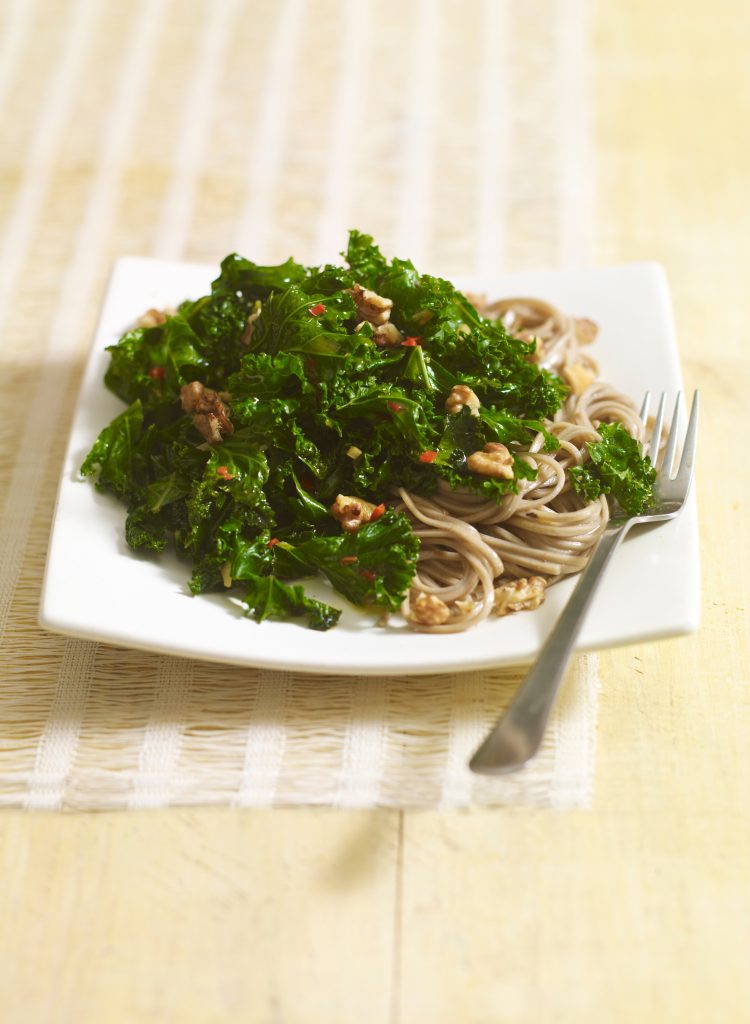 Kale is the ultimate leafy vegetable, full of antioxidants and omega-3 fatty acids that benefit the heart. It is best cooked lightly for a minimal amount of time.
SERVES 4
PREP TIME 10 MINS
COOK TIME 20 MINS
Warmed Serving Dish
Large Heavy-based Saucepan With Lid

14 oz (400g) soba buckwheat noodles
2 tbsp walnut oil, plus extra for sprinkling
1 red chilli, deseeded and finely diced
2 garlic cloves, crushed
2 tbsp tamari soy sauce
600 g fresh kale, cut into strips with the spines removed
2 tbsp fresh orange juice
4 tbsp walnut pieces, toasted, to garnish
FOR A GLUTEN FREE VERSION use gluten-free noodles
Pinch of salt

1.  Cook the soba noodles according to the packet instructions. Add a dash of walnut oil and a pinch of salt to the water before you add the noodles, if you like.
2.  Meanwhile, place a large heavy-based saucepan with a lid over a moderate heat and add the walnut oil with 2 tablespoons of water. When the oil has warmed, add the chilli and crushed garlic, and stir. Add the tamari soy sauce, followed by the kale, and stir to coat the leaves in the other ingredients.
3.  Add the orange juice, put the lid on, and let the kale steam for 2–3 minutes or until it is just cooked. Stir occasionally as it cooks, to stop it sticking to the base of the pan, and add a dash of water if necessary. Remove from the heat. Arrange the soba noodles on a warmed serving dish, pile the kale on top, and scatter over the toasted walnuts. Sprinkle a few drops of walnut oil over the dish and serve.

| | |
| --- | --- |
| Fat:  77.87 g | Fiber: 12.3 g |
| Iron: 25.66 mg | Sugar: 13.43 g |
| Calcium: 1171.99 mg | Sodium: 5402.38 mg |
| Potassium: 5019.69 mg | Calories: 3149.53 kcal |
| Protein: 126.2 g | Vitamin A: 60448.76 IU |
| Vitamin C: 804.3 g | Carbohydrates: 523.23 g |
| Saturated Fat: 7.85 g | Cholesterol: 0 mg |