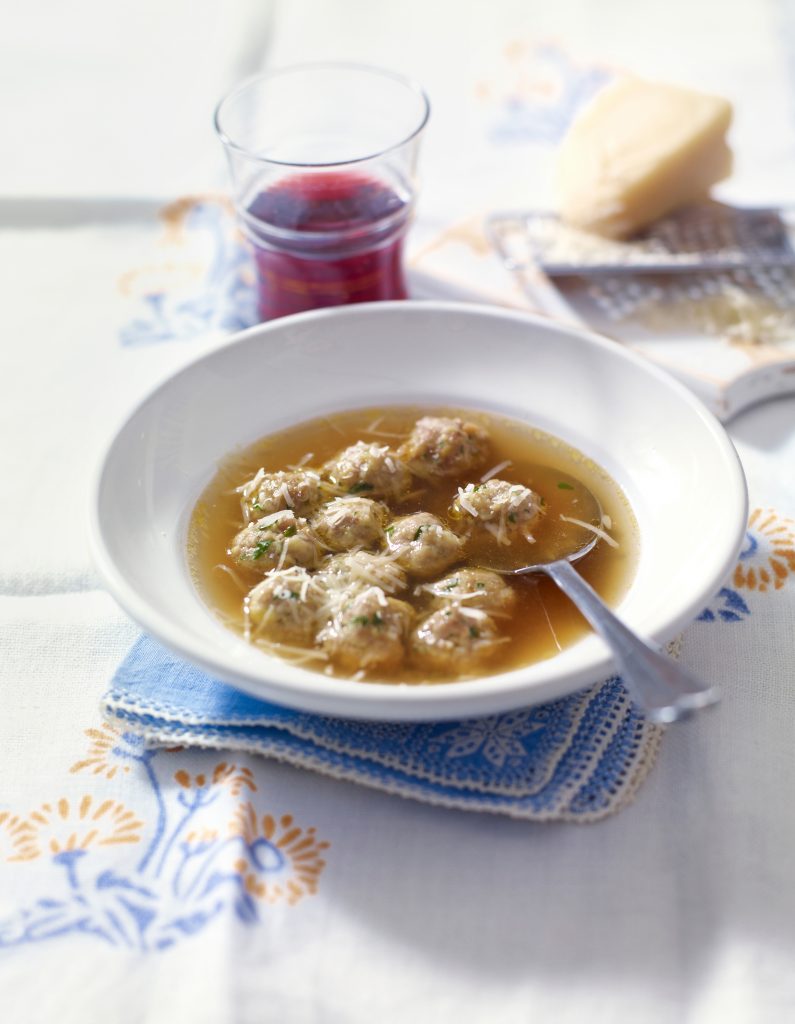 A strong stock enriched with meatballs is traditionally served at the start of a southern Italian Christmas feast. Fresh stock is a good source of calcium.
SERVES 6
PREP TIME 20 MINS
COOK TIME 10 MINS

Bowl
Plate
Saucepan
Wooden Spoon

14 oz (400g) lean minced meat
6 oz (175g) fresh breadcrumbs
1 garlic clove, finely chopped
2 tbsp finely chopped flat-leaf parsley, plus extra to garnish
2 large eggs, beaten
a little milk
Salt and freshly ground black pepper
2–3 tbsp plain flour
1.5 liters hot strong chicken or beef stock

1.  Work the minced meat with the breadcrumbs, garlic, parsley, and eggs to a soft paste – you may need a little milk or more breadcrumbs. Season.
2.  Spread the flour on a plate. With damp hands, pinch off little pieces of the paste and form into balls no bigger than a marble. Season the flour and roll the balls through it to coat and reserve.
3.  Bring the stock gently to the boil and slip in the meatballs. Reduce the heat to a steady simmer and poach the meatballs until firm, for about 10 minutes. Garnish with parsley.

| | |
| --- | --- |
| Fat:  77.97 g | Fiber: 8.37 g |
| Iron: 17.16 mg | Sugar: 93.08 g |
| Calcium: 2180.33 mg | Sodium: 6614.84 mg |
| Potassium: 6717.79 mg | Calories: 2417.19 kcal |
| Protein: 197.17 g | Vitamin A: 3671.24 IU |
| Vitamin C: 15.81 g | Carbohydrates: 215.97 g |
| Saturated Fat: 35.29 g | Cholesterol: 772.41 mg |