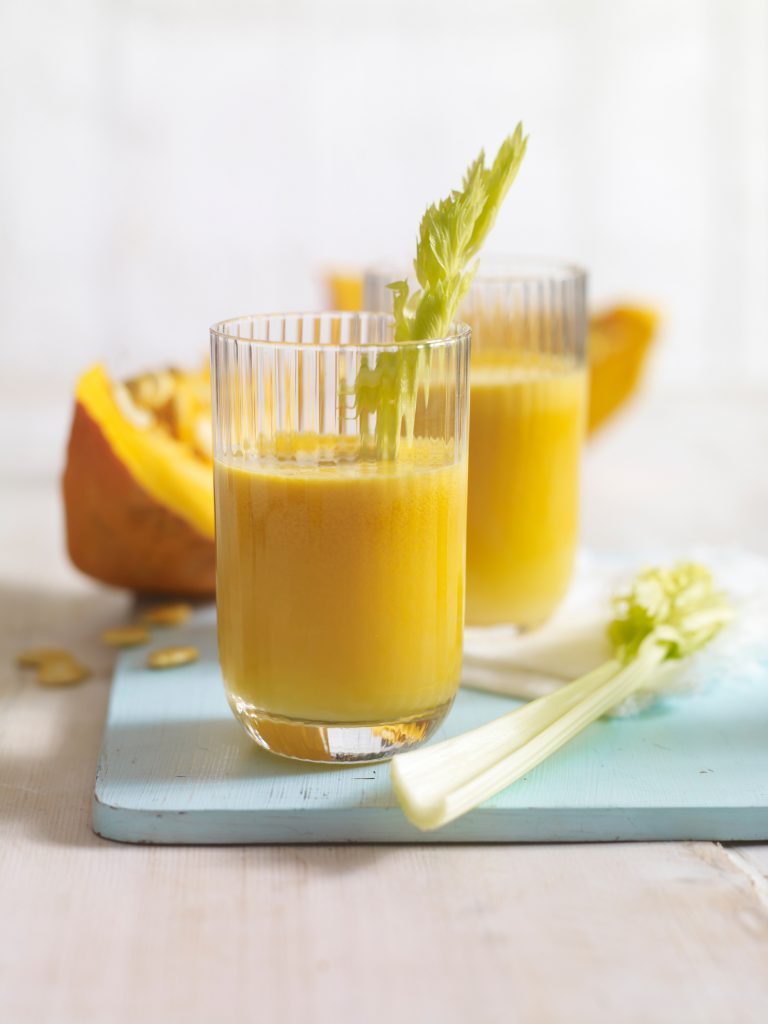 This is a beneficial tonic, especially in the winter. Onion squash supplies anti-inflammatory and antioxidant properties, while ginger can improve digestion. Grapefruit helps ward off colds and celery helps detoxify the body.
SERVES 2
PREP TIME 15 MINS
COOK TIME 0 MINS

Knife
Juicer

3.5 oz (100g) onion squash
1 small piece fresh ginger root, skin on
1 large grapefruit, peeled and pith removed
2 celery sticks and leaves, roughly chopped

1.  Cut the squash in half, scoop out all the seeds, and discard or reserve them to roast later and use as an ingredient in other recipes, or as a topping for salads and soups. Leave the skin on the squash to benefit from its nutrients and chop the flesh if necessary, so it fits through the hopper of your juicer.
2.  Juice all the ingredients and combine in a jug. Strain through a sieve to remove the grapefruit pips and serve immediately in long glasses.

| | |
| --- | --- |
| Fat:  0.62 g | Fiber: 7.27 g |
| Iron: 0.54 mg | Sugar: 27.35 g |
| Calcium: 100.18 mg | Sodium: 11.28 mg |
| Potassium: 642.92 mg | Calories: 186.01 kcal |
| Protein: 3.84 g | Vitamin A: 3855.9 IU |
| Vitamin C: 111.52 g | Carbohydrates: 38.87 g |
| Saturated Fat: 0.12 g | Cholesterol: 0 mg |