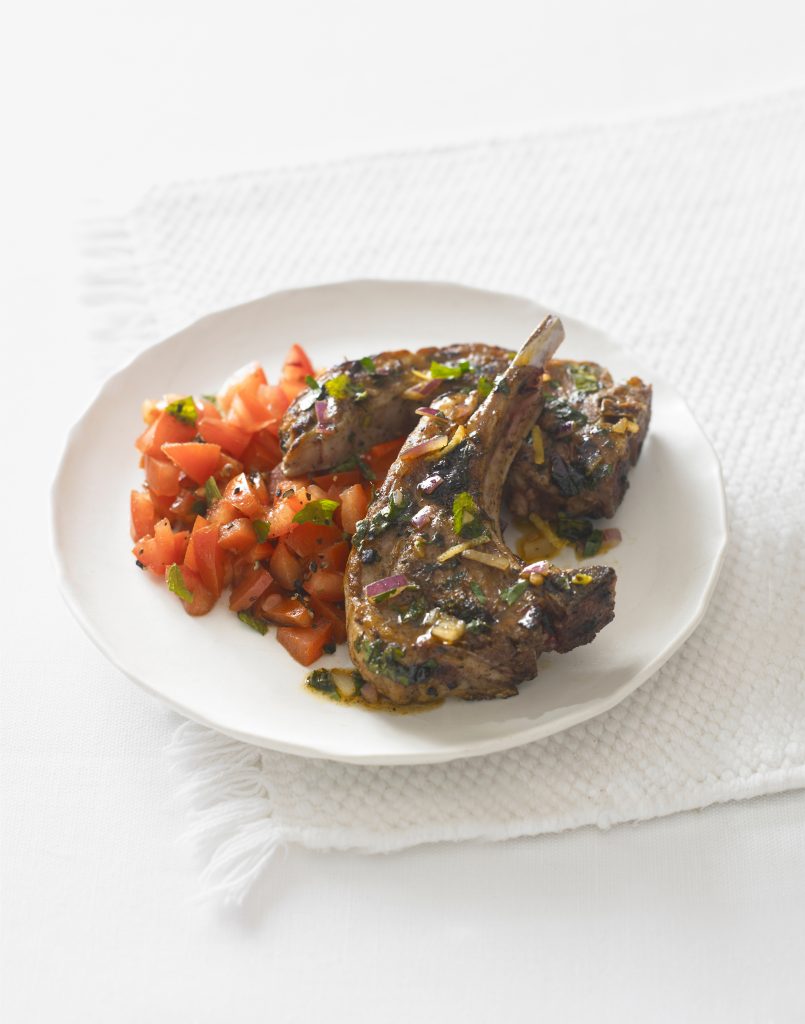 Chermoula is a classic North African marinade for seafood, but it also pairs well with grilled meats. In Morocco, it is used liberally in tagines.
SERVES 4
PREP TIME 10 MINS
COOK TIME 15 MINS
Mortar and Pestle
Pan
Grill

12 lamb cutlets, trimmed
Salt and freshly ground black pepper
4 ripe plum tomatoes, chopped
1 tbsp olive oil
1 tbsp balsamic vinegar
1 leaves coriander chopped, to garnish
1 small bunch mint leaves, chopped, to garnish
2–3 garlic cloves, chopped
1 red chilli, deseeded and chopped
1 tsp coarse salt
1 small bunch coriander, chopped
1 small bunch flat-leaf parsley, chopped
2 tsp ground cumin
1 tsp paprika
4–5 tbsp olive oil
Juice of 1 lemon

1. For the marinade, place the garlic, red chilli, and coarse salt in a mortar and pestle and pound, until they form a paste. Add the coriander and parsley, and pound to a coarse paste. Add the cumin and paprika, then pour in the oil and lemon juice. Mix well.
2. Place the cutlets in a dish. Rub the marinade over the lamb, and marinate for 30 minutes.
3. Season the tomatoes, drizzle with the olive oil, balsamic vinegar, coriander, and mint. Set aside.
4. Preheat the grill on its highest setting. Remove the cutlets from the marinade and grill for 5 minutes on each side, or until cooked through and crisp. Serve the lamb with the tomato salad on the side.

| | |
| --- | --- |
| Fat: 589.48 g | Fiber: 7.47 g |
| Iron: 36.26 mg | Sugar: 13.1 g |
| Calcium: 472.44 mg | Sodium: 4151.95 mg |
| Potassium: 4755.77 mg | Calories: 6520.55 kcal |
| Protein: 264.81 g | Vitamin A: 8355.03 IU |
| Vitamin C: 198.68 g | Carbohydrates: 22.13 g |
| Saturated Fat: 235.63 g | Cholesterol: 1243.2 mg |