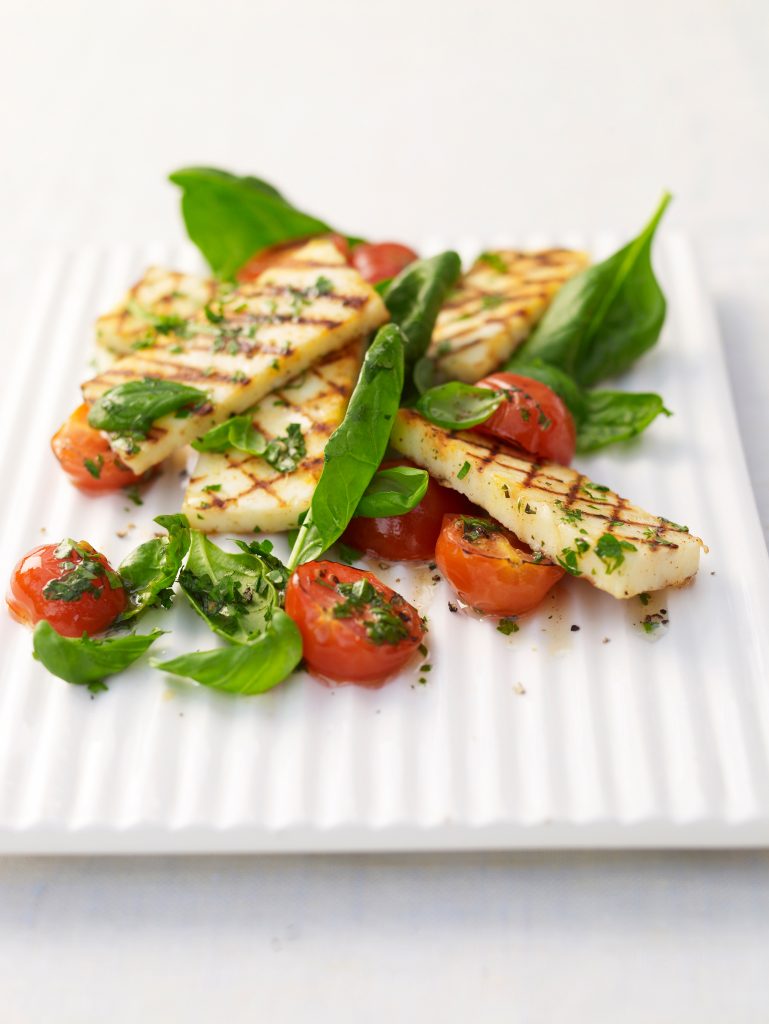 A perfect balance of rich and fresh flavours. Halloumi is rich in protein, and will melt only at a high temperature. Soak in buttermilk if you find it too salty.
SERVES 4
PREP TIME 5 MINS
COOK TIME 15 MINS

Griddle Pan
Roasting Tin
Bowl

7 oz (200g) cherry tomatoes, halved
3 tbsp olive oil
Salt and freshly ground black pepper
250 g half-fat halloumi, cut into 5mm- ( 1/4 in-) thick slices
3 garlic cloves, finely chopped
1 small handful flat-leaf parsley, finely chopped
1/2 tsp paprika
1 small handful fresh basil, roughly chopped
9 oz (250g) fresh baby spinach leaves

1. Preheat the oven to 180ºC (350ºF/Gas 4). Place the tomatoes in a roasting tin, drizzle with 1 tablespoon of the oil and season with salt and pepper. Toss together, then roast in the oven for 15 minutes with the tomatoes sitting skin side down.
2. While they are cooking, put the halloumi, garlic, parsley, paprika, and the remaining oil into a bowl and combine well. Heat a griddle pan until hot, then carefully add a slice of halloumi, letting it drain before adding it to the pan. Repeat, adding the halloumi slices one by one until they are all in the griddle pan. When you have added the last one, go back to the first one and begin turning them over to cook on the other side. They should be golden brown. When you have turned them all, go back to the first one and begin removing them from the griddle pan.
3. Put the halloumi slices back into the bowl with the garlic, herb, and spice mix and stir gently. Add the cooked tomatoes to the mix along with the basil and stir to combine. Add the spinach leaves, toss together, and serve immediately.

| | |
| --- | --- |
| Fat: 55.82 g | Fiber: 7.4 g |
| Iron: 8.98 mg | Sugar: 14.56 g |
| Calcium: 300.84 mg | Sodium: 1128.35 mg |
| Potassium: 1926.25 mg | Calories: 690.08 kcal |
| Protein: 18.28 g | Vitamin A: 25665.87 IU |
| Vitamin C: 134.59 g | Carbohydrates: 21.57 g |
| Saturated Fat: 14.33 g | Cholesterol: 41.68 mg |