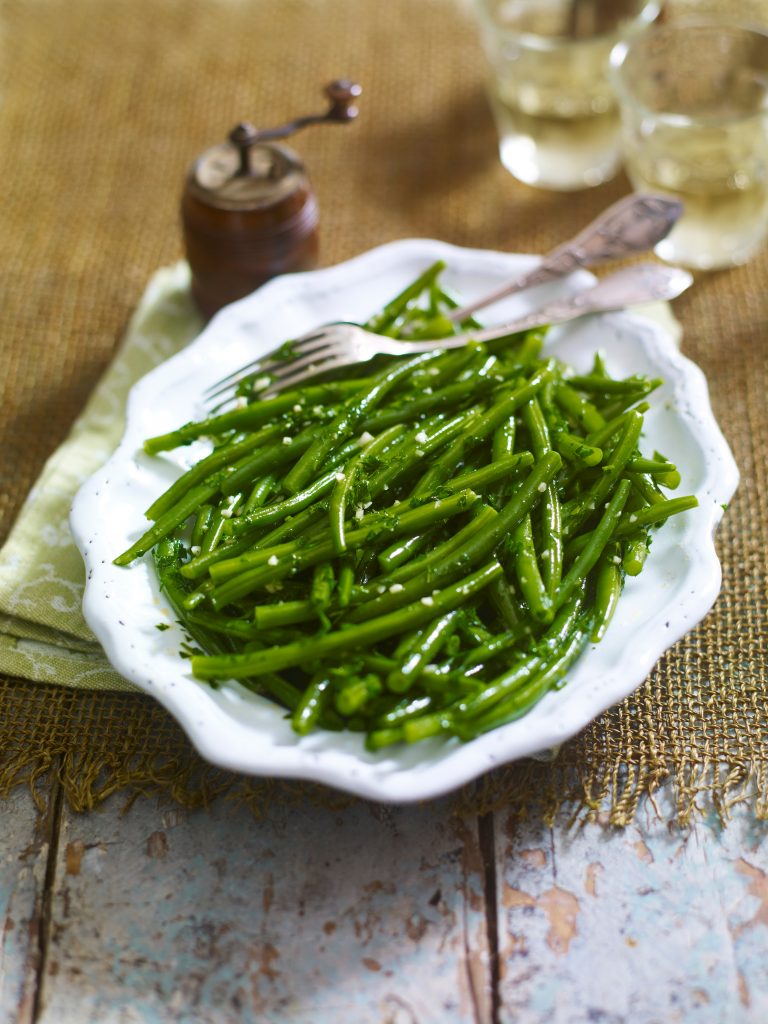 Very fine French green beans are best for this recipe, but the dressing also works well on larger beans. The cooking time varies depending on the size of the beans.
SERVES 4
PREP TIME 10 MINS
COOK TIME 15 MINS

Large Saucepan

500 g fine green beans, topped and tailed
Sea salt and freshly ground black pepper
2 tbsp chopped flat-leaf parsley
1 garlic clove, crushed
2 1/2 tbsp extra virgin olive oil

1.  In a large saucepan of lightly salted boiling water, add the beans and cook for 8–10 minutes, or until tender but not soft. Drain well and refresh under cold running water. Keep warm.
2.  Meanwhile, combine the parsley, garlic, and oil in a small bowl. Season well.
3.  Tip the beans into a serving bowl, stir to coat with the persillade, and serve warm.

| | |
| --- | --- |
| Fat:  36.18 g | Fiber: 13.81 g |
| Iron: 5.88 mg | Sugar: 16.39 g |
| Calcium: 201.75 mg | Sodium: 810.63 mg |
| Potassium: 1109.64 mg | Calories: 471.61 kcal |
| Protein: 9.57 g | Vitamin A: 4090.49 IU |
| Vitamin C: 72.05 g | Carbohydrates: 22.51 g |
| Saturated Fat: 5.09 g | Cholesterol: 0 mg |