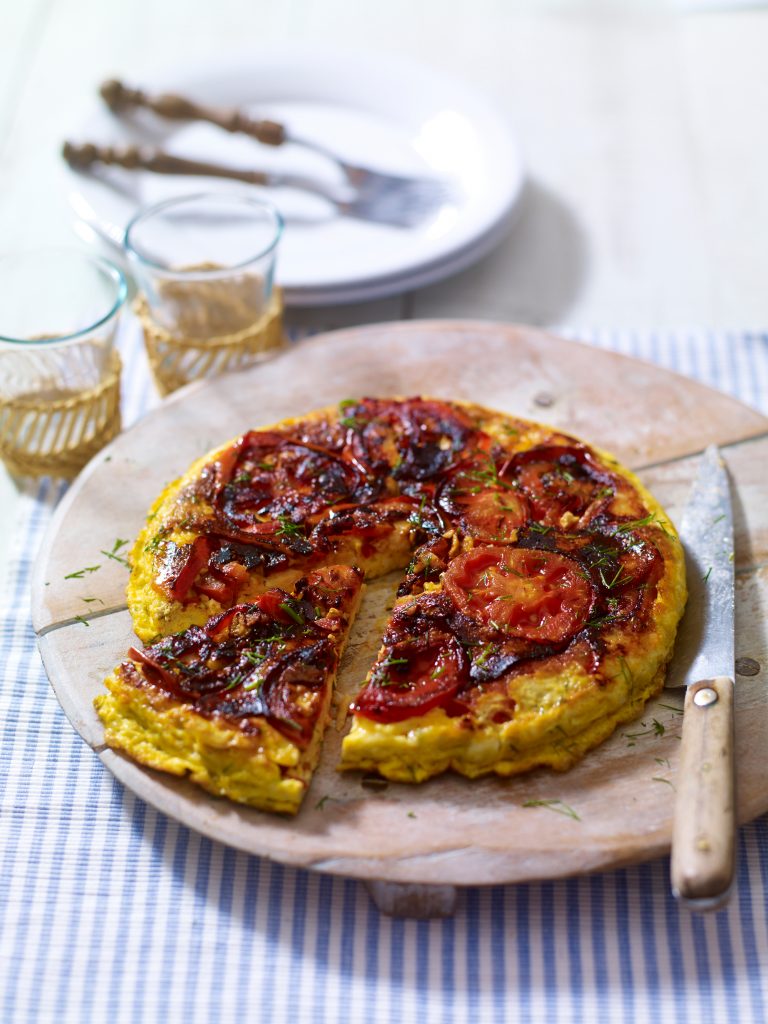 A breakfast and supper dish in the Peloponnese, this is flavoured with dill and melted cubes of salty kefalotiri, a cheese made with ewe's or goat's milk.
SERVES 4
PREP TIME 15 MINS
COOK TIME 15 MINS

Small Frying Pan
Spatula
Fork or Whisk
Jug

4 tbsp olive oil
2 large ripe, firm tomatoes, thickly sliced
1 garlic clove, chopped
3.5 oz (100g) kefalotiri, mozzarella, or taleggio cheese, diced
6 large eggs
1 tbsp chopped dill
Salt and freshly ground black pepper

1.  Heat the oil in a small frying pan. Spread the tomato slices in an even layer over the surface, sprinkle with garlic, and cook gently until the tomato is soft and slightly dry. Top with the cheese but do not stir.
2.  Meanwhile, beat the eggs with dill and a little seasoning. As soon as the cheese has melted a little, pour over the egg, turn up the heat, cover loosely, and cook until the top begins to look set. Flip the cake over and cook the other side. You can also slip the pan under the grill.

| | |
| --- | --- |
| Fat:  110.09 g | Fiber: 4.44 g |
| Iron: 6.63 mg | Sugar: 10.71 g |
| Calcium: 747.5 mg | Sodium: 2391.07 mg |
| Potassium: 1292.38 mg | Calories: 1277.98 kcal |
| Protein: 58.8 g | Vitamin A: 6618.11 IU |
| Vitamin C: 51.15 g | Carbohydrates: 12.9 g |
| Saturated Fat: 34.93 g | Cholesterol: 1194.39 mg |