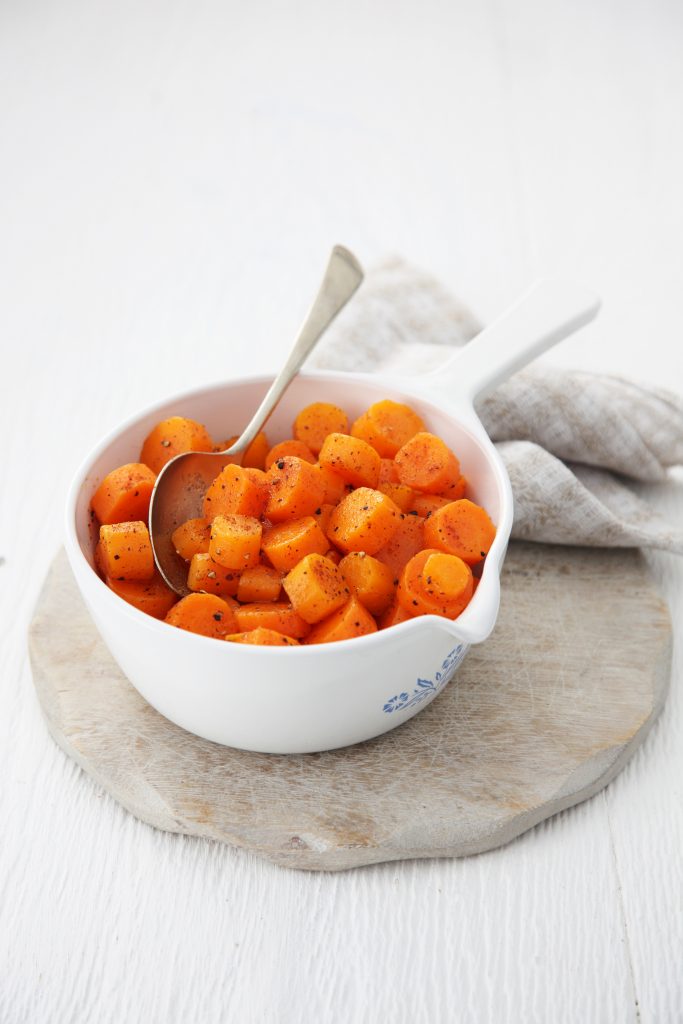 The nutmeg and tiny amount of sugar really bring out the flavour of the carrots, which are full of the antioxidant beta-carotene.
SERVES 4
PREP TIME 5 MINS
COOK TIME 10 MINS

Saucepan

300 g thin, young carrots, peeled weight, cut into 1cm ( 1/2 in) rounds
Salt and freshly ground black pepper
1 tbsp butter
1/2 tsp caster sugar
Pinch of nutmeg

1.  Cook the carrots in plenty of boiling salted water for about 7 minutes until they are quite soft. Drain well.
2.  Put the butter in the pan in which you cooked the carrots and allow it to melt over a low heat. Stir in the sugar and nutmeg and cook gently until the sugar dissolves. Return the carrots, season well, and turn them in the butter until well glazed.

| | |
| --- | --- |
| Fat:  12.6 g | Fiber: 8.61 g |
| Iron: 0.94 mg | Sugar: 16.61 g |
| Calcium: 104.75 mg | Sodium: 1083.73 mg |
| Potassium: 967.11 mg | Calories: 238.19 kcal |
| Protein: 2.97 g | Vitamin A: 50473.88 IU |
| Vitamin C: 17.73 g | Carbohydrates: 22.73 g |
| Saturated Fat: 7.66 g | Cholesterol: 30.53 mg |