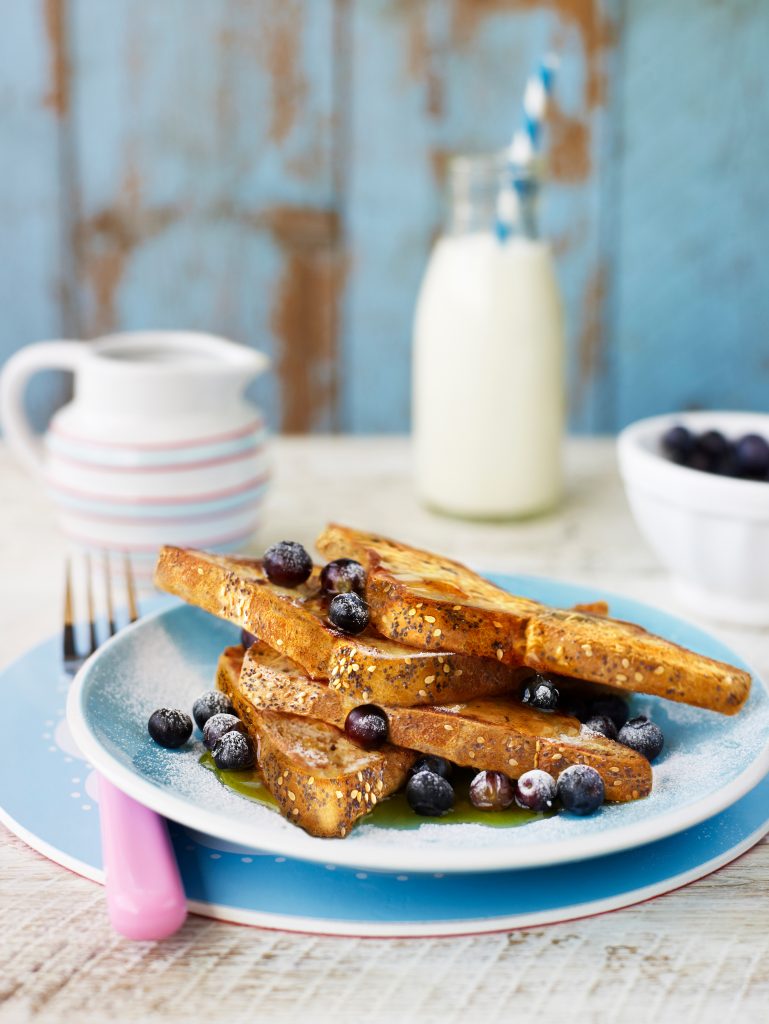 Blueberries are low in calories and high in antioxidants – more so than any other fruit. Many studies have shown that they help reduce blood pressure.
SERVES 2
PREP TIME 10 MINS
COOK TIME 10 MINS

Mixing Bowl
Whisk
Shallow Dish
Frying Pan

4 eggs
8 fl. oz. (240ml) skimmed milk
1/4 tsp ground cinnamon
4 slices thick wholemeal bread, cut into triangles
1 tbsp sunflower oil
9 oz (250g) blueberries
Maple syrup, to serve

1.  Crack the eggs into a mixing bowl. Add the milk and cinnamon and whisk together.
2.  Pour the mixture into a shallow dish. Soak the bread in the mixture for about 30 seconds.
3.  Heat half a tablespoon of the oil in a frying pan on a low heat. Carefully place two triangles in the pan.
4.  Fry the triangles on both sides until they turn golden. Repeat steps 3 and 4 for the remaining bread triangles.
5.  Serve the eggy bread warm, with blueberries and maple syrup or try it with butter and jam.

| | |
| --- | --- |
| Fat:  35.53 g | Fiber: 14.09 g |
| Iron: 6.67 mg | Sugar: 68.32 g |
| Calcium: 572.42 mg | Sodium: 803.5 mg |
| Potassium: 1178.93 mg | Calories: 987.55 kcal |
| Protein: 46.5 g | Vitamin A: 1576.04 IU |
| Vitamin C: 24.77 g | Carbohydrates: 109.61 g |
| Saturated Fat: 7.92 g | Cholesterol: 659.45 mg |