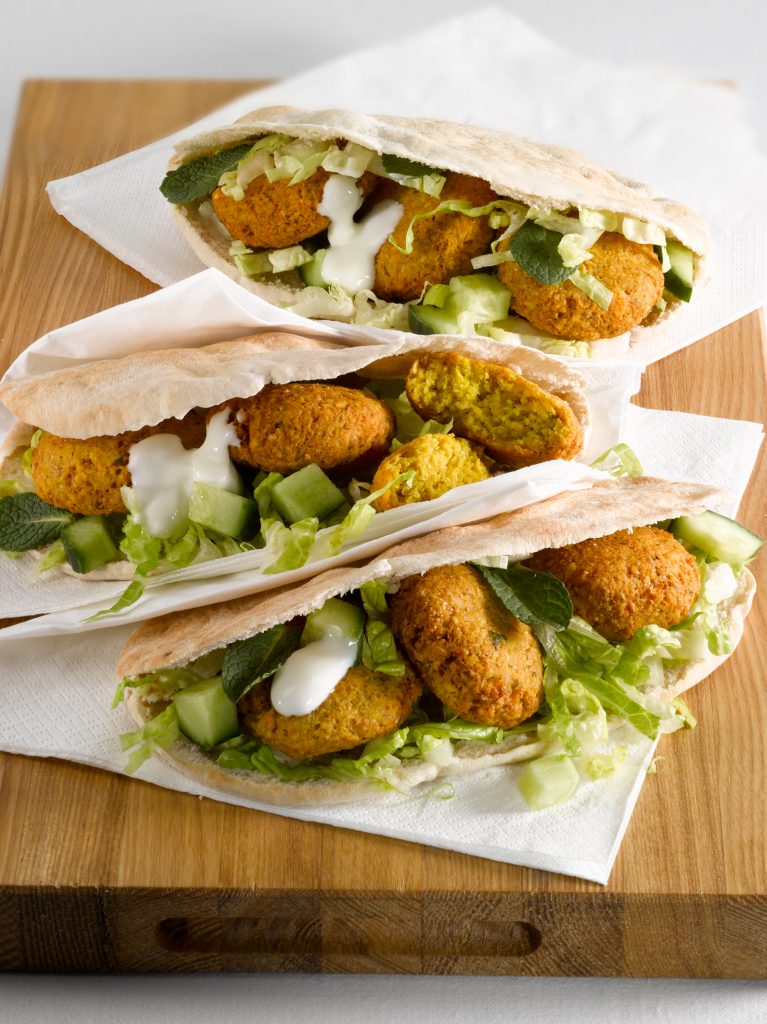 Dried chickpeas, soaked in advance, will give the best flavour. They are a good source of protein and high in phosphorus, magnesium, and iron.
SERVES 12
PREP TIME 25 MINS
COOK TIME 15 MINS

Food Processor
Large Frying Pan
Drainer
Bowl

14 oz (400g) dried chickpeas, soaked overnight in cold water
1 tbsp tahini
1 garlic clove, crushed
1 tsp salt
1 tsp ground cumin
1 tsp turmeric
1 tsp ground coriander
1/2 tsp cayenne pepper
2 tbsp finely chopped flat-leaf parsley
1 juice of lemon
Vegetable oil, for frying

1.  Drain the soaked chickpeas and place them in a food processor with the remaining ingredients. Process until finely chopped but not puréed.
2.  Transfer the mixture to a bowl and set aside for at least 30 minutes (and up to 8 hours), covered, in the fridge.
3.  Wet your hands and shape the mixture into 12 balls. Press down slightly to flatten.
4.  Heat 5cm (2in) of oil in a deep pan or wok. Fry the balls in batches for 3–4 minutes, or until lightly golden. Drain on kitchen paper and serve immediately.

| | |
| --- | --- |
| Fat:  201.87 g | Fiber: 72.14 g |
| Iron: 30.53 mg | Sugar: 43.59 g |
| Calcium: 521.06 mg | Sodium: 2441.07 mg |
| Potassium: 3811.79 mg | Calories: 3029.95 kcal |
| Protein: 81.12 g | Vitamin A: 1355.35 IU |
| Vitamin C: 41.19 g | Carbohydrates: 180.44 g |
| Saturated Fat: 140.73 g | Cholesterol : 0 mg |