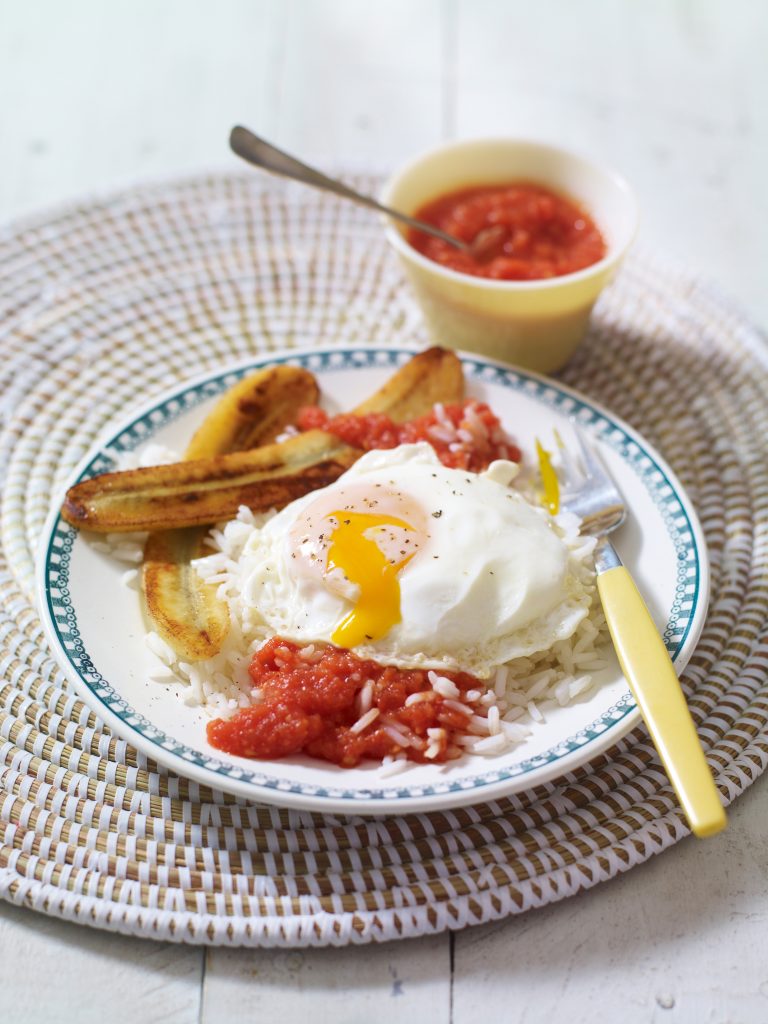 Cuban rice, named for the fried bananas served on the side, is loved in Spain as much for its pretty colours as for the sweet-salty flavours. Leftover paella makes a particularly good version.
SERVES 4
PREP TIME 10 MINS
COOK TIME 10 MINS

Large Frying Pan
Slotted Spoon
Wooden Spoon
Liquidizer

10 oz (about 300g) ready-cooked rice
3–4 tbsp olive oil
4–8 eggs
4 small bananas, skinned and halved lengthways
500 g fresh or canned tomatoes
1 slice thick slice of onion, chopped
1 garlic clove, chopped
1 fresh red chilli, deseeded and chopped

1.  Heat the rice through in a low oven or microwave and transfer to a warm serving dish.
2.  Heat the oil in a large frying pan. Crack the eggs in and fry sunny-side up. Remove with a slotted spoon, arrange on top of the rice, and keep warm.
3.  In the same pan, fry the bananas just enough to caramelize them a little. Remove and arrange them with the eggs.
4.  Meanwhile, liquidize the tomatoes, onion, and garlic with the chilli, if using. Pour the tomato mix into the same frying pan and bubble up for 1–2 minutes to concentrate the juices and develop the flavours. Serve the rice with its toppings, and the tomato sauce on the side.
| | |
| --- | --- |
| Fat:  62.09 g | Fiber: 18.61 g |
| Iron: 6.83 mg | Sugar: 66.35 g |
| Calcium: 212.48 mg | Sodium: 287.75 mg |
| Potassium: 3151.21 mg | Calories: 1469.13 kcal |
| Protein: 39.72 g | Vitamin A: 5802.91 IU |
| Vitamin C: 170.29 g | Carbohydrates: 180.51 g |
| Saturated Fat: 12.14 g | Cholesterol: 654.72 mg |