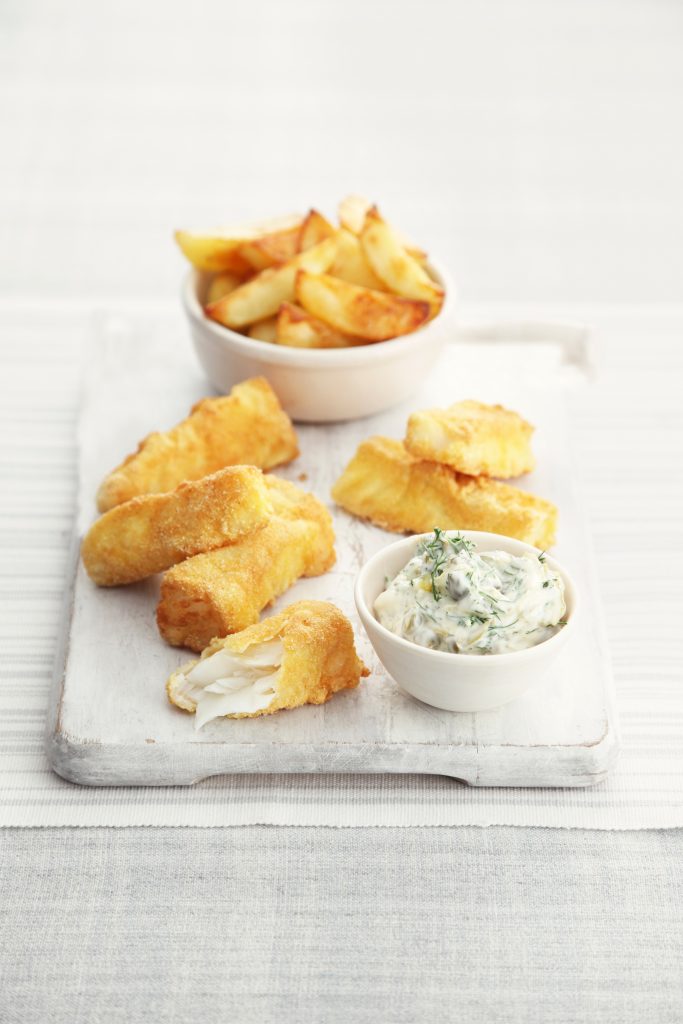 Home-made fish fingers are fun and healthy, and a light polenta coating gives them a lovely crunchy finish. Coley is sustainable, making it a good substitute for cod.
SERVES 4
PREP TIME 10 MINS
COOK TIME 5 MINS

Knife
Kitchen Paper
Three Shallow Bowls
Cling Film
Deep Frying Pan

400 g skinless firm-fleshed white fish fillets, such as coley
2 tbsp plain flour
1 egg, lightly beaten
3.5 oz (100g) fine polenta
Salt and freshly ground black pepper
Sunflower oil, for frying
2 cornichons, coarsely grated
6 tbsp good-quality mayonnaise, preferably home-made mayonnaise
1 tbsp white wine vinegar
1 tbsp capers, very finely chopped
Finely grated zest of 1/2 a lemon
1 tbsp finely chopped dill

1.  Cut the fish into 2cm- ( 3/4 in-) thick strips. Pat it dry with kitchen paper. Lay the flour, egg, and polenta out in three shallow bowls. Season the flour well.
2.  Coat the fish fingers by dusting them first with the flour, then dipping them in the egg, then rolling them in the polenta, until they are well covered. Put them on a plate, cover with cling film, and chill for 30 minutes. This helps the coating to stick.
3.  Meanwhile, make the tartare sauce. First, put the grated cornichons onto a chopping board and chop again, finely, with a sharp knife. Mix the cornichons, mayonnaise, vinegar, capers, lemon zest, and dill, and season well. Cover and chill until needed.
4.  Heat a large, deep-sided frying pan and add enough oil to cover the base. Fry the fish fingers for 2 minutes on each side, turning carefully, until golden and crisp all over. Rest them on a plate lined with kitchen paper while you cook the rest. Serve with home-made chunky oven fries or Cajun-spiced potato wedges and the tartare sauce.

| | |
| --- | --- |
| Fat:  130.38 g | Fiber: 2.63 g |
| Iron: 5.15 mg | Sugar: 2.55 g |
| Calcium: 85.15 mg | Sodium: 1836.61 mg |
| Potassium: 1454.89 mg | Calories: 1934.33 kcal |
| Protein: 97.2 g | Vitamin A: 551.82 IU |
| Vitamin C: 4.67 g | Carbohydrates: 89.61 g |
| Saturated Fat: 19.12 g | Cholesterol: 398.46 mg |