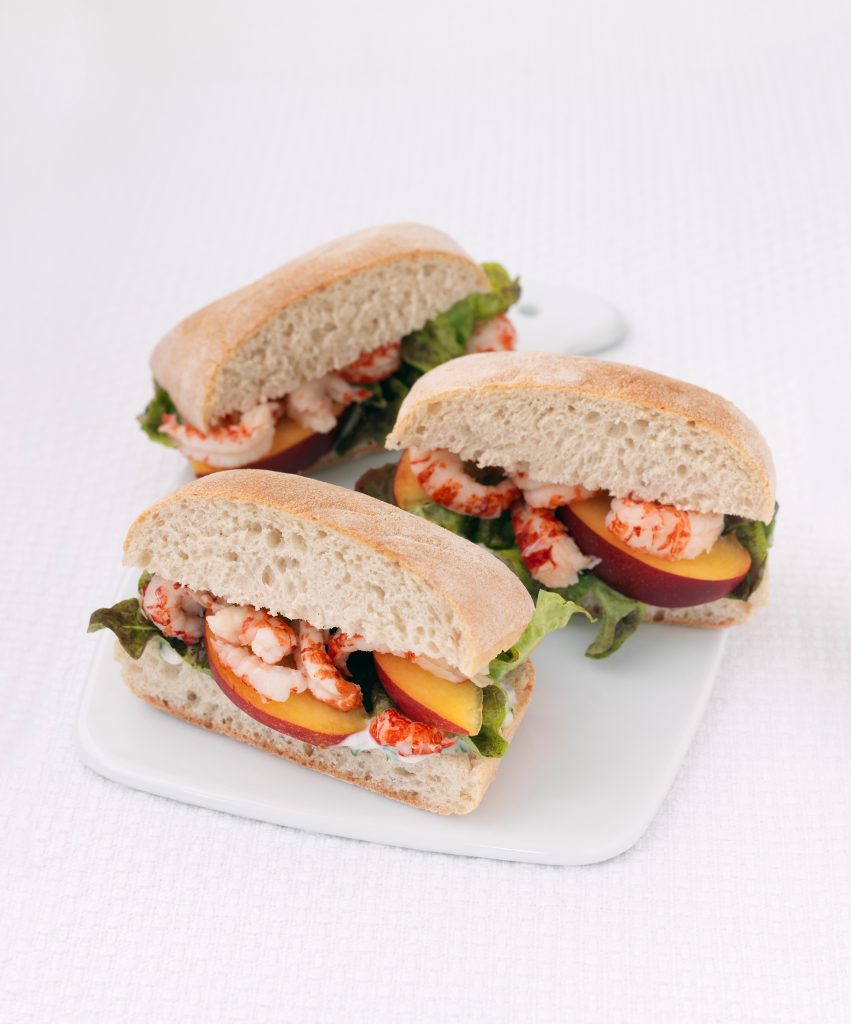 Crayfish is low in fat and a good source of selenium and zinc. Its mild flavour makes a good foil for the strong herbs.
SERVES 4
PREP TIME 15 MINS
COOK TIME 0 MINS
Mixing Bowl
Wooden Spoon
Knife

2.25 lb (1kg) cooked crayfish tails
4 Italian-style crusty bread rolls
1 oakleaf or other butter lettuce, leaves separated
2 fresh peaches, stoned and sliced
4 fl. oz. (120ml) mayonnaise
Juice of 1 lime
1 small handful fresh coriander, chopped
1 small handful fresh mint leaves, chopped
1 small handful fresh chives, chopped
1 anchovy fillet in olive oil, drained and chopped
Freshly ground black pepper

1. Remove all the meat from the crayfish tails, being careful not to break it up too much. Tear into four even portions, and set aside.
2. To make the herbed mayonnaise, combine the mayonnaise, lime juice, herbs, and anchovy in a bowl. Season with black pepper, and stir through.
3. Slice the rolls in half, but without cutting all the way through. Open up, and spread with the herbed mayonnaise. Arrange some of the leaves over the mayonnaise, then put the crayfish on top of the leaves. Arrange slices of the peaches between the crayfish, then spoon over a little more of the mayonnaise. Close up the rolls, and serve immediately.
| | |
| --- | --- |
| Fat: 91.61 g | Fiber: 7.14 g |
| Iron: 5.06 mg | Sugar: 29.59 g |
| Calcium: 176.66 mg | Sodium: 906.59 mg |
| Potassium: 1389.38 mg | Calories: 1079.26 kcal |
| Protein: 29.35 g | Vitamin A: 7147.82 IU |
| Vitamin C: 40.12 g | Carbohydrates: 31.73 g |
| Saturated Fat: 14.31 g | Cholesterol: 219.86 mg |