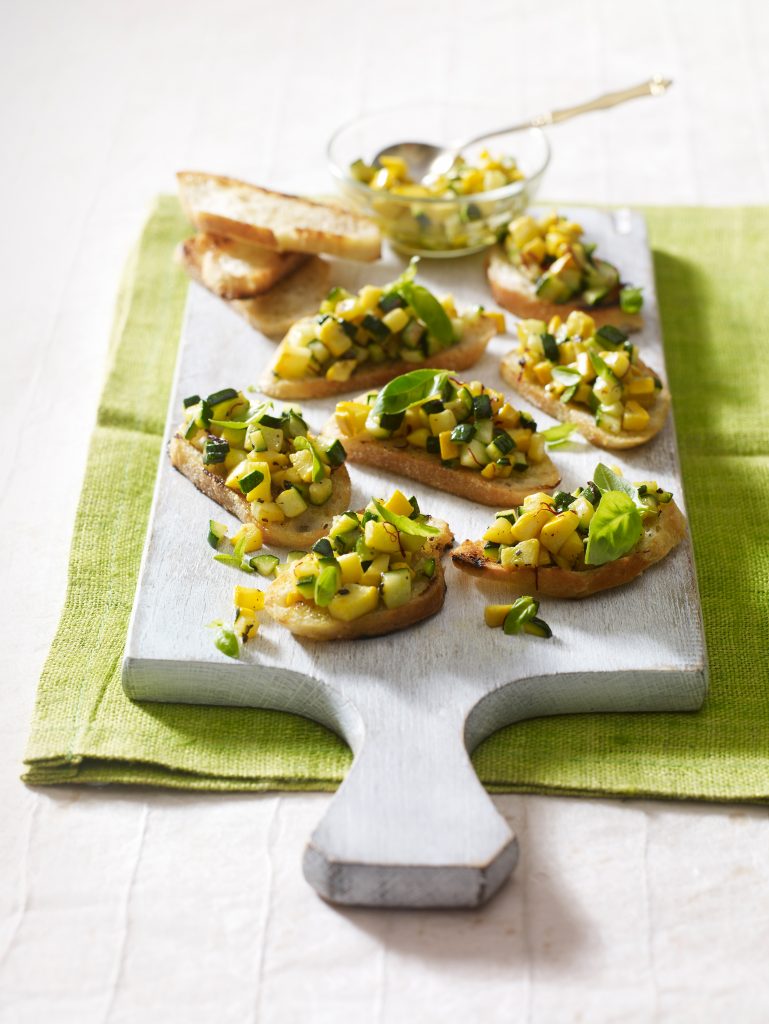 These gorgeous little bruschettas have a herby flavour. Adding lemon juice and zest brings out the tastes of summer, and may cut down the need for salt.
SERVES 20
PREP TIME 10 MINS
COOK TIME 10 MINS

Griddle or Grill
Knife
Pan

1 small baguette
1 tsp olive oil, plus extra to drizzle
2 garlic cloves, peeled
2 courgettes
Pinch of saffron threads
1 tbsp lemon juice, or to taste
Salt and freshly ground black pepper
Grated lemon zest
1 handful basil or mint leaves

1. Preheat griddle or grill. Slice the baguette thinly on an angle, drizzle with olive oil, and grill until crisp on both sides.
2.  Use one garlic clove to rub gently over the crisp bread.
3.  Dice the courgettes and chop the other garlic clove finely. Heat a little oil in a pan and sauté courgette and garlic for 5 minutes.
4.  Add a pinch of saffron and cook until vegetables start to turn golden. Add 1 tablespoon lemon juice or more to taste, then season and use to top the crisp bruschetta. Garnish with lemon zest and basil leaves scattered over.
| | |
| --- | --- |
| Fat:  6.22 g | Fiber: 5.11 g |
| Iron: 2.15 mg | Sugar: 10.49 g |
| Calcium: 99.87 mg | Sodium: 3971.27 mg |
| Potassium: 1104.5 mg | Calories: 150.6 kcal |
| Protein: 6.27 g | Vitamin A: 957.63 IU |
| Vitamin C: 84.32 g | Carbohydrates: 16.38 g |
| Saturated Fat: 1.07 g | Cholesterol: 0 mg |