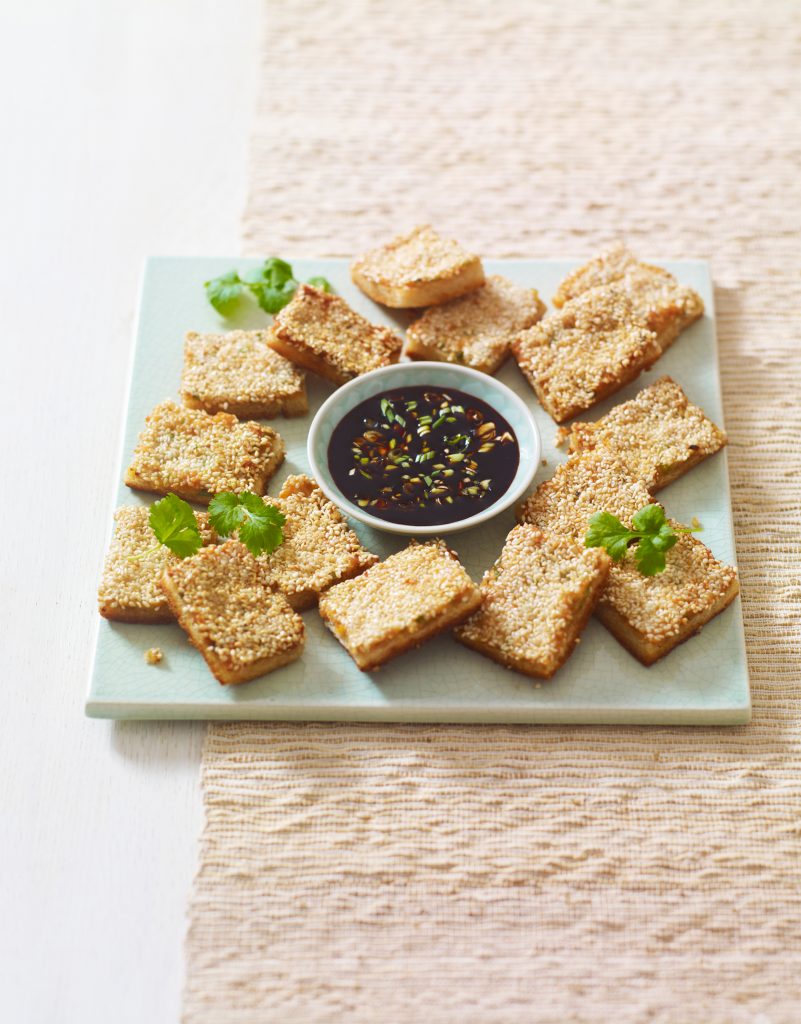 These fabulous snacks are always far better when home-made, and are a real children's favourite. The paste can be made ahead and put in the fridge.
SERVES 4
PREP TIME 10 MINS
COOK TIME 10 MINS

Food Processor
Frying Pan

6 oz (175g) raw king prawns, shelled, deveined, and roughly chopped
1 tsp cornflour
2 spring onions, finely chopped
1/2 tsp finely grated fresh root ginger
1 tsp soy sauce
1 tsp sesame oil
1 egg white
4 large slices day-old white bread, crusts removed
Sunflower oil, for deep-frying
1 oz (30g) white sesame seeds

1.  Put the prawns, cornflour, spring onions, ginger, soy sauce, sesame oil, and egg white into a food processor, and process to a fairly smooth paste.
2.  Cut each piece of bread into quarters and spread with a little of the prawn paste, taking care to go right up to the edges and mounding it up slightly so that all the paste is used up.
3.  Heat a 5cm (2in) depth of oil in a large, heavy-based frying pan or deep fryer. It is ready when a crust of spare bread, dropped in, sizzles and starts to turn golden brown. Spread the sesame seeds out on a plate. Press each piece of bread, prawn-side down, into the sesame seeds, so each is topped with a thin layer.
4.  Fry the prawn toasts in small batches, sesame seed-side down, for 1–2 minutes, until becoming golden brown, then carefully turn them over and fry for a further minute. Drain the cooked toasts on a plate lined with kitchen paper while you fry the remaining pieces. Serve hot.

| | |
| --- | --- |
| Fat:  77.14 g | Fiber: 4.17 g |
| Iron: 8.42 mg | Sugar: 1.18 g |
| Calcium: 554.23 mg | Sodium: 1733.52 mg |
| Potassium : 405.43 mg | Calories: 913.27 kcal |
| Protein: 44.5 g | Vitamin A: 241.87 IU |
| Vitamin C: 11.53 g | Carbohydrates: 8.77 g |
| Saturated Fat: 8.49 g | Cholesterol: 428.64 mg |