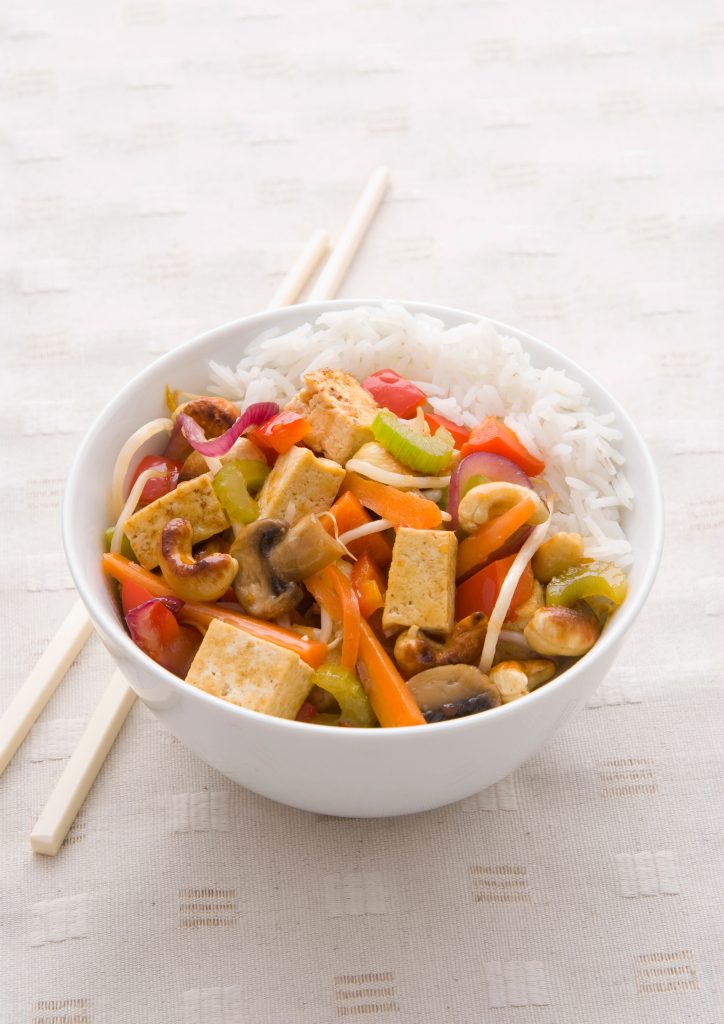 This quick and easy dish plays on tofu's ability to take on the flavour of other ingredients.
SERVES 4
PREP TIME 10 MINS
COOK TIME 15 MINS

Wok or Large, Deep Frying Pan
Drainer
Small Bowl

2 tbsp sunflower oil
3 oz (85g) unsalted cashew nuts
10 oz (300g) firm tofu, cubed
1 red onion, thinly sliced
2 carrots, peeled and thinly sliced
1 red pepper, deseeded and chopped
1 celery stick, chopped
4 chestnut mushrooms, sliced
6 oz (175g) beansprouts
2 tsp chilli sauce
2 tbsp light soy sauce
1 tsp cornflour
6 fl. oz. (175ml) vegetable stock
FOR A GLUTEN FREE VERSION use gluten-free tamari to replace soy sauce

1.  Heat the oil in the wok and add the cashews; stir-fry for 30 seconds, or until lightly browned. Drain and set aside.
2.  Add the tofu and stir-fry until golden. Drain and set aside. Stir-fry the onion and carrots for 5 minutes, then add the pepper, celery, and mushrooms and stir-fry for 3–4 minutes. Finally, add the beansprouts and stir-fry for 2 minutes. Keep the heat under the wok high, so the vegetables fry quickly, without overcooking.
3.  Return the cashews and tofu to the pan and drizzle in the chilli sauce. In a small bowl, mix the soy sauce with the cornflour and pour into the pan, along with the stock. Toss over the heat for 2–3 minutes, or until the sauce is bubbling. Serve with boiled rice or Chinese-style egg noodles.

| | |
| --- | --- |
| Fat:  79.09 g | Fiber: 17.42 g |
| Iron: 14.65 mg | Sugar: 37.85 g |
| Calcium: 519.48 mg | Sodium: 6974.42 mg |
| Potassium: 2214.67 mg | Calories: 1257.76 kcal |
| Protein: 62.89 g | Vitamin A: 24540.99 IU |
| Vitamin C: 190.3 g | Carbohydrates: 72.56 g |
| Saturated Fat: 11.03 g | Cholesterol: 0 mg |