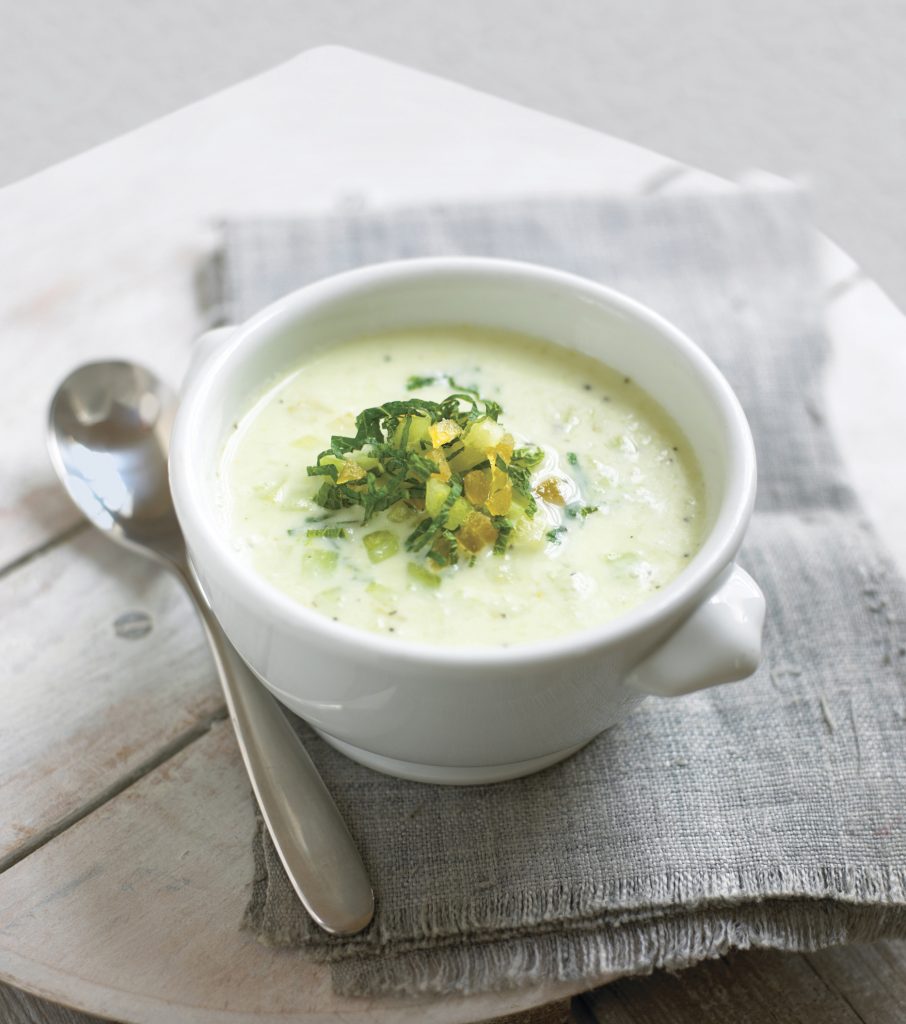 This is a soup to make in a hurry. All that's needed to bring out its fruity flavour is a seriously good chill – and a perfectly ripe melon.
SERVES 4
PREP TIME 15 MINS
COOK TIME 0 MINS

PREP TIME 15 MINS
COOK TIME 0 MINS

Blender Or Food Processor
Sieve
Heavy-Based Frying Pan Or Griddle
Grinder
Wooden Spoon
1 ripe Galia melon, peeled and deseeded
5cm piece of fresh root ginger, peeled
1 tsp fennel seeds
7 oz (200g) white seedless grapes
1 grated zest and juice of lime
1 tsp dried mint
4 tbsp Greek yogurt, beaten
Salt and freshly ground black pepper
2 tbsp mint leaves
Pinch of sugar
25 g crystallized ginger, finely chopped

1.  Roughly chop three-quarters of the melon flesh into bite-sized chunks. Finely chop the remainder and set aside. Grate the root ginger and squeeze any juice over the melon chunks. Discard the leftover ginger.
2.  Heat a heavy-based frying pan or griddle over a gentle heat and lightly toast the fennel seeds for about 30 seconds, until you smell an aniseed-like aroma. Grind the seeds to a coarse powder using a mortar and pestle.
3.  Put the ground fennel seeds into a blender or food processor with the roughly chopped melon and ginger juice. Add the grapes, lime juice and zest, and dried mint. Blitz until smooth and push through a sieve to remove the skins.
4.  Stir in the yogurt, season, and chill thoroughly – it's best to half-freeze this soup, then give it a good whisk just before serving. Spoon into bowls, adding a small pile of the reserved melon to each one. Shred the fresh mint, mix with the sugar and crystallized ginger, and scatter over the soup. Serve immediately.

| | |
| --- | --- |
| Fat:  1.01 g | Fiber: 3.27 g |
| Iron: 1.41 mg | Sugar: 53.4 g |
| Calcium: 124.88 mg | Sodium: 809.89 mg |
| Potassium : 611.38 mg | Calories: 284.67 kcal |
| Protein: 8.37 g | Vitamin A: 325.09 IU |
| Vitamin C: 17.66 g | Carbohydrates: 62.14 g |
| Saturated Fat: 0.23 g | Cholesterol: 3 mg |