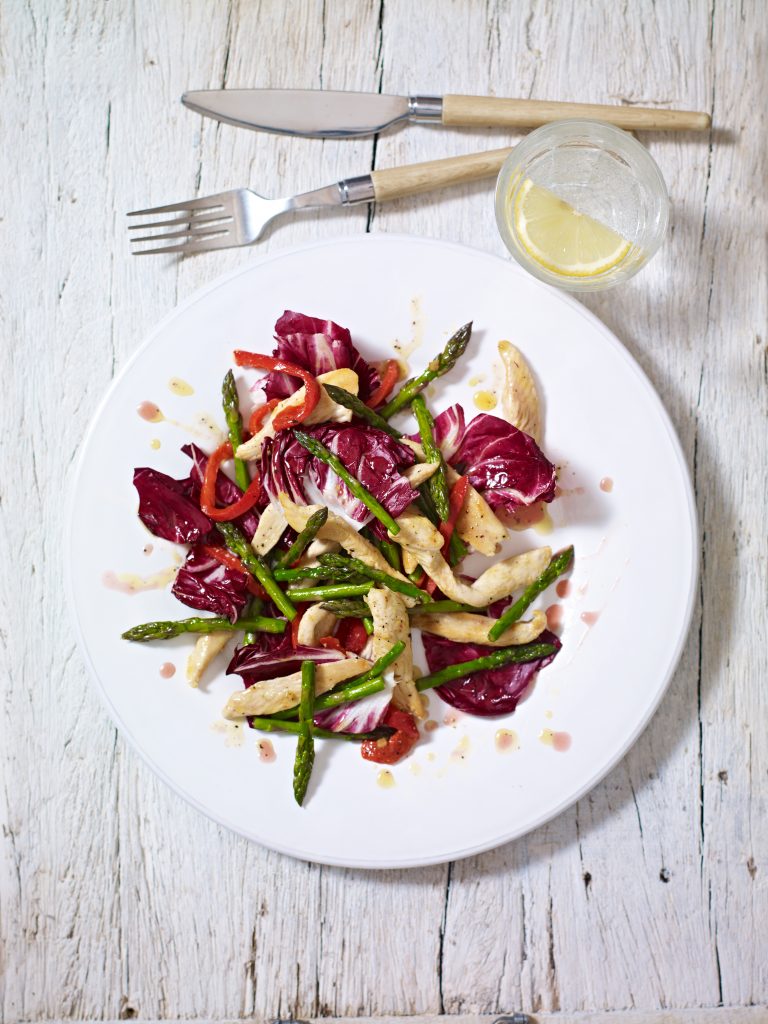 This French "salade tiède", or warm salad, is easy to assemble and makes for a healthy supper you can knock together in minutes.
SERVES 4
PREP TIME 5 MINS
COOK TIME 10 MINS

Large Non-Stick Frying Pan
Wooden Spoon

4 tbsp extra virgin olive oil
4 chicken breasts, about 150g each, cut into thin strips
1 garlic clove, finely chopped
2 oz (60g) roasted red peppers, thinly sliced
Salt and freshly ground black pepper
1 small head radicchio, torn into small pieces
250 g asparagus spears, each trimmed and cut into 3 pieces
2 tbsp raspberry vinegar
1/2 tsp sugar

1.  Heat 2 tablespoons of the oil in a large non-stick frying pan over a medium–high heat. Add the chicken and garlic and fry, stirring, for 5–7 minutes, or until the chicken is tender and cooked through. Stir in the roasted red peppers, and season to taste with salt and pepper.
2.  Meanwhile, put the radicchio leaves in a large serving bowl. Remove the chicken from the pan, using a slotted spoon, and place in the bowl with the radicchio.
3.  Add the asparagus to the fat remaining in the pan and fry, stirring constantly, for 1–2 minutes, or until just tender. Transfer to the bowl with the chicken.
4.  Whisk together the remaining 2 tablespoons of the oil, the vinegar and sugar, then pour into the pan and stir over a high heat until well combined. Pour this dressing over the salad and toss quickly so that all the ingredients are well mixed and coated with the dressing. Serve straight away.

| | |
| --- | --- |
| Fat:  80.28 g | Fiber: 7.34 g |
| Iron: 10.42 mg | Sugar: 7.85 g |
| Calcium: 165.53 mg | Sodium: 2641.15 mg |
| Potassium: 4420.12 mg | Calories: 1639.17 kcal |
| Protein: 200.21 g | Vitamin A: 2496.8 IU |
| Vitamin C: 64.16 g | Carbohydrates: 14.66 g |
| Saturated Fat: 13.08 g | Cholesterol: 578.56 mg |