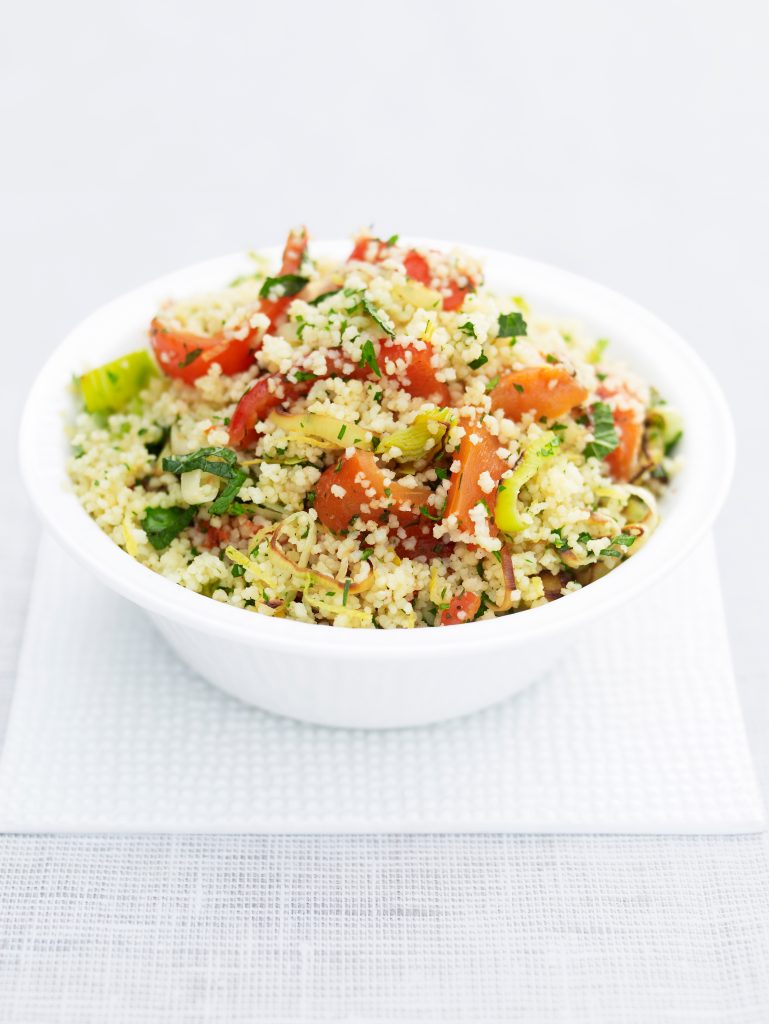 Omit the prawns for a flavourful vegetable couscous that can also be served as a side dish.
SERVES 4
PREP TIME 15 MINS
COOK TIME 15 MINS

Barbecue or Charcoal Grill
Large Bowl
Wooden Spoon
Cling Film
Fork

7 oz (200g) couscous
8 fl. oz. (240ml) boiling water
1 tbsp butter, softened
4 red peppers
5 tbsp olive oil
Salt and freshly ground black pepper
1 leek, white part only, sliced into 5mm discs
2 garlic cloves, crushed
6 oz (175g) cooked and peeled king prawns
Grated zest and juice of 1 lemon
4 tbsp chopped flat-leaf parsley
2 tbsp chopped mint leaves

1.  Put the couscous in a large bowl. Add the boiling water and the butter, and stir to combine. Cover the bowl with cling film, and set aside for 5–10 minutes. Using a fork, separate and fluff up the grains. Set aside.
2.  Heat the barbecue or charcoal grill until hot. Cut off and discard the tops of the peppers, then cut the peppers in half lengthways. Remove all the seeds. Put the peppers in a shallow dish, add 3 tablespoons of the oil, and season with salt and black pepper. Mix until the peppers are well coated in the oil. Grill the peppers over a high heat for about 10 minutes until they are charred all over and softened. Allow to cool a little. Peel off the skin and reserve the pepper halves.
3.  Heat the remaining olive oil in a frying pan over a low heat Add the leeks, and sweat gently, stirring occasionally, for about 5 minutes. Tip in the garlic, and cook for a further 30 seconds. Remove from the heat.
4.  To finish, cut or tear the pepper halves into strips, and put in the bowl with the couscous. Add the prawns, the leek and garlic mixture, lemon zest and juice, parsley, and mint. Stir through well, and serve.

| | |
| --- | --- |
| Fat:  86.68 g | Fiber: 23.52 g |
| Iron: 11.5 mg | Sugar: 17.79 g |
| Calcium: 473.77 mg | Sodium: 2276.03 mg |
| Potassium: 1738.49 mg | Calories: 1834.33 kcal |
| Protein: 67.74 g | Vitamin A: 5040.38 IU |
| Vitamin C: 480.7 g | Carbohydrates: 178.31 g |
| Saturated Fat: 17.91 g | Cholesterol: 459.17 mg |