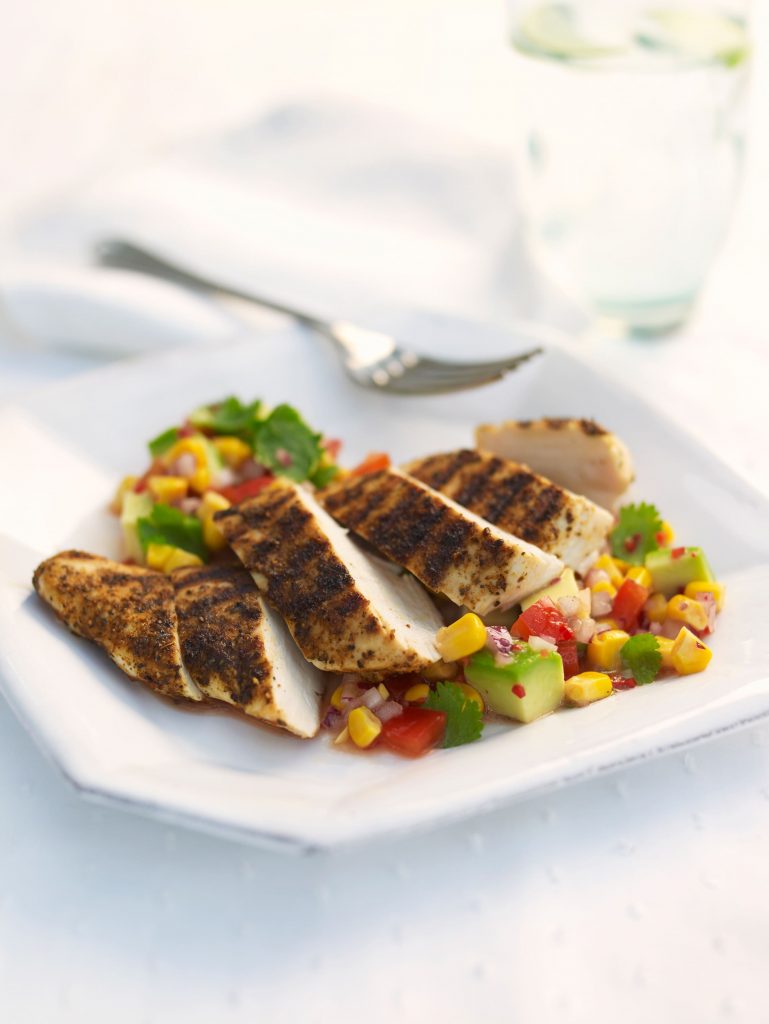 Avocados give the salsa a creamy flavour, which balances the fiery flavour of the chicken.
SERVES 2
PREP TIME 10 MINS
COOK TIME 15 MINS

Equipment:
Griddle pan

Recipe Ingredients:
2 skinless chicken breasts
1 tbsp Cajun seasoning
1 tbsp olive oil
1 large fresh corn on the cob, stripped of husks and threads
1/2 small red onion, finely chopped
1/2 red pepper, deseeded and diced
1 red chilli, deseeded and finely chopped
1 small Hass avocado, diced
1 tbsp olive oil
1 juice of lime

Recipe Methods:
1 Put the chicken breasts between two pieces of cling film and pound with a rolling pin until flattened evenly. Mix the Cajun seasoning with the oil and brush over the flattened chicken. Leave to marinate for at least 15 minutes.
2 To make the salsa, add the corn to a large pan of boiling water and cook for 5 minutes, then immediately transfer to a bowl of iced water to cool. Drain well, then, using a sharp knife, scrape off all the kernels. Combine with the remaining salsa ingredients, mix well and set aside.
3 Heat a griddle pan and cook the chicken for 4-5 minutes on one side, pressing the pieces down on the griddle pan, then turn and cook for 4-5 minutes on the other side, or until cooked through.
4 Spoon the salsa onto serving plates and top with the griddled chicken.

NUTRITIONAL INFORMATION (per recipe)
| | |
| --- | --- |
| Fat : 72.45 g | Fibre : 21.69 g |
| Iron : 5.99 mg | Sugar : 18.7 g |
| Calcium : 92.75 mg | Sodium : 574.25 mg |
| Potassium : 3574.52 mg | Calories: 1292.51 kcal |
| Protein : 107.79 g | Vitamin A : 6353.19 IU |
| Vitamin C : 189.01 g | Carbohydrates : 41.1 g |
| Saturated Fat : 11.36 g | Cholesterol : 289.28 mg |