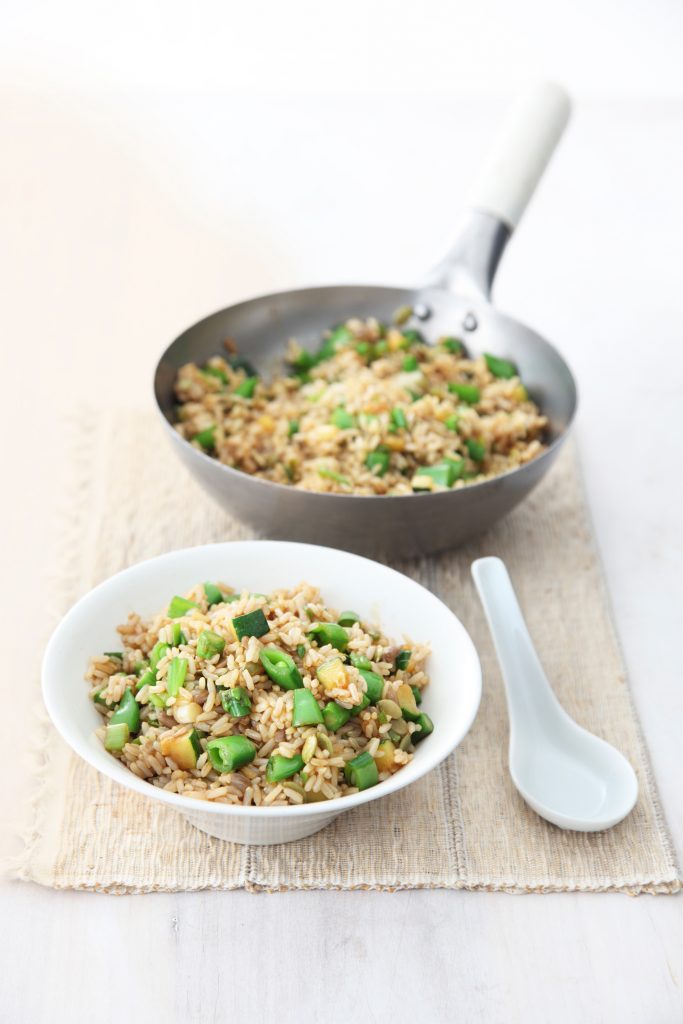 Brown rice really comes into its own in this super-healthy stir-fry. It's nutty and deliciously savoury. Brown rice retains the hull and bran, which contains B vitamins and minerals, magnesium and calcium.
SERVES 4
PREP TIME 10 MINS
COOK TIME 10 MINS

Wok and Large, Deep Frying Pan
Large Pan

150 g sugarsnap peas, cut into 1cm ( 1/2 in) pieces
2 asparagus spears, cut into 1cm pieces
Salt
2 tbsp sunflower oil
150 g courgettes, cut into 1cm ( 1/2 in) cubes
4 spring onions, finely sliced
2 garlic cloves, finely chopped
1 4cm piece of fresh root ginger, finely chopped
1 green chilli, deseeded and finely chopped
1.75 lb (800g) cooked, cold brown rice
2 tbsp oyster sauce
2 tbsp soy sauce
2 tbsp rice wine or dry sherry
2 tbsp pumpkin seeds
2 tbsp sunflower seeds

1.  Blanch the sugarsnap peas and asparagus in a large pan of boiling salted water for 1 minute, then drain and refresh them under cold water.
2.  Heat the oil in a large wok and stir-fry the courgettes over a high heat for 2 minutes until they start to colour. Add the spring onions, garlic, ginger, and chilli and cook for a further minute.
3.  Add the blanched vegetables and cook for a minute, then add the rice with the remaining ingredients. Stir-fry for a minute or two until everything is well combined and the rice is hot.

| | |
| --- | --- |
| Fat:  56.11 g | Fiber: 30.44 g |
| Iron: 12.28 mg | Sugar: 17.07 g |
| Calcium: 240.6 mg | Sodium: 3961.34 mg |
| Potassium: 2029.04 mg | Calories: 1640.77 kcal |
| Protein: 45.09 g | Vitamin A: 2181.72 IU |
| Vitamin C: 105.98 g | Carbohydrates: 207.12 g |
| Saturated Fat: 7 g | Cholesterol: 0 mg |