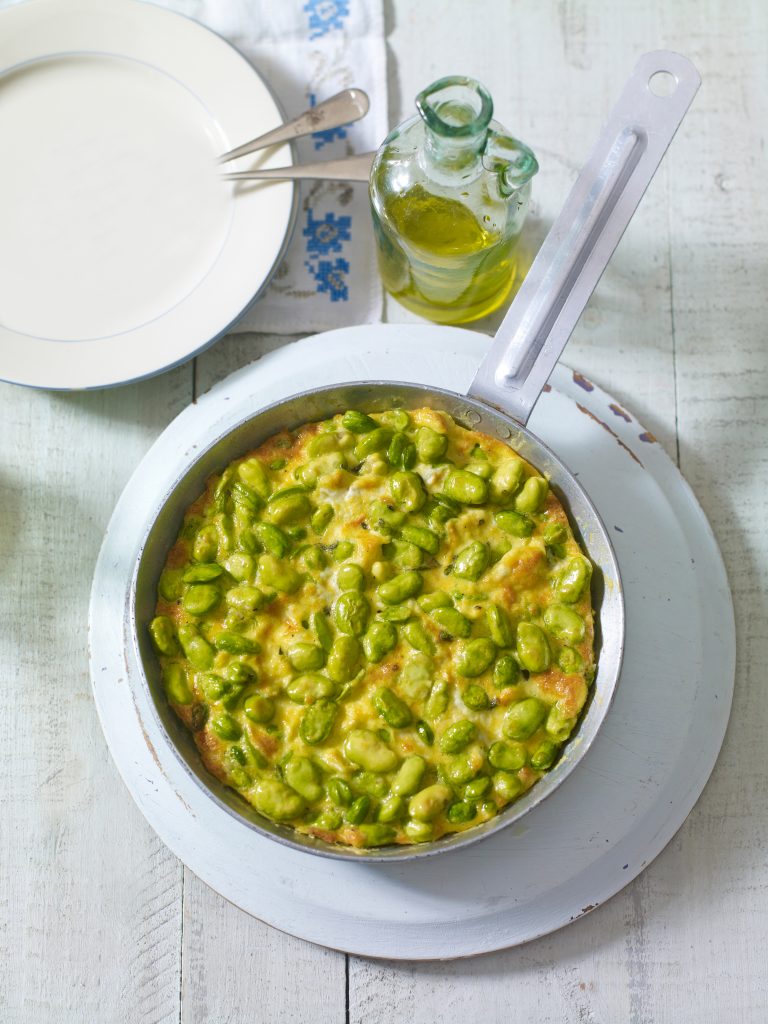 This tortilla is made with broad beans instead of potatoes and is flavoured with marjoram, a herb that works well with all members of the bean family.
SERVES 4
PREP TIME 5 MINS
COOK TIME 10 MINS

Small Frying Pan With Lid
Bowl
Whisk or Fork
2 Plates

500 g broad beans, shelled
4 tbsp olive oil
2 tbsp white wine or dry sherry
4 large eggs
Salt and freshly ground black pepper
1 tsp fresh marjoram leaves

1.  Slip the beans out of their skins, unless they are very tiny and the skins are unwrinkled and tender. Heat 1 tablespoon of the oil in a small frying pan and stir in the beans, and turn them. Add the wine, allow the alcohol to evaporate, then cover the pan and leave to simmer gently for 5–6 minutes, until the beans are just soft and the liquid has almost evaporated. Leave to cool.
2.  In a bowl, beat the eggs with seasoning and the marjoram leaves, then add the beans and stir.
3.  Reheat the pan with the remaining oil. Tip in the egg-bean mixture and cook gently as a thick pancake, neatening the edges with a spatula and lifting up the edges to let the uncooked egg run underneath.
4.  Cook until the top is beginning to set and the base is golden brown. Then slide the tortilla onto a plate, remove the pan from the heat, place a second plate on top, and invert so that the cooked side is on top. Slide back into the pan and cook for 2–3 minutes more on a low heat, until the tortilla is firm but still juicy in the middle. Serve warm or cool.

| | |
| --- | --- |
| Fat:  77.06 g | Fiber: 27.24 g |
| Iron: 11.89 mg | Sugar: 10.15 g |
| Calcium: 307.32 mg | Sodium : 505.87 mg |
| Potassium : 1647.03 mg | Calories: 1357.27 kcal |
| Protein: 63.22 g | Vitamin A: 1203.41 IU |
| Vitamin C: 1.81 g | Carbohydrates: 73.59 g |
| Saturated Fat: 14.31 g | Cholesterol: 744 mg |